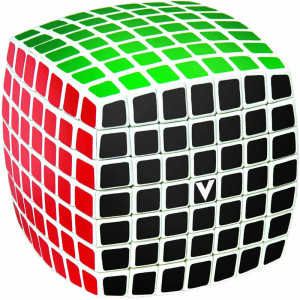 Solving puzzles is always a nice activity when the computer is busy with video rendering or other important things. Now there are people who like to play around on the iPhone and others who like to have something in hand to puzzles and for them I discovered something nice: What speed cubing is, I found out today on YouTube. After reading something, I wanted to see which Rubik's Cube variations are now on the market, and that's when I came across this head butt: The first 7x7x7 cube by Verdes Innovations. The cube has 49 squares on each side and is difficult for even good magicians to use. You can apply some strategies from 5×5 Cubes, but otherwise you are thrown in at the deep end here. So the cube is the perfect thing if you have someone you know who likes puzzles and has already gone "crazy" with their Rubik's Cube.
Reviews from customers about the V-Cube 7
The way food is Amazon customers are enthusiastic about the cube. The magic cube, who previously had the 4 × 4, the 5 × 5 and the 6 × 6 cube from Verdes, got along perfectly with the 7 cube. If you switch from the 3 × 3 Cube to this one, you might first stand there brooding. But that's what puzzle fun is meant for!
The processing of the cube is solid, even if a customer doubts the Speed ​​Cube properties. It is of course a bit more "wobbly" than a 3×3 Rubik's Cube in terms of construction, but the construction is still praised by many customers. Also advantageous: Before a part breaks off, simply throw it out of the 7×7 Rubik's Cube. You can then simply put it back in and the game continues.
A note for those familiar with the V-Cube: In the 6 version you have a click when you turn the cube and the movement is complete. Due to the design, this is not the case with the 7 × 7 Cube.
Overall, the cube is highly recommended for extreme puzzlers. And a customer has already written that he is now waiting for the 8x8x8 cube. Since I don't know whether the 8x8x8 cube might not have come out in the meantime, just have a look at Amazon. I have a direct search linked here.
And for those who don't yet know what speed cubing is: Here is a short but stunning video from the Speed ​​Cube Championships.
Jens has been running the blog since 2012. He appears as Sir Apfelot for his readers and helps them with problems of a technical nature. In his free time he drives electric unicycles, takes photos (preferably with his iPhone, of course), climbs around in the Hessian mountains or hikes with the family. His articles deal with Apple products, news from the world of drones or solutions for current bugs.