With Amazon Music HD you can experience music streaming in premium quality. From now on there are over 50 million songs of various genres and artists for new customers for 90 days free of charge. The great deal is still valid until February 6, 2020. So you can survive the dreary winter days with your favorite songs in the best audio quality - and if you like, you can of course extend the subscription. This then incurs costs of € 12,99 (Prime members) or € 14,99 (Amazon customers without Prime). But don't worry: Membership can be canceled at any time.
TL; DR: Click here for the offer!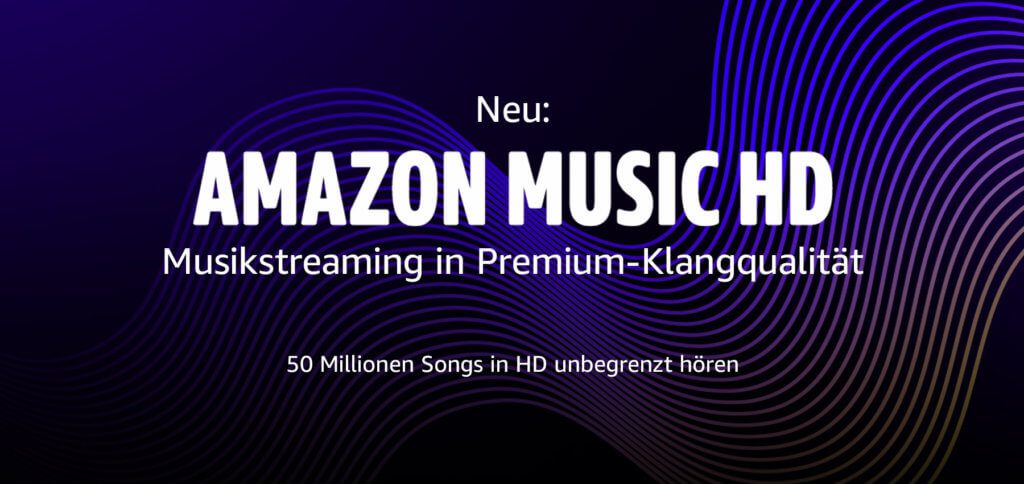 Amazon Music HD - Better audio quality thanks to high bit rates
While a standard definition (SD) of up to 320 kbps is possible for music streaming via Amazon (for example via the Amazon Music app on the iPhone), Amazon Music HD offers even more. In high definition (HD), double bit rates with 16-bit and 44,1 kHz are possible for lossless audio playback. Up to 850 kbps are even possible for albums and titles. But you can experience even more in the 90-day test of the offer and of course with the regular subscription to the service: audio in Ultra HD with up to 3.730 kbps, and thus up to 24-bit with 192 kHz. While HD is available for over 50 million songs, Ultra HD is available for a few million songs.
Details and booking: Try out the new sound experience here
Try Amazon Music HD for 90 days free of charge
In order to enjoy the 90 days of Amazon Music HD for free and then perhaps to fully enjoy the paid subscription, Amazon recommends certain hardware. Of course you are with yours too Apple AirPods, the AirPods Pro, with Beats or Sennheiser headphones, Bose speakers and the like are well advised. The mail order company and streaming provider also lists the following brands (extract) for a very good audio experience: Denon, Marantz, Pioneer, Klipsch, Sony, Sonos, Onkyo, Sonus faber, Arcam, McIntosh, Fusion, Wren, Rotel , Etc.
Bose SoundLink Around Ear Wireless Headphones II, Black
Deep, immersive sound, improved EQ performance for wireless headphones. Wireless range up to 9 meters
High microphone system, HD voice for clear calls in windy or noisy environments
Enhanced sidetone to help you sound more natural on calls, 3,8"H x 2,9"W ear pads.
https://www.youtube.com/watch?v=onKnMR5-6sY
Jens has been running the blog since 2012. He appears as Sir Apfelot for his readers and helps them with problems of a technical nature. In his free time he drives electric unicycles, takes photos (preferably with his iPhone, of course), climbs around in the Hessian mountains or hikes with the family. His articles deal with Apple products, news from the world of drones or solutions for current bugs.
The page contains affiliate links / images: Amazon.de