Last month Apple introduced the second generation of the Apple HomePod. Very similar in terms of external design, it comes with some technical changes compared to the 2018 model. Details on the features of the new hi-fi speaker from Apple can be found here: Apple HomePod 2023 – Smart Speaker with Apple Silicon. By the way, you can take a look and buy the device for €349 starting today. In addition, the pre-ordered units should be delivered during the day. What else you should know about the topic, I have summarized it for you below.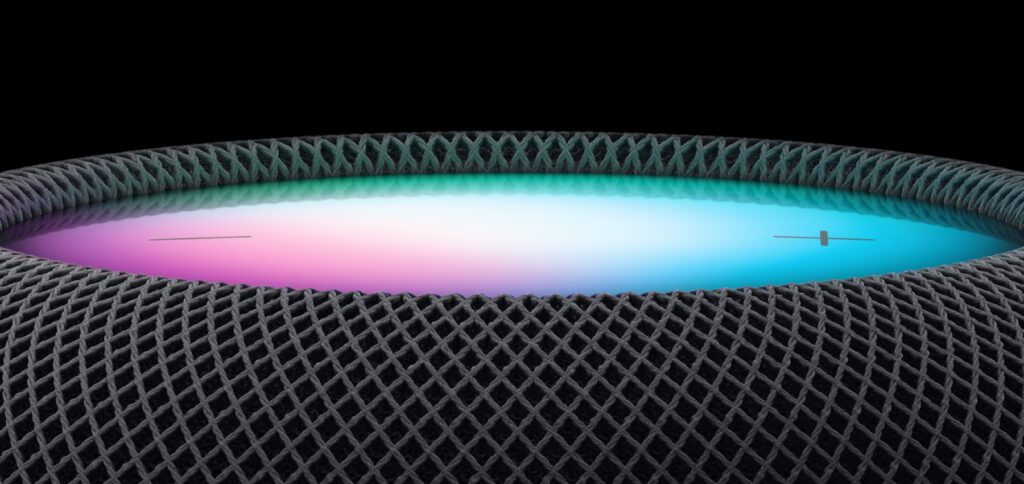 This is the Apple HomePod (2nd Gen)
The new HomePod has a high-excursion woofer specially developed for the device. This bass-giving component is supported by a ring of five tweeters. Room sensors and internal temperature sensors ensure that algorithms can calculate the best settings for convincing sound. This makes 3D audio possible, even with just one speaker. Two of them can be linked to form a stereo pair, for use with the Apple TV, for example. Multiroom audio is also possible. The Apple HomePod (2nd gen), which can also be used as a smart home hub, also has sensors for room temperature and humidity. Last but not least, Siri, an intercom feature and other functions can be used.
Notes on stereo pairing, sensors, and sound detection
Since the presentation of the new second-generation Apple HomePod, more and more details have been gleaned from Apple's websites and documents. So e.g. B. It is important to know that the current device from 2023 cannot be paired with the model from 2018 to form a stereo pair. In addition, there are some restrictions with regard to the functionality of the installed sensors. And the noise detection should initially be able to be used primarily to recognize the alarm of smoke detectors and carbon monoxide detectors. This should then trigger a notification on the iPhone. Here are the details in individual blog posts:
After graduating from high school, Johannes completed an apprenticeship as a business assistant specializing in foreign languages. But then he decided to research and write, which resulted in his independence. For several years he has been working for Sir Apfelot, among others. His articles include product introductions, news, manuals, video games, consoles, and more. He follows Apple keynotes live via stream.