The technology manufacturer AUKEY has once again issued a few voucher codes for shopping on Amazon. In this post you will find the corresponding products, the associated code and information on the discount. It is important to note that the offers have different validities. While two products can be ordered cheaper up to the 16th, there is only one article each cheaper until August 15th or 14th (tomorrow). So it's worth being quick;)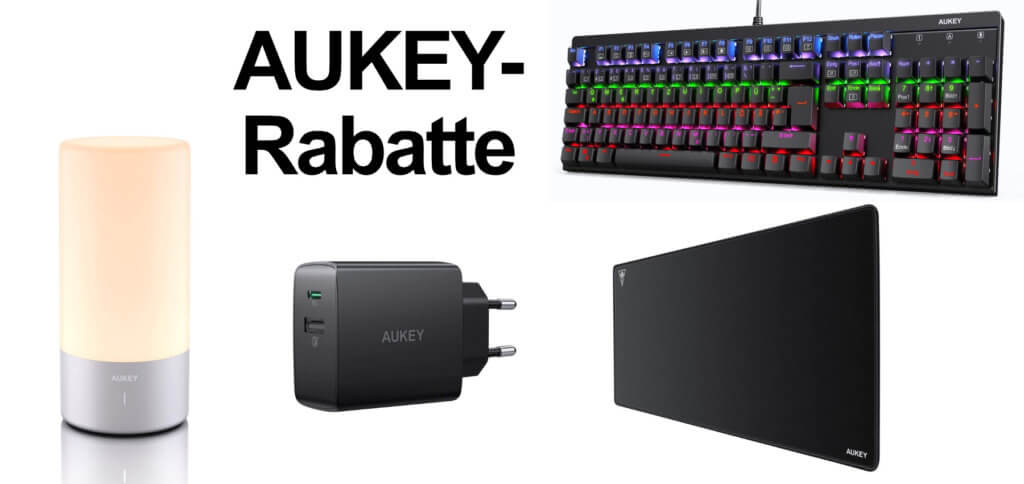 AUKEY discount campaign: Amazon voucher codes and coupons
The first product in the current savings campaign is the LED table lamp with the model number LT-T6. The lamp, which shines in individually selected colors, has a 360 ° touch sensor so that it can be controlled simply by touch. The right shade of white (warm white or cold white) can be selected for work, reading and relaxation, or a colored light can be activated for the party. Until tomorrow, August 14.08th, you can pay thanks to the voucher code MFIDUQ8P only 21,99 euros instead of 29,99 euros.
Until the day after tomorrow, August 15.08th, you can buy the AUKEY charger with the model name PA-Y17 at a lower price. The 18W charger has a USB-C port with Power Delivery (PD) and a USB-A port with Quick Charge (QC). The quick charge function can be used on various smartphones, tablets and other devices. The voucher code for the small, practical accessory is FDAG9GGK - and he makes sure the price only 9,45 euros instead of 20,99 euros is.
The next offer is aimed at the gamers among you. The mechanical keyboard with the model number KM-G6 brings you LED-illuminated buttons with individually adjustable patterns as well as water resistance and anti-ghosting. It is important to know that the buttons make clearly audible clicking noises, which is not a problem if you wear headphones while gaming. Do you play with the idea to stream on Twitch, but that could annoy the audience;) With the code H69LPYZ8 you pay only 44,99 euros instead of 59,99 euros - valid until August 16.08
For the last product whose discount is also available until 16.08/900. can be used, you do not need a code. You can activate the savings directly on the product page in the form of a coupon. It is an XL mouse pad for your gaming station with the dimensions 400 x 4 x 3 mm. In addition to the mouse, there is also space for the keyboard. You can get the mouse pad with the model number KM-PXNUMX thanks to the coupon for only 12,74 euros instead of 14,99 euros.
Information provided without guarantee; Changes possible
Jens has been running the blog since 2012. He appears as Sir Apfelot for his readers and helps them with problems of a technical nature. In his free time he drives electric unicycles, takes photos (preferably with his iPhone, of course), climbs around in the Hessian mountains or hikes with the family. His articles deal with Apple products, news from the world of drones or solutions for current bugs.
The page contains affiliate links / images: Amazon.de