One week from now is Black Friday 2019, this year's savings day for electronics, technology and accessories, consoles, PCs and games as well as for many other products. The preliminary program with the so-called Black Friday week. That is why there are already in the run-up to the day of action on this promotion page the first discount offers. If you don't want to browse through the entire range and discover bargains, you can select individual categories such as Amazon devices, flash offers, computers & software, TV & film, smart home, beauty, toys, clothing, Christmas, sports, home improvement and more.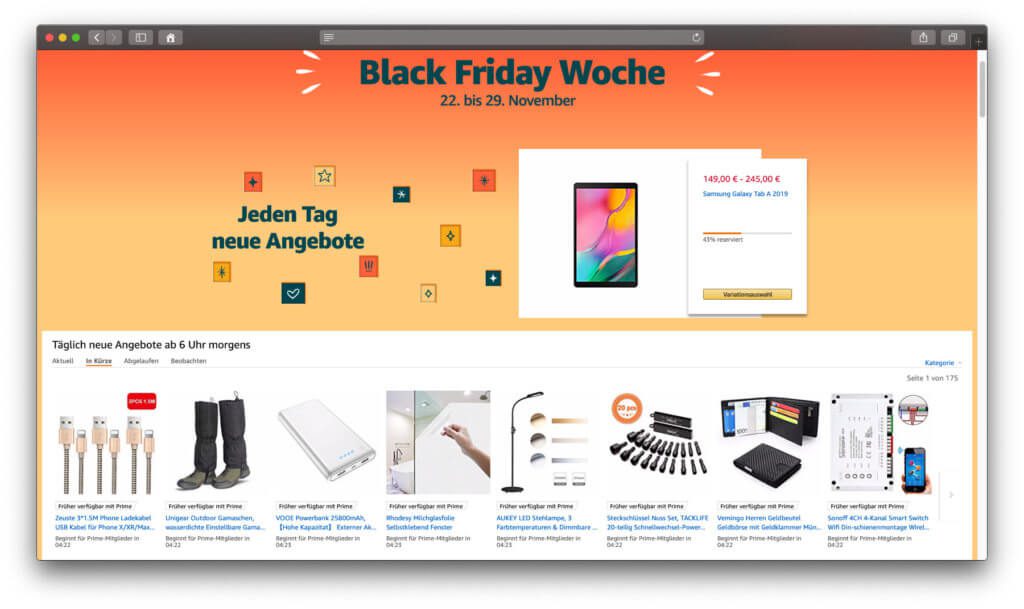 Black Friday week 2019 starts today!
Whether it's the Maxi-Cosi for the car, the SanDiskmemory card for the drone, an Amazon Echo with Alexa voice assistance, smartphones, tablets or a new winter coat – a number of products are currently discounted at Amazon. Electric toothbrushes, a cheap PlayStation Plus membership and books are also among the offers. There is also a discount on your new shower fittings, hair clippers, smart LED light bulbs and food and snacks. Appropriately, films and series are also included. So it's worth going to the Promotion page for the offers week stop by to compare prices and hunt for bargains.
Amazon Music Unlimited - 4 months for only 99 cents
There is a new customer offer for Amazon Music Unlimited not only as part of Black Friday 2019, but generally in the run-up to Christmas. The streaming service offers over 50 million songs from a wide variety of genres and artists. Via the Amazon Music app and website, songs, albums and discographies can not only be listened to, but also sorted into playlists and downloaded. This service is currently available to try out for 4 months for just 99 cents. The subscription can of course be canceled before the trial period expires; if this is not the case, € 7,99 per month is due. Take advantage of the offer you can with this link. More pre-Christmas and Christmas offers from Amazon Is there ... here.
Jens has been running the blog since 2012. He appears as Sir Apfelot for his readers and helps them with problems of a technical nature. In his free time he drives electric unicycles, takes photos (preferably with his iPhone, of course), climbs around in the Hessian mountains or hikes with the family. His articles deal with Apple products, news from the world of drones or solutions for current bugs.