In calendar week 35, Anker is also offering some bargains with its own products and articles from the brands eufy, Soundcore and Nebula. The daily offers are only valid on Monday, August 24, 2020. You can take advantage of the weekly offers until Sunday, August 30, 2020. Voucher codes are not required. The discounts of up to 36% are granted directly on the product pages as a price reduction. I have listed below which products are included this week and how much you can save when buying them.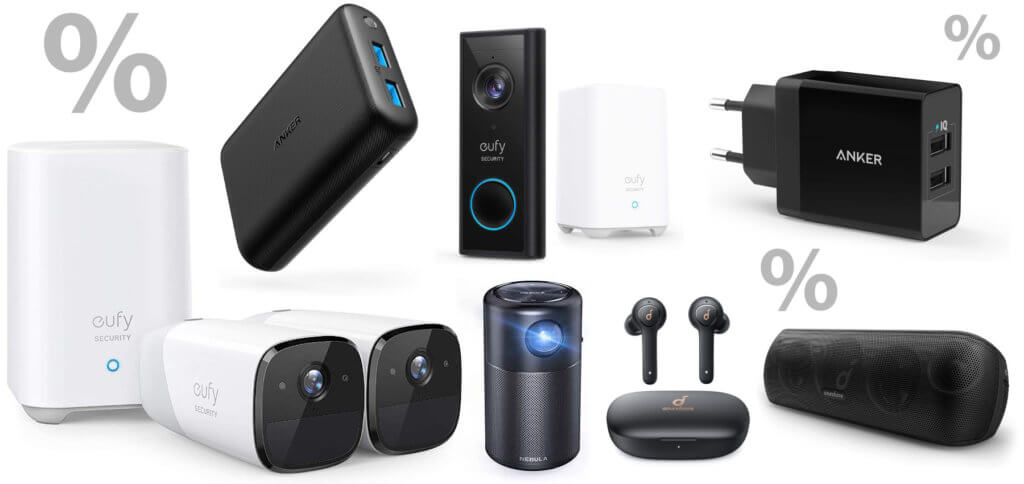 Anchor day offers: eufy cameras and nebula projectors
A total of four items that you can buy on Amazon have been made cheaper by Anker for today. Including three offers for the secure smart home and one of the mini-projector "Nebula Capsule":
Weekly offers from Anker, Soundcore and eufy
Until Sunday you will receive ten other bargains in addition to today's daily offers. Not only technical accessories from Anker are offered, but also devices from the brands eufy and Soundcore - surveillance cameras, a video doorbell, loudspeakers, headphones and more:
Information provided without guarantee; Changes possible
Jens has been running the blog since 2012. He appears as Sir Apfelot for his readers and helps them with problems of a technical nature. In his free time he drives electric unicycles, takes photos (preferably with his iPhone, of course), climbs around in the Hessian mountains or hikes with the family. His articles deal with Apple products, news from the world of drones or solutions for current bugs.