We can also start this week with discounted Anker products. In calendar week 34, the accessories manufacturer has some daily offers for today's Monday as well as weekly offers that are valid until Sunday. In addition to anchor items, they also include items from the eufy and Soundcore brands. By the way, you don't need any voucher codes for the up to 39% discount; the discount is granted directly on the product page. You can get to the individual offers with the following links.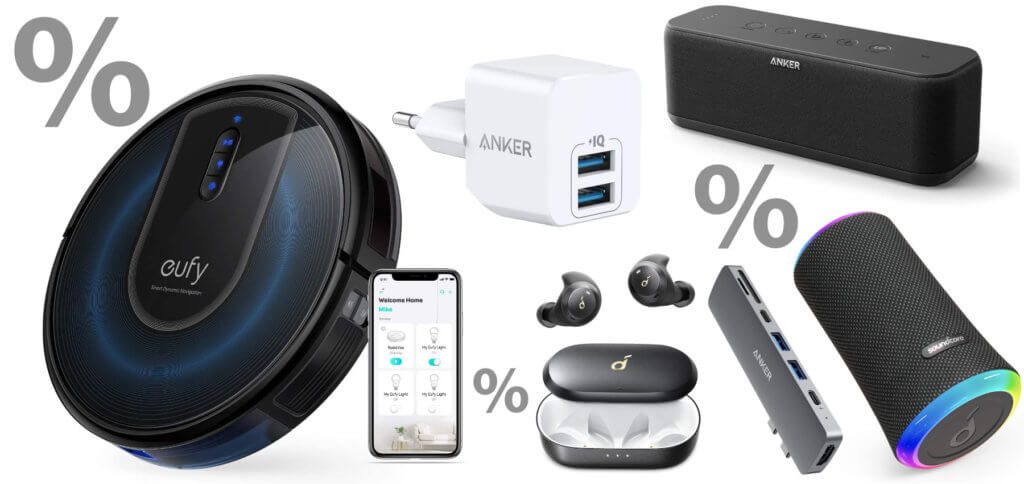 Soundcore daily offers for Monday, August 17.08.2020th, XNUMX
The following products are only available today with the discount shown. These are speakers from the Anker brand Soundcore. I have already shown in a few test and experience reports that this brand is highly recommended. For example in the test of the Soundcore Flare 2 360 ° loudspeaker.
Anchor, eufy & Soundcore weekly offers until 23.08.2020
You can treat yourself to the following offers at a budget price until Sunday. These also include two Soundcore items (headphones), but also eufy vacuum cleaner robots and technology accessories from Anker. Including a USB-C to Lightning cable and a USB-C hub for the Apple MacBook.
Information provided without guarantee; Changes possible
Jens has been running the blog since 2012. He appears as Sir Apfelot for his readers and helps them with problems of a technical nature. In his free time he drives electric unicycles, takes photos (preferably with his iPhone, of course), climbs around in the Hessian mountains or hikes with the family. His articles deal with Apple products, news from the world of drones or solutions for current bugs.