Thursday is Father's Day, which is why Anker allows you to buy technology gifts for less with a voucher code. With the codes listed here you can save up to 25% when shopping on Amazon. Also included are a Nebula Capsule Mini-Beamer, Bluetooth speakers from the Soundcore brand, a surveillance camera and a vacuum robot from eufy as well as other gadgets. The voucher codes are valid from today and until May 21.05.2020, XNUMX, i.e. until Father's Day. You can find all the details in the overview below.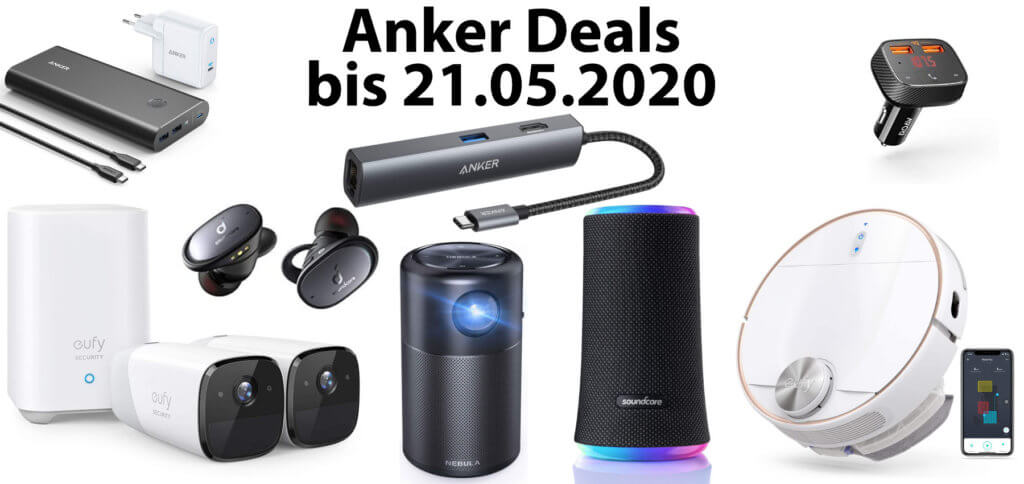 In the following table you will find the individual products from the manufacturer Anker as well as its brands eufy, Soundcore and Nebula. There is a discount of up to 25% with the Amazon voucher codes that are also listed. I also wrote to you about what that means in euros. Have fun shopping for gifts;)
Product + link
Regular price
Special Price
Coupon code (discount)
eufyCam 2, 1080p surveillance camera
349,99 €
279,99 €
EUFYCAM20

(20%)

eufy RoboVac L70 Hybrid, vacuum and floor mopping robot
499,99 €
399,99 €
EUFYL7020

(20%)

Nebula Capsule, mini projector with WiFi
349,99 €
279,99 €
CAPSULE20

(20%)

Soundcore Flare 2, IPX7 Bluetooth speaker
79,99 €
59,99 €
SCFLARE25

(25%)

Soundcore Liberty 2 Pro, TWS Bluetooth headphones
149,99 €
111,99 €
SC2PRO25

(25%)

Anker PowerCore + 26.800 mAh power bank with 45W + 60W PD charger
99,99 €
79,99 €
AKCORE20

(20%)

ROAV car charger, bluetooth receiver & FM transmitter
16,99 €
14,44 €
ROAVF015

(15%)

Anker PowerExpand + 5-in-1, USB-C Ethernet Hub
41,99 €
35,99 €
AKCHUB14

(14%)
Information provided without guarantee; Changes possible
Anker products in the Sir Apfelot blog
In addition to anchor deals on various occasions, you will of course also find more detailed articles on the manufacturer's products here in the blog. For example, I introduced you to the mini projector linked above in mid-2018: Anker Nebula Capsule - Mini-Beamer in tests. Mine is a little more up-to-date Test of the Anker Soundcore Flare 2 loudspeaker, which you can also find in the table above. The last product in the table was already discussed here in the blog in February 2020: USB-C to HDMI - 4K @ 60Hz adapter from Anker. A summary of the new or announced Anker devices from CES 2020 is available in a post from early January. Have fun browsing ;)
-
Jens has been running the blog since 2012. He appears as Sir Apfelot for his readers and helps them with problems of a technical nature. In his free time he drives electric unicycles, takes photos (preferably with his iPhone, of course), climbs around in the Hessian mountains or hikes with the family. His articles deal with Apple products, news from the world of drones or solutions for current bugs.