As was the case last week, the technology manufacturer Anker is coming up with a new product as well as daily and weekly offers for this Monday. The new projector is the Nebula Cosmos Max with 4K resolution and 1500 ANSI lumens. It is available on the German market from today (see below) and provides a contrast ratio of 1: 100.000. There is also HDR10 for the best complete package in home theater. In addition to the new Nebula projector, there are special offers with discounts for vacuum robots, a power bank and other projectors. Check it out ;)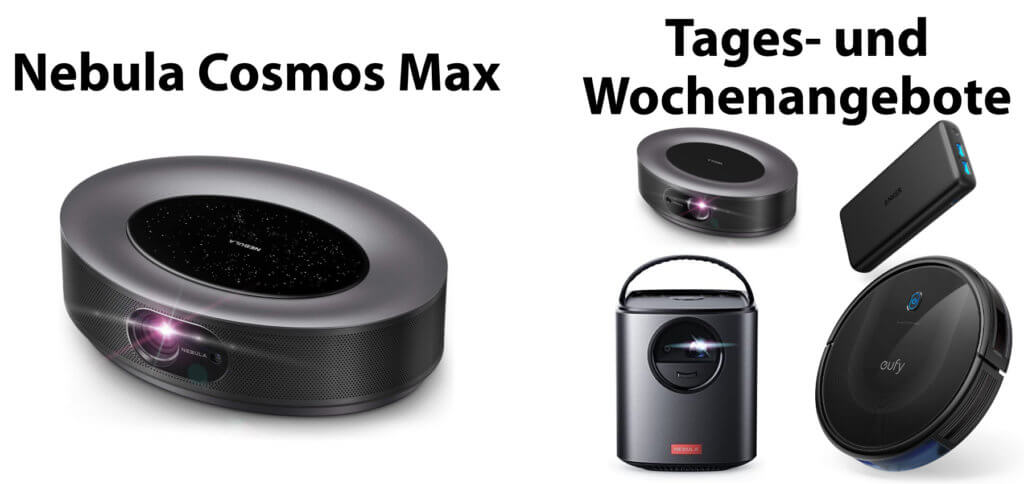 Nebula Cosmos Max with 4K, HDR10 and 1500 ANSI lumens
The Nebula Cosmos Max, which is quite compact at approx. 35 x 25 x 10 cm, weighs around 3,3 kg and provides a projection with 150K resolution, HDR4 and 10 ANSI lumens on a screen diagonal of up to 1500 inches. Several speakers built into the device ensure surround sound (Dolby Digital Plus) without additional speakers or audio systems.
Whether mounted on the ceiling or placed on a table / tripod, the image is automatically corrected (keystone correction for sloping walls) and focused (autofocus). For a 60-inch image, the projector only needs to be 1,6 m away from the wall. In addition to the power supply, there are interfaces for 2 x USB-A, 2 x HDMI and audio output. More details about the device with Android TV can be found on the Amazon product page.
Anchor daily offers for September 07.09th: eufy RoboVac vacuum cleaner
The two offers, which are only valid today, are RoboVac vacuum cleaner robots from the anchor brand eufy. You don't need a voucher code for the up to 29% discount, because the discount is granted automatically today on the Amazon product pages:
Anchor weekly offers until 13.09 .: Anker, Nebula and eufy deals
From today and until next Sunday you will also get the following products cheaper. The discount of up to 22% is also available without voucher codes or the like. You can take advantage of the discount directly by shopping on the following product pages:
All statements without guarantee; Changes possible
After graduating from high school, Johannes completed an apprenticeship as a business assistant specializing in foreign languages. But then he decided to research and write, which resulted in his independence. For several years he has been working for Sir Apfelot, among others. His articles include product introductions, news, manuals, video games, consoles, and more. He follows Apple keynotes live via stream.
The page contains affiliate links / images: Amazon.de