As on the last Mondays, there are daily and weekly offers from Anker - as well as a new power bank with solar panel. The waterproof and dustproof solar power bank comes with a charge indicator, two USB-A outputs, 10.000 mAh nominal capacity and a 3-LED flashlight. The latter not only has two brightness levels, but can also flash SOS. The daily and weekly offers also include power banks and other charging accessories as well as products for the smart home, projectors, headphones and speakers. So there is something for everyone again;)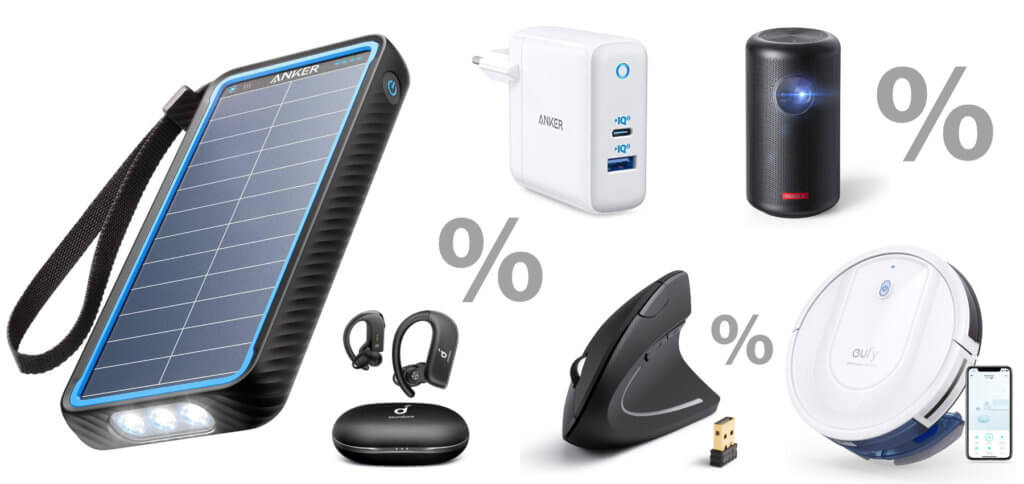 Anker PowerCore Solar 10000
Anker PowerCore Solar 10000 you can fully charge the iPhone 11 twice. The power bank with solar panel is not only something for the balcony, but can also be used for outdoor adventures, camping and on the beach. The external battery withstands dust and larger dirt completely and is also protected against splash water. The corresponding degree of protection is IP64. You can see more details, pictures and ways to purchase see on this product page. The price for the new device is 35,99 euros.
Anchor daily offers for Monday, August 31.08.2020, XNUMX
You do not need discount codes or other types of vouchers for the daily offers from Anker and Nebula products. The discount is granted directly on the Amazon product page. In total, you can access these seven bargains today with discounts of up to 36%:
Anchor weekly offers until Sunday, September 06.09.2020th, XNUMX
In addition to the deals listed above, there are also a few weekly offers until Sunday, which you can also access today. In total, there are ten products from Anker, Soundcore, eufy and Nebula, for which you do not need any discount codes or vouchers. The discounts of up to 30% are available directly on the Amazon product pages:
Information provided without guarantee; Changes possible
With Lynne, a graphic artist and designer has joined the team who contributes articles on the topics of homepage, web development and Photoshop. YouTube has recently become one of her areas of activity. Lynne is (unintentionally) very good at generating error messages and thus ensures a steady influx of problem-solving articles, which repeatedly make the Sir Apfelot blog a popular contact point for Mac users.
The page contains affiliate links / images: Amazon.de