If Apple had held a keynote this week, a "One More Thing" would have been possible at the end. Because in addition to new M chips and new Mac models, Apple has also presented a revised version of the HomePod. The one in March 2021 removed from the range Smart speakers seemed to be done for Apple. Now he is celebrating his surprising comeback as a 2nd generation HomePod. In the following I have summarized the most important information about the new Apple HomePod 2023.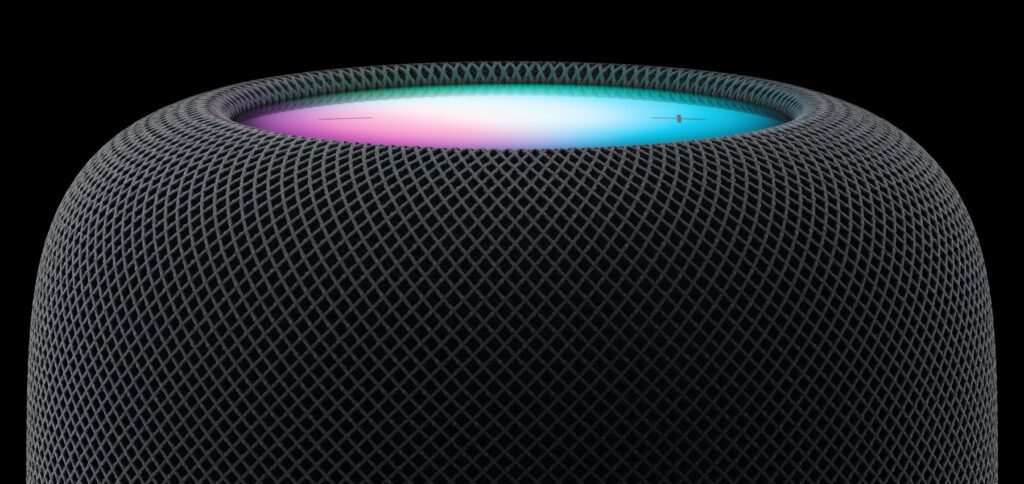 Apple HomePod (2nd generation) specs
The 2nd generation HomePod is designed to take the sound experience of its predecessor to a new level. However, the external design has remained the same. In this way, older models of the first generation can be combined with the new versions of the second generation without a difference being noticeable at first glance. This only occurs under the hood. Here you can find the technical data from the HomePod (2nd Gen) data sheet:
Manufacturer: Apple
Model: HomePod 2nd generation
Device type: smart speaker and smart home hub
Size: 16,8 cm height x 14,2 cm diameter
Weight: 2,3 kg
Colours: midnight (dark grey), white
Chip: S7 from own production
Sensors: temperature and humidity, noise detection, accelerometer
HomeKit function: hub, smart speaker, intercom
Audio technology: 4 inch high-excursion woofer, 5 tweeter, automatic bass correction by internal low-frequency microphone, computational audio for real-time tuning, room detection for 3D audio (with Dolby Atmos for video and music) and stereo with two devices, four microphones, AirPlay for multi-room playback
Wireless Technology: WiFi 802.11n, Bluetooth 5.0, Thread, Ultra Wide Band Chip, Peer-to-Peer Discovery
Voice assistant: Apple Siri
Controls: Voice control, tapping on the top touch pad, using iPhone, iPad, Apple Watch, Apple TV or Mac
What's in the box: HomePod, power cord, documentation
Introductory price: 349 euros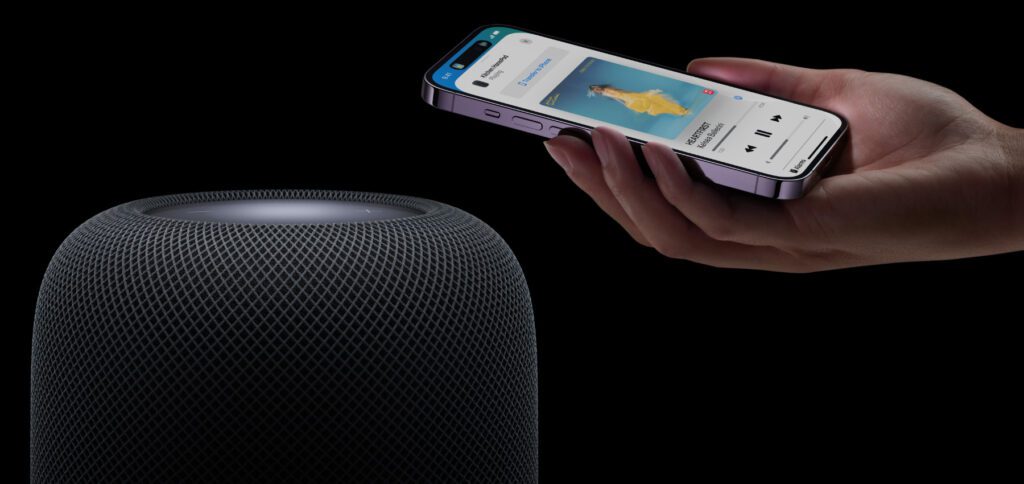 More information about the Apple HomePod from 2023
The new Apple HomePod comes with the seamless mesh fabric that has been known since 2018 as an outer casing. According to the manufacturer, the sound-permeable material is 100% recycled and can be selected in two color options. Unlike in 2018, however, no A8 chip is used as the central processing unit of the device. This one is completely outdated.
Rather, an S7 chip is used, which was already able to assert itself in the Apple Watch Series 7. The change makes sense since the Apple Watch and its SoC are designed more for processing and using sensor data. This is certainly useful for real-time calculations of audio content, reading sensors and use as a HomeKit hub.
Even better sound than the old Apple Smart Speaker
The new Apple HomePod should deliver high quality in the bass, mid-range and treble ranges. The high-excursion woofer specially developed for the device represents an audio driver for high performance. The membrane can be moved by up to 20 mm. The woofer is matched with the rest of the audio technology via a bass EQ microphone and real-time calculations.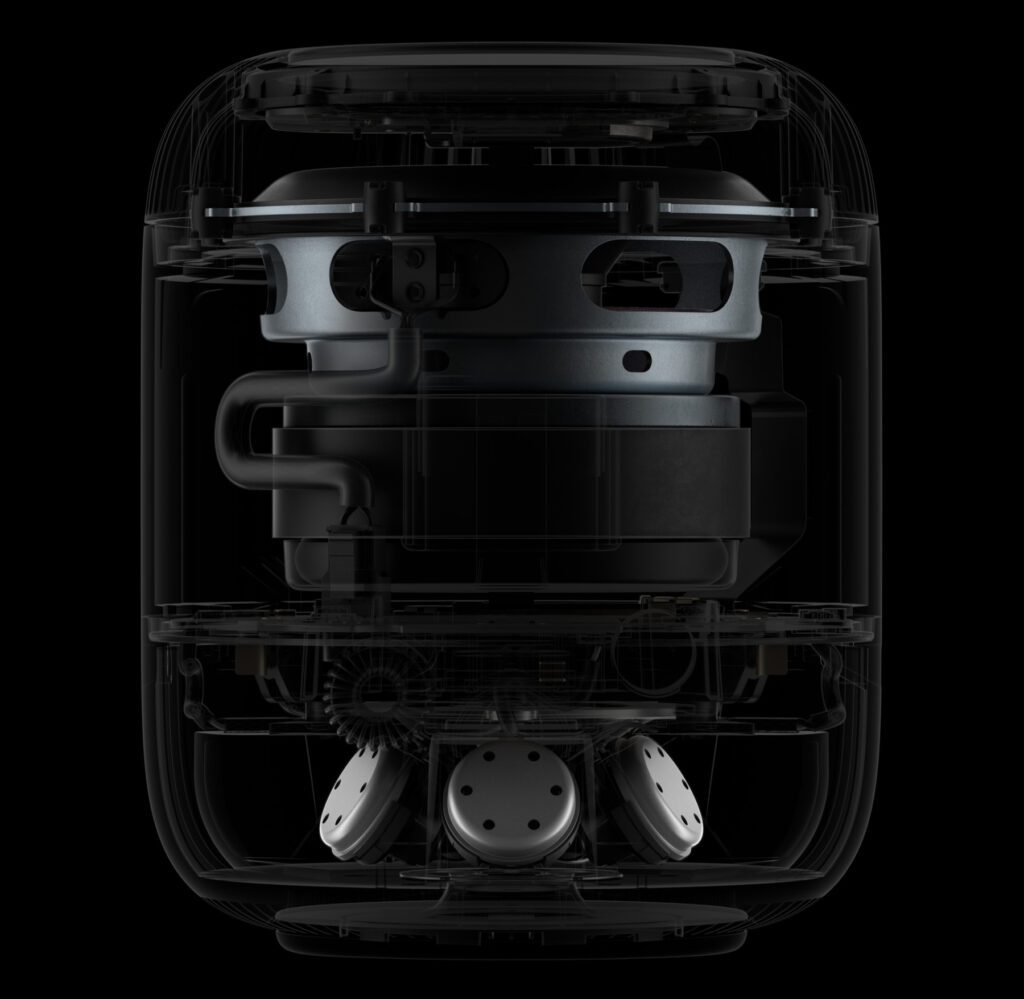 The device's five tweeters are built in a ring shape, so they can provide a quality listening experience in any direction. The HomePod's room recognition ensures that the output audio can be adjusted even further. Even with just one device, you can use 3D audio to immersively enjoy music, videos, films, series, documentaries and more. A stereo setup can be created with two of the new HomePods. The new HomePod cannot be paired with an old model for this.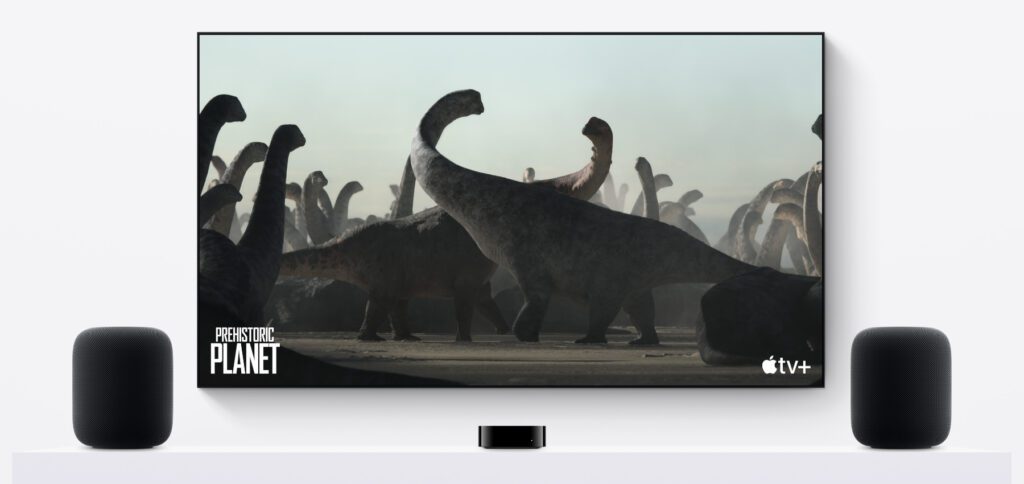 "Building on our expertise and innovations in audio, the new HomePod delivers rich, deep bass, natural mids and clear, detailed highs"Said Greg Joswiak, Apple's senior vice president of Worldwide Marketing. "As the popularity of HomePod mini has grown, so has interest in the even more powerful sound that can be achieved with a larger HomePod. We're excited to bring the next generation of HomePod to customers around the world."- .
These iPhone models are compatible with the new Apple HomePod
Not all iPhone models can be used to use the new 2nd generation Apple HomePod; especially very old versions are excluded from the compatibility list. It is also important that the compatible models are equipped with the latest iOS. As part of the launch of the new Smart Speaker is likely iOS 16.3 published. These models should then receive an update accordingly:
iPhone 14 Pro Max
iPhone 14 Pro
iPhone 14 Plus
iPhone 14
iPhone 13 Pro Max
iPhone 13 Pro
iPhone 13
iPhone 13 mini
iPhone 12 Pro Max
iPhone 12 Pro
iPhone 12
iPhone 12 mini
iPhone 11 Pro Max
iPhone 11 Pro
iPhone 11
iPhone XS Max
iPhone XS
iPhone XR
iPhone X
iPhone 8 Plus
iPhone 8
iPhone SE (3st gen)
iPhone SE (2st gen)
These iPad models are compatible with the new Apple HomePod
iPads can also be paired with the new 2nd generation Apple HomePod. But here, too, there are some limitations in terms of the age or model of the tablet in question. In addition, the latest operating system should be installed to use Apple's new smart speaker - when the device is released, this will probably be iPadOS 16.3. The update notice then applies to these models:
12,9 ″ iPad Pro
11 ″ iPad Pro
10,5 ″ iPad Pro
9,7 ″ iPad Pro
iPad (10th generation)
iPad (9th generation)
iPad (8th generation)
iPad (7th generation)
iPad (6th generation)
iPad (5th generation)
iPad Air (5rd generation)
iPad Air (4rd generation)
iPad Air (3rd generation)
iPad mini (6th generation)
iPad mini (5th generation)
When can you buy the HomePod (2nd gen)?
The new Apple HomePod was introduced on January 18, 2023 and can be ordered from the official Apple online store ever since. It will be available in stores from February 3, 2023. Then the ordered units should also be delivered. In addition to Apple stores, the HomePod will then also be sold by other institutions, retail partners, larger electronics stores and online shops. You will also be able to buy it on Amazon.
After graduating from high school, Johannes completed an apprenticeship as a business assistant specializing in foreign languages. But then he decided to research and write, which resulted in his independence. For several years he has been working for Sir Apfelot, among others. His articles include product introductions, news, manuals, video games, consoles, and more. He follows Apple keynotes live via stream.