Apple has announced that users of a (full) Music subscription will be able to enjoy the new "Sing" function in December. This not only allows you to see the progress of the lyrics to sing along in real time, but also brings audio adjustments for the perfect karaoke experience. The voices of the singers cannot be completely deactivated, but they should at least be able to be turned down independently of the music. Apple Music Sing is to be rolled out worldwide - most likely just before Christmas, so that everyone who gathers for the holiday can sing together :D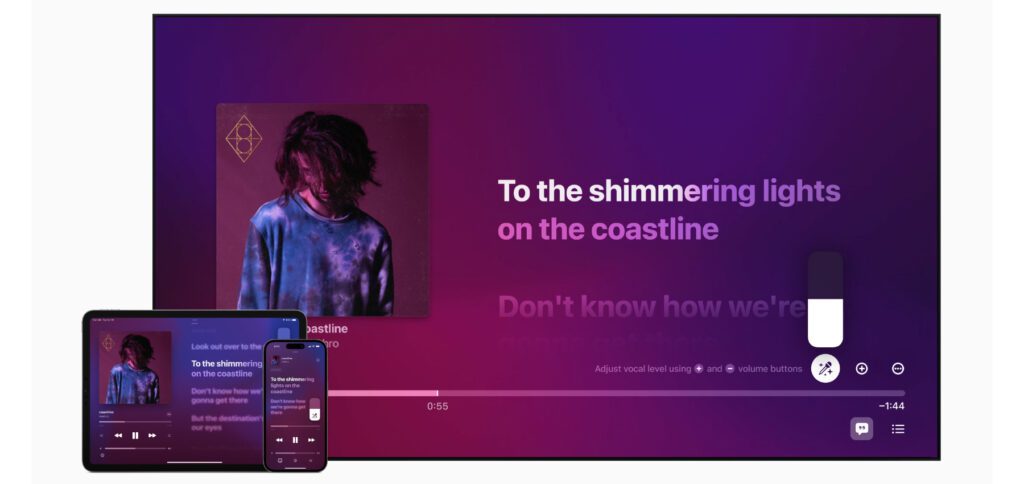 View lyrics like a karaoke machine with Apple Music Sing
The lyrics of songs displayed via Apple Music Sing are reduced in opacity. They only become fully visible when they are also sung in the corresponding song. This allows users of iPhone, iPad, Apple TV and Co. to turn the music app into their very own karaoke service. A slider that follows the surface of the App is added is used to adjust the vocal volume, i.e. to turn the singing voices, raps or other language channels heard in the song louder or softer.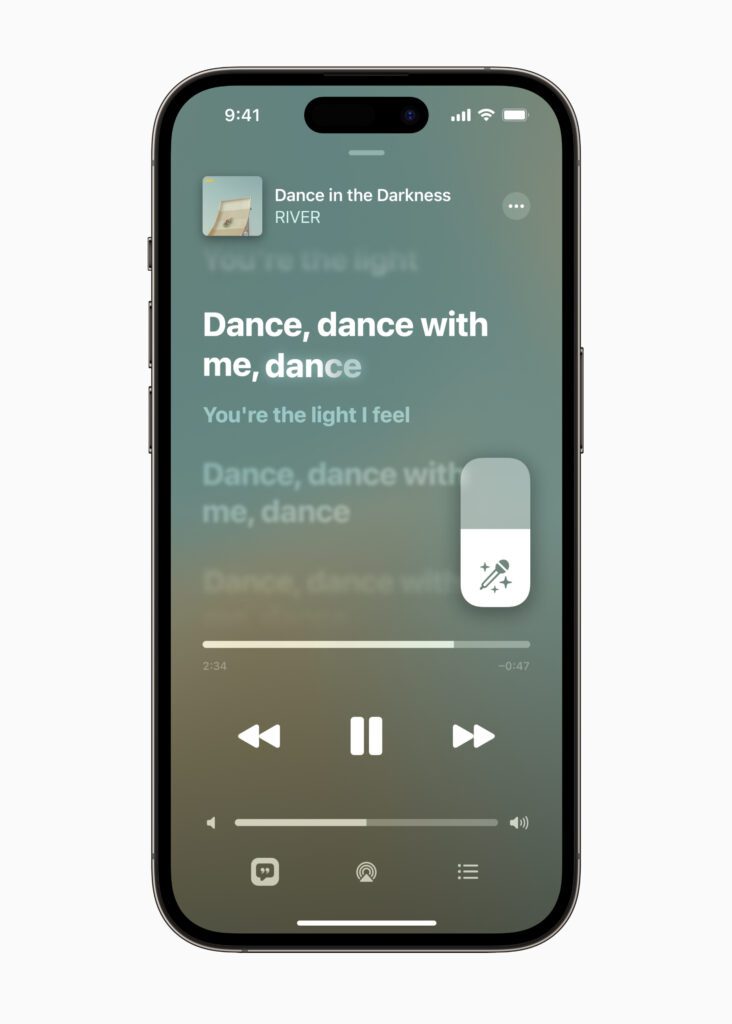 There are over 50 playlists to start with, featuring duets, epic choruses and more
From festive occasions to party anthems, there are various playlists to choose from at the start of the new offer. So you don't have to put together your own karaoke offer if you want to get started right away. What all 50+ playlists will be called is not yet known. So far, in an official PDF but called "Festive Favorites", "Epic Choruses", "Iconic Duets" and "Party Anthems" for the sing announcement. Chances are there will also be dedicated 70s, 80s, 90s and similar playlists. I could also imagine genres like rock, rap and grunge.
Availability: Restrictions in subscription models and devices
Like Apple itself in the press release announced on the subject, Apple Music Sing will not be included in the so-called "Voice plan" be available. This subscription, which is simply called "Voice" in Germany, costs only 4,99 euros per month and is significantly limited in scope compared to the other subscriptions, cannot be used with the new karaoke function. Like MacRumors in one Articles shows, but there are also device restrictions: Apple Music Sing should only be on the Apple TV 4K presented in October become available, but not on older models. Here more about the device: Apple TV 4K (2022) review in summary.
Updated December 8, 2022
Apple has now translated the press release from two days ago into German. you find her with this link. In contrast to the original US version, it also shows the compatibility with current Apple devices in more detail: "Apple Music Sing is available on all compatible iPhone and iPad models, as well as the new Apple TV 4K.So you can't use Sing on Mac, iMac, MacBook and other Apple computer models or on Apple TV models up to 2021. (end of update)
After graduating from high school, Johannes completed an apprenticeship as a business assistant specializing in foreign languages. But then he decided to research and write, which resulted in his independence. For several years he has been working for Sir Apfelot, among others. His articles include product introductions, news, manuals, video games, consoles, and more. He follows Apple keynotes live via stream.