Buy a television cheaply or finally equip your home cinema with a 4K Smart TV - with the official opening of IFA 2018 in Berlin, now could be the right time for it. Even last year's models, TVs with OLED displays and televisions from well-known manufacturers and brands are currently falling sharply in price. IFA 2018 has something to do with it in that new televisions with even better technology, even higher resolution and further developments for this and next year will be presented there. Among other things, T-Online reported in advance of a new LG device with an 8K screen and 88-inch screen diagonal (here ).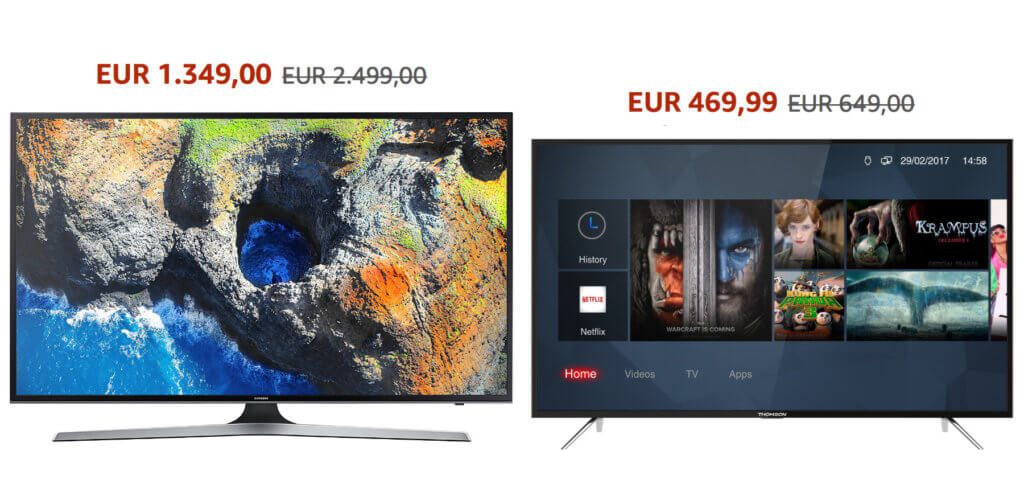 4K UHD TV with HDR in price drop in 2018
If you look around at Amazon, you will find, for example, a 75 inch television from Samsung, whose RRP was 2.499 euros and which is now being offered for 1.349 euros. That is a price reduction of around 46%. The 4K UHD Smart TV with HDR technology and energy class A has only been listed on the sales platform since March 2017; but now already blessed with such a discount. All the specs, customer reviews and other information as well as sizes (65, 55, 50, 49, 43 and 40 inches) can be found here: Samsung MU6179 Smart TV.
There is also a considerable price reduction of 28% at the Thomson 55UC6326 Smart TV with 55 inch screen diagonal, HDR graphics, triple tuner and energy class A +. The device is currently available for less than 500 euros and can be ordered via Prime. This smart television is also available with other screen sizes - the smallest for just 329,99 euros. Of course, you can also stream Netflix or connect an Apple TV to it; as well as consoles, Blu-Ray players and the like.
Recommended reading: 4K, UHD and QHD - how many pixels does Ultra High Definition have?
Buy TVs cheaper: other models at a discount
I became aware of the topic through a Entry at Futurezone. It says that retailers currently want to clear their warehouses to make room for the upcoming shopping season before Christmas. This is especially true for electronics and technical devices - and also for televisions. In the Futurezone message, which also refers to a report by The H takes, z. B. called OLED televisions, which are currently cheaper.
For example the LG OLED 65B7V, which is sold for around 2.000 euros on some platforms (instead of around 3.000 euros in the previous year). In addition, LCD televisions are discussed, which also offer HDR and, along with other models and technologies, are becoming cheaper. Here are two examples:
4K TV - Amazon bestseller
Here I have added an Amazon bestseller list for the search term "4K TV". If you are in reading mode of the Sir Apfelot app is located, it may not be displayed. In regular mode, on the mobile website and in the Browser your computer, you should find the latest TVs with good ratings and prices here (the list updates itself automatically):
After graduating from high school, Johannes completed an apprenticeship as a business assistant specializing in foreign languages. But then he decided to research and write, which resulted in his independence. For several years he has been working for Sir Apfelot, among others. His articles include product introductions, news, manuals, video games, consoles, and more. He follows Apple keynotes live via stream.
The page contains affiliate links / images: Amazon.de