This is a guest article that was kindly made available to me by Holger. Holger has been responsible for all the technical things in the background of the Sir Apfelot website for many years and he helps me a lot with customer pages that we implement with WordPress. I would call him a WordPress guru, but he sure doesn't like to hear that ... so he's the VR guru from now on! ;-)
In any case, he has been with the VRVirus has fallen into disrepair and hasn't played a single game that runs on the "flat screen" since buying his PlayStation 4 Pro with VR goggles. Since I've also gotten interested in VR lately (but haven't had the budget to buy a PSVR so far), he's introduced me - and you - to a few of his favorite games in this article. But now it's finally starting... I hand over to Holger! ;-)
Why We Should All Play PSVR!
After the PSVR came out at the end of 2016 and has now celebrated its second birthday, it is slowly but surely picking up speed. So far, the PSVR has been sold an impressive 2018 million times by August 3 - and the trend is rising. The number of available PSVR games is currently still quite manageable, but the number of good to outstanding titles is growing and growing. Many are already impressively showing how cool VR is and what will (hopefully) await us in the future. What is already available and what my personal recommendations are, I am going to list for you here.
My current top 5 VR games for the Playstation
1.Skyrim VR
With The Elder Scrolls 5: Skyrim VR, one of the most popular fantasy worlds is now also available in virtual reality. With an estimated game time of over 200 hours, it is also one of the most extensive games for VR to date. Where many of the current VR games are mostly just entertaining fun of a maximum of a few hours, Skyrim shows off a freely explorable fantasy world full of dangers, action and adventure. A really unique experience.
Whoever gets involved in this world will feel more in the middle than any normal flat game can ever do. If you play with the Move Controllers, you swing your sword almost like in real life or draw your bow with deadly arrows, as if you really had both in your hand. If a dragon attacks you, you actually look upside down and try to take cover somewhere. If you are facing a dragon, you actually have the feeling of facing a huge dragon in VR.
One has to admit, however, that the original game has been around for a few years. You can tell from the game, especially graphically and technically. When it was released in November 2011, it was rightly one of the biggest and best open-world role-playing games of its time. Over the years the game has been ported to many other systems. The most sensational port came in November 2017, with the release of a VR version for the Playstation VR, a PC-VR version followed in spring 2018.
But despite a few minor shortcomings, Skyrim VR is still my all-time favorite among PSVR games. Skyrim shows impressively what we can expect from VR in the future. A recently released patch for the PS4 Pro improved the graphics a little later, so that at least on the PS4 Pro it now looks pretty good. Personally, I always enjoy returning to the world of Skyrim, even though I've seen a lot there. But there is still plenty of room for new adventures in VR.
I embed a YouTube film for each game, but please note that the actual VR effect cannot be displayed through it. With VR glasses you have a three-dimensional perception of what is happening in the game, which simply cannot be conveyed when watching YouTube videos. Nevertheless, you can get a little impression of the graphics and the game with the videos.
2. Astro Bots - Rescue Mission
Astro Bots occupies just under second place behind Skyrim on my recommendation list. OMG! What a great game. In short, Astro Bots is a kind of Super Mario in VR. A mixture of platformer and jump'n run. Astro Bots from Sony Studio Japan is technically and creatively implemented at such a high level that it is sure to be one of the absolute highlights of 2. The bar for future games is now quite high here. It's almost as if the development team has shown all the other developers where the hammer is. What the developers still get out of a rather weak normal PS2018 is quite remarkable. On the Pro everything looks extremely good for VR conditions. The game itself is just fun too. Astro Bots is one of those titles that are worth buying a PSVR for. You just can't experience something like that on a normal screen with such intensity. That's why I love VR and Flat is no longer interested.
All levels of Astro Bot have been implemented with so much loving creativity that it just conjures up a smile or a big grin on your face when playing in many places. Even "die-hard" shooters and horror fans like me were incredibly captivated and challenged by the game. The main character's animations alone are so cute that you just want to hug the little bot. The sound is consistent, the music catches the ear and just puts you in a good mood. Involuntarily you start to bob along to the beat during the game.
In times when a number of VR games for the Playstation are mainly geared towards horror (which also works great in VR) and action and should therefore appeal to adult players in particular, Astro Bots is also and especially suitable for children. But be careful, Astro Bot requires quite a high level of skill and coordination. In contrast to a normal flat game, the movements and viewing directions have to be coordinated in a completely different way than you would be used to in front of a screen. I have often caught myself taking a step forward to take a look around the next corner or having to turn around to see what was happening behind me. Just like looking up when the little bot has to move high up on the leaves of a tree at a dizzying height. Once I even climbed up on a chair so that I could look into a hidden corner above me. How boring are flat games there? : D
Unlike most other VR games, Astro Bots is played from a third person perspective. That means, you stand in the form of another larger robot in the middle of the game world and steer the little Astro Bots through the levels. That means things happen around you, next to you, above you, below you. Sometimes, in addition to controlling the bot, you also have to actively intervene in the game with your own body by, for example, having to head back a ball that has been shot at you, or having to clear the way for your little bot with a water cannon. Everything is very creative and funny. In short: buy the game. Astro Bot is a must-have for every VR gamer. No matter if big or small.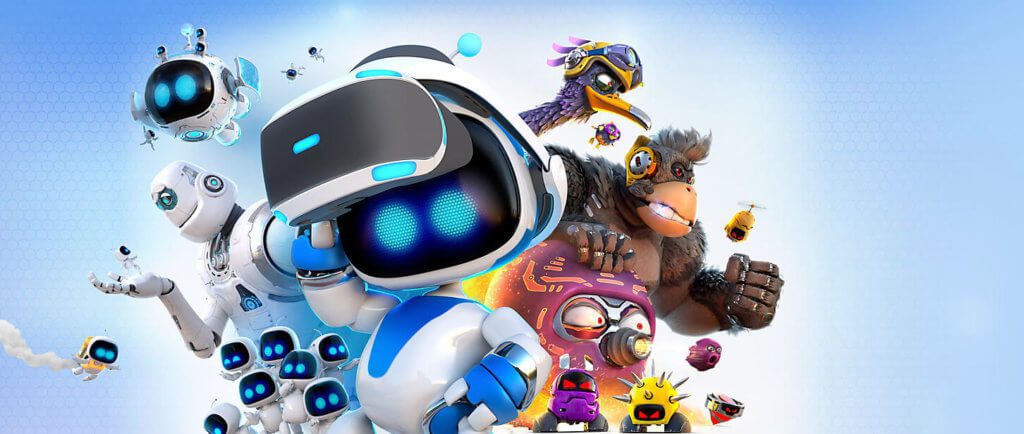 3 Resident Evil 7 VR
Many of you are probably familiar with the Resident Evil series. Horror, zombies - the full program. With the 7th part, a part has now also been implemented on VR. And to anticipate: Resident Evil 7 VR is another great VR game. For all those who only smile tiredly at a horror game: Just play Resident Evil in VR. I can tell you, it's completely different to be in the middle of it than just in front of the screen. In VR you soak up the whole atmosphere in you. You not only see the horror, you also experience it.
The whole game is so oppressive that one or the other time you literally get goose bumps all over your body. In addition, there are well-tempered shock moments that hit you to the core and make you shudder. If a game actually leaves you feeling uncomfortable about opening the next door and anxiously looking around to see what's lurking behind you, then it's VR.
Resident Evil 7 was ported to VR at an astonishingly good level. A real showpiece for everyone who really wants to get scared.
4. Wipeout Omega Collection VR
The Wipeout series is certainly known to many Playstation players from the past few years. Wipeout is basically a futuristic racing game. The Omega Collection for flat players, which has been available for a long time, now also received a VR mode in spring 2018, which allows the entire game to be experienced in virtual reality.
To be able to play this cult racer in VR is an absolute dream for many fans of this racing series. I have to admit that I was never interested in the flat version and, to be honest, I never knew Wipeout before, but the VR version has it all. The speed, the action, everything can be experienced right in the middle. Graphically everything is on a really good level for PSVR standards with the Pro. In short: Wipeout is a lot of fun in VR, especially in multiplayer mode.
5. The Persistence
The Persistence is maybe my little insider tip. In terms of the gameplay, it is a really ingenious game, which, however, demands an enormous tolerance for frustration from the player. The game requires a good dose of patience and perseverance in order to reach the goal. In terms of genre, The Persistence is a kind of mixture of horror / science fiction, survival, first person shooter and rogue-like. Rogue what? Rogue-like basically means that there is no way to save and load in the game. All levels are procedurally regenerated over and over again, so they are not the same in any game. The developers have implemented this very cleverly.
If the game character dies in the game, you always have to start over. Ok, once you have completed a chapter, in normal game mode you always start there and not completely at the beginning. Little consolation, because if you die after endless sneaking through the rooms, fighting and collecting, through a tiny mistake or carelessness and have to go back to the start, that can be incredibly frustrating. But not only that you are set back - with The Persistence you also lose all weapons found and produced in the passage in the event of virtual death. But at least the skills and tokens collected up to then for buying / producing weapons or stem cells for buying skills are retained. The motivation to do better next time is surprisingly there again and again despite everything - at least for me.
Technically, the game is implemented very well in VR. Most of the time it takes place in a dark to pitch black environment, but everything still looks pretty neat. There are also plenty of shock moments here. If you can't stand that, you should play Tetris. It goes without saying that all of this has a very special effect in VR. The sound or the sound effects alone trigger a really oppressive feeling in connection with the darkness. You don't have to see much to be afraid, either. On the one hand there is the fear of not making a mistake and on the other hand, well who knows, from which dark corner the next monster will jump? Horror lurks around every corner and every door.
Other notable PSVR games
So those were my top 5. But there are a lot more VR titles that should be mentioned as well. A complete list and a more detailed description of all titles would surely go beyond the scope at this point. But anyway I would like to give you a small selection of other notable games that I have already tested.
Farpoint
Farpoint is another first person shooter set in space. If it weren't for VR, nobody would be interested, but VR is a lot of fun. Farpoint is best played with the optionally available Aim Controller.
The aim controller gives you the feeling of actually holding a boom in your hand while playing. Not only is this fun, it increases immersion many times over. The story of Farpoint is well implemented and the game makes for entertaining shooting fun.
DOOM VFR
Doom is sure to be the epitome of a shooting game. The VR version is technically and graphically implemented brilliantly and an action spectacle of its own. Doom can also be played with the aim controller, which of course increases the fun even more.
Firewall - Zero Hour
Hasn't picked me up like that yet, but Firewall is kind of Rainbow Six or Counter Strike in VR. In this tactical shooter, 4 against 4 can compete against each other online. In the single player mode, however, it is only partially fun.
Creed - Rise to Glory
Creed is a boxing game in VR. If you need some exercise and don't shy away from a proper workout, you should give Creed a try. Armed with the move controllers, you can improve your skills in the training hall and then compete against a selection of opponents in the boxing ring. In the ring you can now really beat up your opponent and give him a neat hit in the face. But be careful, of course it also hits back, so don't forget to duck and dodge, otherwise you will land on the ring floor faster than you expected.
The feeling of hitting with hit feedback is not badly implemented. With the Move Controllers in hand, you can perform your punching movements as normal. What then looks more like bizarre shadow boxes to outsiders feels amazingly real in VR. Ok, fortunately the developer didn't actually implement the associated pain, but the movement is real and fun. After a strenuous day at work, there is nothing better than slapping someone in the mouth virtually - but the physical exercise makes you sweat very quickly. Creed can be played against the AI ​​boxes or in multiplayer mode against real human opponents.
Arizona Sunshine
Arizona Sunshine is a wonderful zombie first-person shootout. A cool story puts you in a zombie apocalypse through which you have to fight your way with a lot of firepower.
This game can also be played with the aim controller, which of course significantly increases the fun. Once the story campaign has been played through, the Horde mode provides further motivation. Here you can fight against ever new waves of the undead alone or in co-op.
Sprint Vector
Sprint Vector, like Creed, is one of those games that makes you sweat while playing. Why? Quite simply because you have to move physically while playing. In order to move your character forward on futuristic inline skates in this racing game, you have to swing back and forth with the move controllers and your arms - almost like cross-country skiing, where you have to push off your sticks to gain momentum. The faster you swing, the faster your character moves.
The goal is of course to be faster than everyone else. The various courses are teeming with obstacles that you have to overcome by jumping, crouching or flying like a superman. Of course, your opponents don't sleep and make your life difficult. Tiring, but great fun in VR. Sprint Vector can be played alone against AI opponents or as a multiplayer against human opponents.
Super hot VR
Super Hot is basically a mixture of a shooter and a game of skill. Graphically, the game is kept very simple with simple polygon graphics. But that doesn't matter. The game principle, on the other hand, is very innovative.
Briefly and roughly explained, you will be confronted in each level with different opponents who want you to the leather. Your task is now to eliminate these enemies coming from all sides before they do it to you. The best thing about it, however, is that time only runs when you are moving. If you stand absolutely still, nothing moves in the game. That is, in the motionless state you can examine and analyze the situation precisely. Which opponent is coming from where and when, with which object and with which move is best to be eliminated. But remember, if you move, time will keep running. The faster the movement, the faster the time moves forward. This sometimes results in very bizarre movements and poses, for example when you avoid blows or bullets in slow motion, just like in the movie Matrix. Just that the Matrix is ​​here in VR and you are the main actor who has to bend your bones. Exciting game principle, which only really comes into its own with VR.
Star Trek Bridge Crew
For those who love Star Trek, the game is definitely worth a try. At Star Trek Bridge Crew you go on board a Star Trek spaceship to explore space or fight against Klingon space battles. You take on the role of one of 4 crew members.
Give the command as captain, steer the ship as helmsman, fire phasers or torpedoes as tactical officer or keep the ship in shape as technical officer and distribute the energy to the individual systems. You can only achieve your goal if all crew members work together. The game is probably best played with human opponents in multiplayer mode. Coordinate your skills and tasks in order to survive. Fascinating!
These were just a few of the - in my opinion - currently most interesting VR games. Certainly everyone has a different taste here and there are definitely many more pearls in the Playstation Store that I just haven't had time to try out. But time does not stand still and by the end of 2018 we should look forward to a few more hits for PSVR, such as Borderlands 2 VR and Beat Saber.
/ Holger end! : D
If you are a little itchy about VR, don't go to the next store and get yourself a Playstation, because I will soon have a shopping guide with lots of tips on VR for you, where Holger gave me a lot of information. As a beginner, you are well prepared for the purchase! So that you don't miss the buying guide, The best thing to do is to subscribe to my newsletterwhich is sent once a week as a mail summary with all new articles.
The page contains affiliate links / images: Amazon.de