Cable boxes are a very practical thing and I had here I have already put together a few cable box models for you that I think are interesting. Today another one joins the collection that deserves a special mention. The product is called "Bluelounge CableBox Mini Station' and is available in black and white.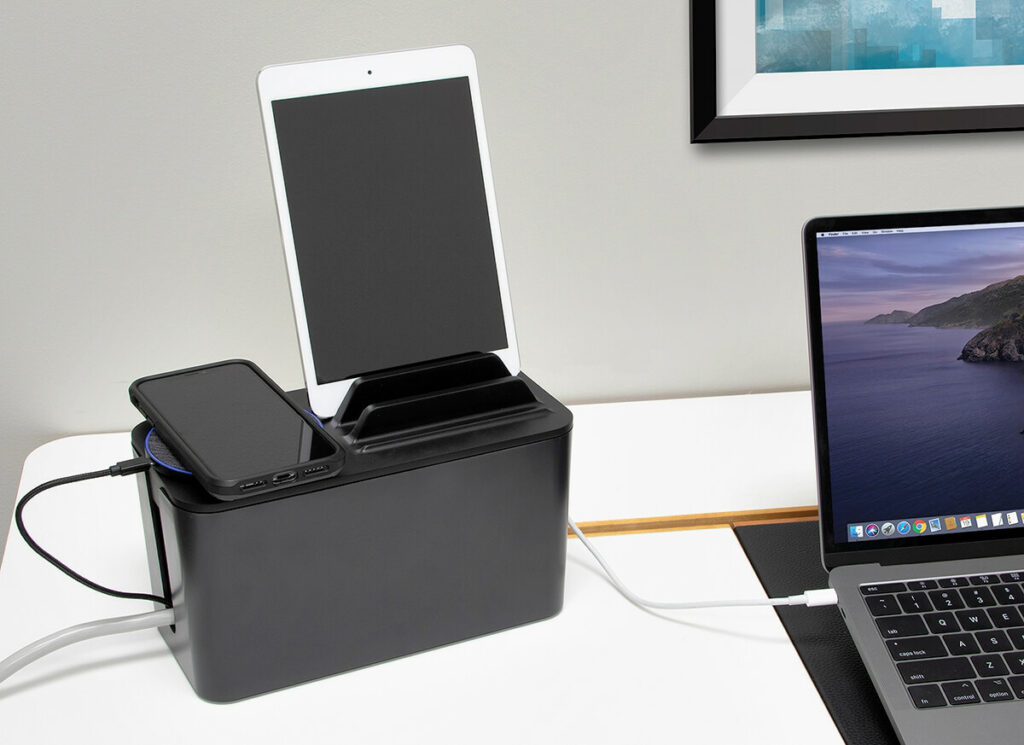 Charging place for iPad and iPhone
The practical thing about the box is actually the lid, because it has two slots in which you can place an iPad or iPhone. However, it is even more practical that there are openings in the lid through which the charging cables for Apple devices can be inserted. This means that there is even less mess around the box and the iPad or iPhone are well supplied with power.
A flat area of ​​the cover allows you to attach your Qi-Charging-Pad or MagSafe-Pad to create a possibility to quickly charge AirPods or iPhones in between.
Technical data of the cable collection box
Product name: CableBox Mini Station
Manufacturer: Bluelounge
Offers space for a four-way connector strip inside.
Lid with integrated stand for two devices ensures order and clarity when loading.
Easy cable routing through openings on the sides and in the lid.
Rubber feet on the underside prevent the box from slipping.
Made of flame-retardant plastic.
External dimensions (L x W x H): 23,8 x 11,4 x 12,4 centimeters.
Dimensions inside (L x W x H): 22,9 x 10,8 x 11,4 centimeters.
The CableBox Mini Station is available in black and white for 23,95 euros The Amazon .
Risk minimization through special plastic
The fact that the box is made of flame retardant plastic calms me down a bit. Due to my blog, I use many different chargers from the Far East and it is not uncommon to read in customer reviews that here and there one goes up in flames. That has not happened to me so far, but it can never be ruled out.
So maybe a metal cable box would be like These ones maybe the ultimate solution, but it really doesn't look particularly ornate. Then a healthy compromise between fire protection and optics, like with the cable collection box from Bluelounge.
If you're interested in the box, you'll find it here on amazon.
I also asked if I could get a test sample. If that is possible, you will soon receive a small test report on the box from Bluelounge.
Jens has been running the blog since 2012. He appears as Sir Apfelot for his readers and helps them with problems of a technical nature. In his free time he drives electric unicycles, takes photos (preferably with his iPhone, of course), climbs around in the Hessian mountains or hikes with the family. His articles deal with Apple products, news from the world of drones or solutions for current bugs.