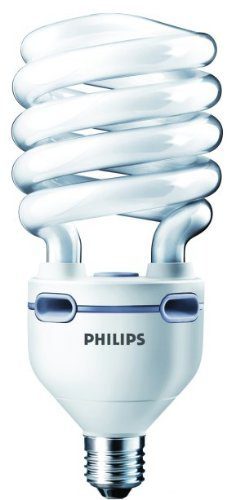 I have owned a desk lamp with a full-spectrum tube for a number of years. The light takes a bit of getting used to at first, as the eyes simply perceive it as "bluish" and cold after working in yellowish halogen spotlights for hours, but this feeling disappears after just a few hours. I currently find my lamp only bright and the light is significantly less tiring than the light from [ordinary desk lamps->desk lamps] that work with halogen pencils or incandescent bulbs. These usually have a higher proportion in the yellowish area, which tires the eyes.
Philips daylight lamp as office lighting
As a supplement to my [office lighting->ceiling lights] I was looking for a [daylight bulb->daylight lamp] that also shines brightly to get basic lighting in my office. My choice fell on the Philips energy-saving lamp Tornado, which is available in "warm white" as well as in "daylight". I bought the version with "daylight" and 60 W because I like to have it as close as possible to normal sunlight with the [work lighting->daylight lamps] and thus also have the advantage that I can judge colors more realistically.
The 60W lamp is supplied with an E27 thread and yes - the 60W is really the actual value of the energy consumption despite the energy-saving lamp and not the usual "corresponds to the luminosity of a 60W light bulb". One can imagine that a 60W CFL is REALLY bright. But you only get a real impression when you are in front of them: it is almost impossible to fall asleep in this lighting. :)
Full spectrum lamp with warm white is the recommendation for the living room
It should also be noted that the lighting is really more intended for workplaces, if you are looking for something for the living room, you can shop for the smaller model with 23W and warm white as a color:
Jens has been running the blog since 2012. He appears as Sir Apfelot for his readers and helps them with problems of a technical nature. In his free time he drives electric unicycles, takes photos (preferably with his iPhone, of course), climbs around in the Hessian mountains or hikes with the family. His articles deal with Apple products, news from the world of drones or solutions for current bugs.
The page contains affiliate links / images: Amazon.de