The CleanMyMac X MacPaw App is a powerful cleaning software for the Apple Mac. From freeing up storage space and removing malware to software updaters and tools to speed up the computer, everything is included. There is currently a 2020% discount on the app as part of Valentine's Day 20. You can find the special offer, which is valid until February 18, 2020 on the provider website. You also get the app as part of a SetApp software subscription. Information on the app package with a small price you can find here.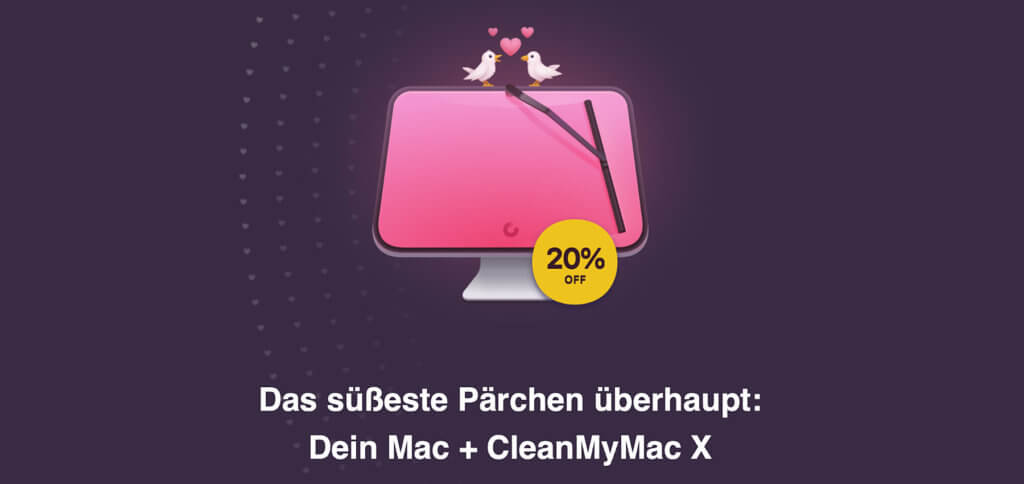 Features of CleanMyMac X
Remnants of system files, full trash cans, malware and the damage it has caused - CleanMyMac X extensively x-ray your Apple Mac. In addition, the app has a few options for keeping software up-to-date as well as completely uninstalling it. There are also tools for increasing the performance of the computer, for maintenance and for finding particularly large and particularly old files. Last but not least, settings for more privacy can also be made with CleanMyMac X. On the Developer website you can get a comprehensive overview. There are also screenshots showing the simple user interface.
More ideas for a great Valentine's Day
Of course, your significant other will be happy if you take care of your or her Mac. Boyfriend or girlfriend, husband or wife - everyone can use a fast and tidy computer. But Valentine's Day is not just about what we need, but also about surprises and gifts that are not necessarily just functional. That's why I have a little guide for you Valentine's Day gifts for nerds and geeks created: Nerdy Valentine's Day - gifts for girlfriend and boyfriend in 2020. From pen-and-paper role-playing games to series like The Witcher, Stranger Things and The Umbrella Academy to a wonderful nerd and geek shop on the net, where you can find a lot more, everything is there;)
Jens has been running the blog since 2012. He appears as Sir Apfelot for his readers and helps them with problems of a technical nature. In his free time he drives electric unicycles, takes photos (preferably with his iPhone, of course), climbs around in the Hessian mountains or hikes with the family. His articles deal with Apple products, news from the world of drones or solutions for current bugs.