After the Cyberport Cyberdeals Apple's offerings had recently become quiet, these are now back. The technology offers for calendar week 2, which are valid from today until Wednesday, January 17, 2018, include the iPhone X with 64GB of storage reduced. But you can also buy the Huawei P10 Lite, a SanDisk microSDXC, a DeLonghi coffee machine, an Acer tablet and various other devices cheaper. Of course there are also numerous notebooks among the deals. TL; DR: Click here to go to the offer page.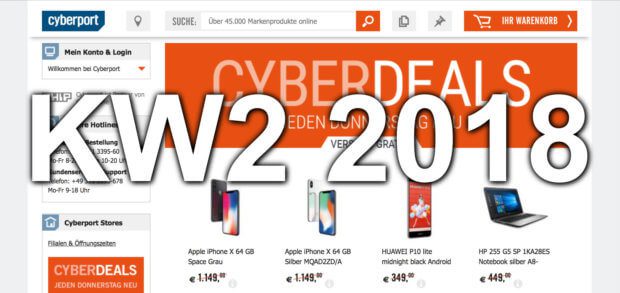 Buy iPhone X cheaper
Admittedly, the discount is not earth-shattering, but at least you can save 50 EUR compared to the recommended retail price from Apple when you buy the iPhone X via the Cyberport site until Wednesday next week. Instead of 1.149 EUR, you pay "only" 64 EUR for a new iPhone X in space gray or silver and with 1.099GB of internal storage. If you can wait, you will certainly be able to expect a price drop by September 2018 at the latest, when an even newer Apple smartphone comes onto the market.
More technology offers this week
You get a bigger discount of 120 EUR when you buy the Huawei P10 Lite Android smartphone. This means that Cyberport Cyberdeals now only cost 229 EUR for a week. There are also the following offers:
SanDisk Ultra memory card with 64GB: EUR 25,90
SanDisk SSD Plus hard drive with 240GB: 72,90 EUR
MSI Z270A Pro ATX motherboard: EUR 89,90
Acer Iconia Tab 10 A3-A50 Tablet: 259 EUR
Marantz AV Receiver with 4K and AirPlay: 349 EUR
DeLoghi ECAM 22.110.B coffee machine: 259 EUR
Philips Sonicare AirFloss Tooth Cleaning System: 69,90 EUR
Cyberdeals: Buy computers cheaper
Among other things, you can buy an Acer Aspire XC-780 Mini PC with i5-7400 CPU, 4GB RAM and 1TB hard drive cheaper this week. It is offered for EUR 499 instead of EUR 399. As every week, there are also a number of notebooks, also with Windows as the operating system; from the manufacturers HP, Lenovo, Acer, DELL and Asus. There are also two gaming notebooks from Acer. You come to the offers with this link.
After graduating from high school, Johannes completed an apprenticeship as a business assistant specializing in foreign languages. But then he decided to research and write, which resulted in his independence. For several years he has been working for Sir Apfelot, among others. His articles include product introductions, news, manuals, video games, consoles, and more. He follows Apple keynotes live via stream.