It's Thursday again and so there are attractive CYBERDEALS at Cyberport, the authorized Apple dealer with great service and many branches in Germany. The Cyberport CYBERDEALS bring you new devices every week at a great discount, so that you can sometimes save a few hundred euros when buying technology. In this post I would like to bring you closer to the deals from October 12th to 18th, 2017. There is also a 12,9-inch Apple iPad Pro! TL; DR: Click here to go to the offer page.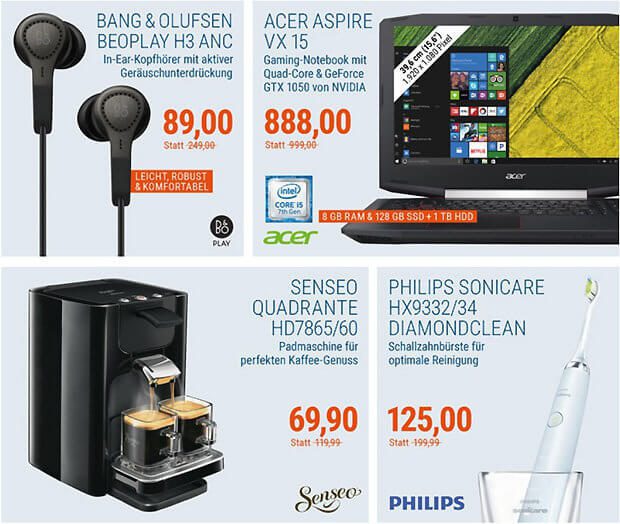 Cyberport CYBERDEALS: razors, tablets, headphones, TV ...
At this week's Cyberport Deals you will again get a wild mix of deals and bargains from the technology market. For example, you can get the Panasonic ER-1611 hair clipper for € 119,90 instead of € 259,95. You can also buy the Apple iPad Pro with 12,9 inches cheaper! Instead of € 1.119, you'll only pay € 2015 for the cheaper iPad Pro (799) until next Wednesday. And that for new goods! ;) But even if you are on the hunt for a bargain for a Smart TV, you can save: the Sony Bravia with the designation KDL43WE755 and HDR display is offered for 489 € instead of 699 €. You save 160 euros with the Bang & Olufsen Beoplay H3 ANC headphones, which are offered for 89 euros.
Coffee maker, toothbrush, laptop and more deals
Very interesting household electronics are also part of the Cyberport CYBERDEALS this week. Among other things, the Senseo Quadrante coffee machine with the unwieldy designation HD7865 / 60 is offered in a reduced version. Instead of € 119,99, you will only be charged € 69,90. Philips is also selling the Sonicare DiamondClean electric toothbrush at a reduced price. What you Nerds and geeks but probably more interested are the laptops. Here is an overview of this week's Cyberport laptop bargains:
| | | |
| --- | --- | --- |
| Model | RRP | CYBERDEAL Prize |
| Acer Aspire VX 15 gaming notebook | €999 | €888 |
| HP 255 G5SP | €449 | €349 |
| Acer Aspire ES 15 | €499 | €444 |
| Dell Vostro 5568 | €849 | €549 |
| Acer Swift 3 | €729 | €599 |
| Acer Espire E17 | €679 | €599 |
| Asus UX3410UQ | €1.299 | €969 |
Information provided without guarantee; Spelling mistakes reserved. You can find details about the offers, prices and product details on the Cyberport CYBERDEALS website - here.
After graduating from high school, Johannes completed an apprenticeship as a business assistant specializing in foreign languages. But then he decided to research and write, which resulted in his independence. For several years he has been working for Sir Apfelot, among others. His articles include product introductions, news, manuals, video games, consoles, and more. He follows Apple keynotes live via stream.