How announced yesterday, the DE-Alert Warning Day 2022 took place today with a Germany-wide "cell broadcast" alarm. On my iPhone, at 10:59 a.m. on time, two warning messages in combination with a loud, unpleasant and irregular warning tone arrived. As previously announced, this was played even though I had switched the device to mute instead of putting it into ringing mode. The sound only stopped playing when I pressed the side button (on the right side of the iPhone). Previously, even when interacting with the notifications, it continued to play.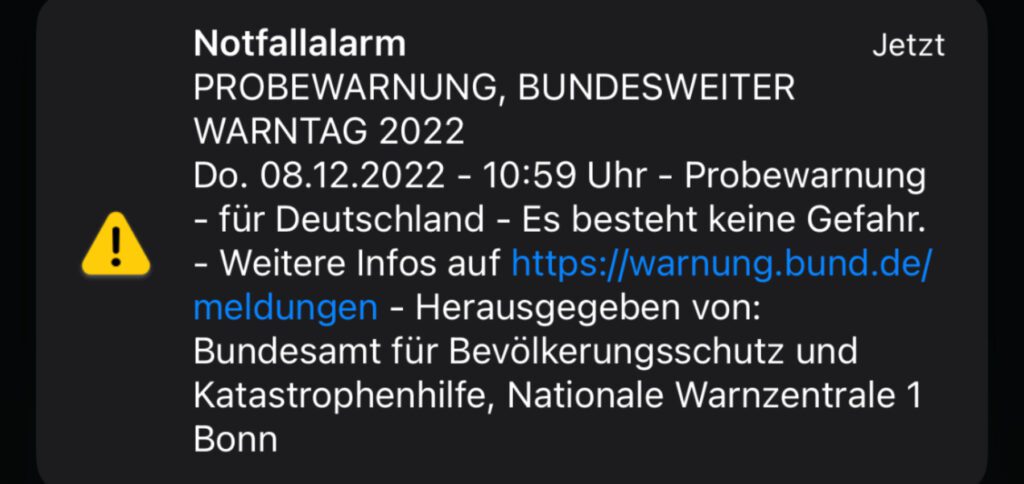 The DE-Alert warning messages in detail
I don't know why I got the same message twice. In both of them, however, it said directly on the lock screen under the heading "Emergency alert":
TEST WARNING, FEDERAL WARNING DAY 2022
Thursday, December 08.12.2022th, 10 – 59:1 a.m. – test warning – for Germany – there is no danger. - Further information at https://warning.bund.de/messengers Published by: Federal Office for Civil Protection and Disaster Assistance, National Warning Center XNUMX Bonn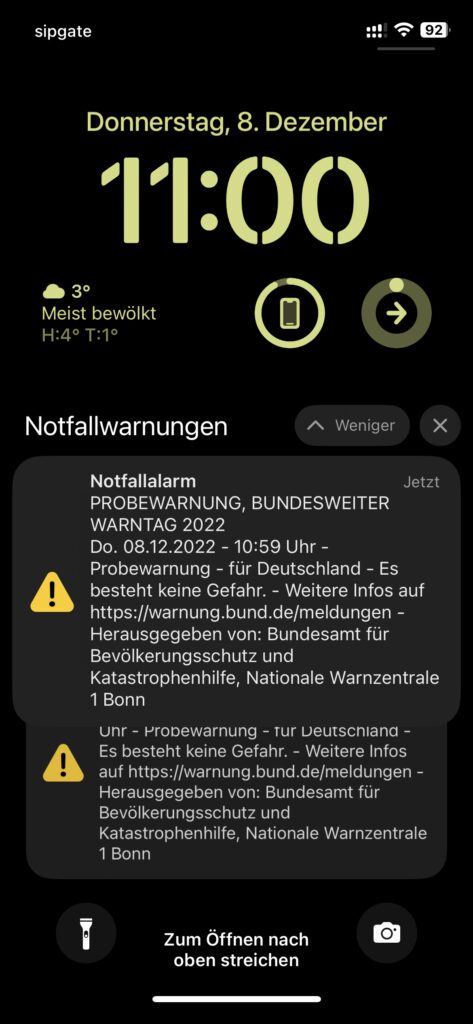 The all-clear is awaited
The all-clear was supposed to be given at 11:45 a.m. So far, however, this has been a long time coming. If it still arrives, here's an update.
How did the DE-Alert warning day go for you?
How did your end devices give the alarm? Did you have a siren alarm or other emergency alert systems in combination with the notifications on the smartphone that were tried during today's test period? Feel free to leave a comment; also and especially if you do not use an iPhone or if another device reacted to the cell broadcast in addition to the iPhone. I look forward to your feedback!
After graduating from high school, Johannes completed an apprenticeship as a business assistant specializing in foreign languages. But then he decided to research and write, which resulted in his independence. For several years he has been working for Sir Apfelot, among others. His articles include product introductions, news, manuals, video games, consoles, and more. He follows Apple keynotes live via stream.