DJI not only offers drones, but also another range of products equipped with cameras. There is now an Easter SALE for them. On the Action page you can save up to 100 euros per item. Included is the action cam "DJI Osmo Action", the camera-gimbal combination "DJI OSmo Pocket", the smartphone tripod with gimbal "DJI Osmo Mobile 3" in the combo pack and the learning robot "DJI RoboMaster S1" . I have summarized details about the individual products as well as further information for you below. The savings campaign will only run until April 12, 2020.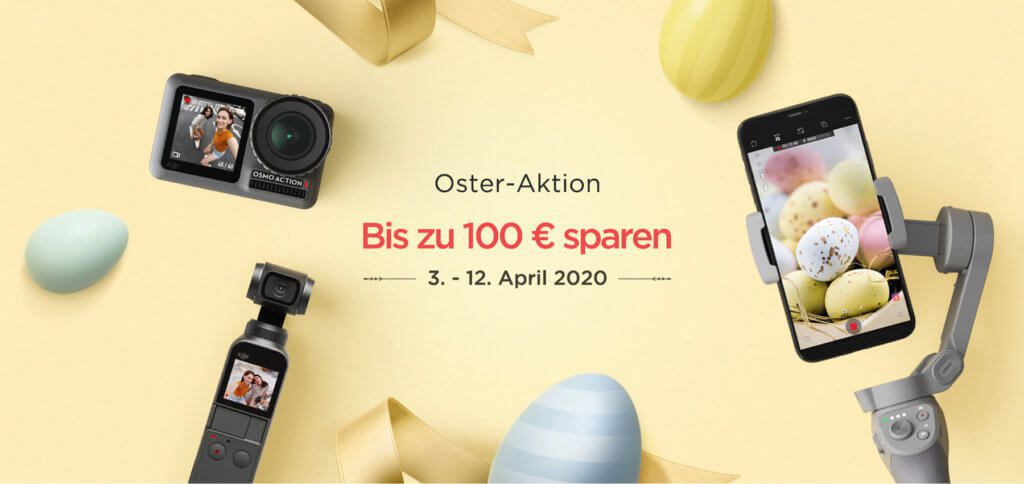 DJI Easter SALE 2020: cameras and gimbals cheaper until April 12.04.2020th, XNUMX
The DJI products, which you can now buy cheaper in the official shop before Easter, have already been presented to you in one place or another. For example the DJI Osmo Action, a light and compact action camera with 4K resolution and various recording functions. Or the DJI Osmo Pocket, a combination of camera and handheld gimbal for stabilized 4K and full HD recordings. The device measures just 121,9 mm × 36,9 mm × 28,6 mm and weighs 116 g. For smartphones like the Apple iPhone that is DJI Osmo Mobile 3 thought, a handheld gimbal that can also be used as a tripod. In combination with the app, a powerful device for semi-automatic and automatic recording modes.
DJI RoboMaster S1 also in the Easter offer until April 12.04.2020th, XNUMX
The DJI RoboMaster S1 is a programmable robot that you first have to assemble. Children, adolescents and adults can get to know the individual components of the robot on four wheels individually and control them later using the app. Learning to program in Corona Isolation is certainly a good start. The RoboMaster S1 with various sensors, cameras and other equipment emerged from the "RoboMasters" event in Shenzhen (China), at which new employees for DJI and other electronics companies are identified every year by robot battle. If you are interested, the event, the rules and the different robot classes are a great topic to read up on;)
Here you can buy your own robot and camera products cheaper: Official Easter promotion page in the DJI shop.
Jens has been running the blog since 2012. He appears as Sir Apfelot for his readers and helps them with problems of a technical nature. In his free time he drives electric unicycles, takes photos (preferably with his iPhone, of course), climbs around in the Hessian mountains or hikes with the family. His articles deal with Apple products, news from the world of drones or solutions for current bugs.