The Dreame V12 Pro is a cordless vacuum cleaner with an extra-powerful motor and various attachments that helps to clean floors, carpets and textiles. The battery with a nominal capacity of 2.700 mAh should allow a running time of up to 85 minutes and thus the cleaning of up to 200 square meters. The manufacturer also highlights the lightweight carbon fiber extension rod and the air filter, which is also supposed to filter fine dust. The Dreame V12 Pro also has a noise reduction feature, which should enable vacuuming that is not too loud even at the maximum of the motor, 160.000 rpm. Sales begin on November 11th.
Abbreviation: You can go directly to the product page here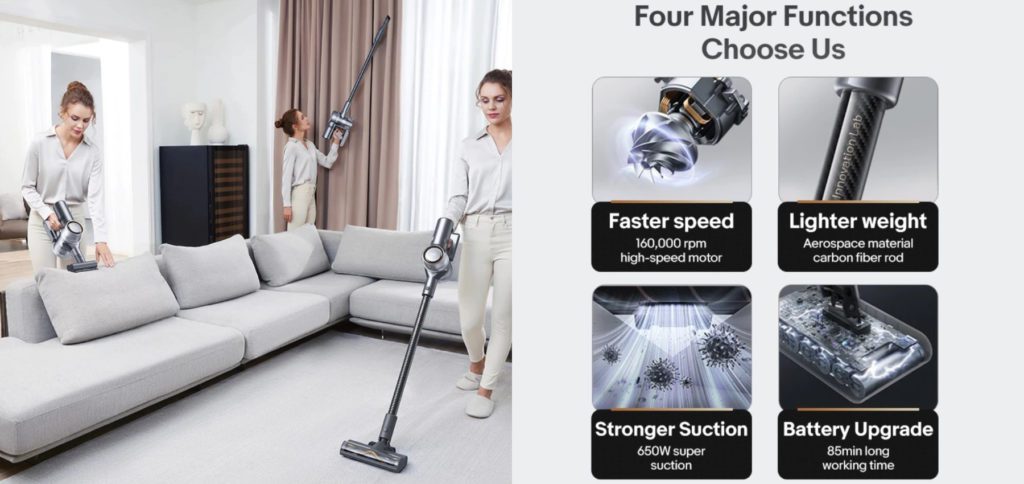 Details about the Dreame V12 Pro cordless vacuum cleaner
With the Dreame V12 Pro, the manufacturer, who launched its first cordless vacuum cleaner with the V9 in 2018, now wants to deliver a product that overtakes the competition. Dyson has done a lot in this area and other companies like Xiaomi have also delivered some interesting models.
The Dreame V12 Pro builds on the predecessor V12, which already had an engine with 150.000 rpm. With the additional 10.000 revolutions per minute should now 32.000 Pa or 210 AW suction force being constructed. Various attachments help to clean not only hard floors, but also carpets and textiles.
Buy Dreame V12 Pro with a € 35 discount on AliExpress
Among other things, you can buy the new battery-powered vacuum cleaner at AliExpress. There is also further information, such as the reference to the 500 ml dust container of the device. This online shop also offers the option of saving 35 euros if the device is then sold from November 11th.
Just go to it the product page, selects a shipping location and adds the vacuum cleaner to the shopping cart (the price of € 340,55 is displayed for Poland, France and the Russian Federation). You then use the code as part of the ordering process FAST35GO, which brings you another 35 euros discount in addition to the introductory discount - so you end up paying only 305,55 euros. The sale begins on 11.11.2021/XNUMX/XNUMX, this year's "Singles' Day".
After graduating from high school, Johannes completed an apprenticeship as a business assistant specializing in foreign languages. But then he decided to research and write, which resulted in his independence. For several years he has been working for Sir Apfelot, among others. His articles include product introductions, news, manuals, video games, consoles, and more. He follows Apple keynotes live via stream.