The E27 socket is probably the most widely used light bulb socket in living rooms and other places. E27 LED lamps are therefore popular and are used in warm white, cold white or with a color change to save energy. Because LEDs efficiently replace conventional tungsten bulbs and are also more environmentally friendly than the "energy-saving lamps" advertised in the medium term. Here I have summarized the best E27 LED bulbs with screw bases according to the test magazine of the Stiftung Warentest as well as the current Amazon bestsellers with good customer ratings.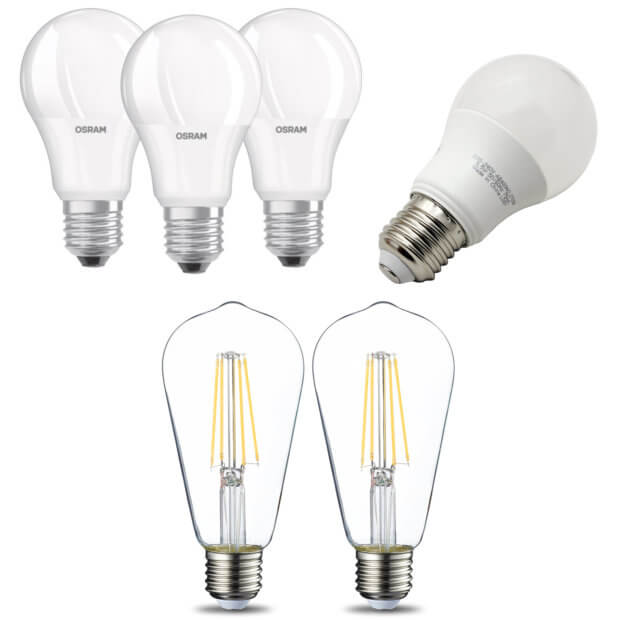 Light and quality - LED light sources are getting better and better
LEDs didn't get off to an easy start outside of electronic devices, where they initially replaced small filament bulbs. This can be seen not least in the development of "energy-saving lamps" with mercury, which have long been touted as an alternative to light bulbs with tungsten filaments. Fortunately, many users have already replaced these harmful things with energy-saving and harmless LED lamps. These are also getting better and better, more durable and offer high quality in workmanship and light. With E27 LEDs, this can usually be selected in warm white, cold white or bright colors.
The triumphant advance of the light emitting diode outside the E27 socket can also be felt here:
The best: E27 LED test by Stiftung Warentest
The test magazine of Stiftung Warentest provides information about the strengths and weaknesses of various products online and as a print product. Lamps and illuminants are also repeatedly examined by Test. The last E27 LED test with bulbs for the E 27 socket took place in the 08/2017 edition, which was not too long ago. In the following I have listed and linked the models rated as good and very good. If there were no or mostly bad reviews on Amazon, I did not link the product. Incidentally, you can find the current Amazon bestsellers for 2018 below.
Test listing of the E27 LEDs test winner 08/2017:
Müller-Licht HD 95 LED (1,4) - 6,99 Euros
Megaman LED Rich Color, dimmable (1,7) - not available
Carus LED, dimmable (1,9) - 11,07 Euros
Test winner list of E27 screw base lamps 11/2016:
Bioledex Araxa (1,4) - 7,99 Euros
LightMe LED (1,4) - 14,54 Euros
Melitec LED lamp, integrated step dimmer (1,4) - not available
Ikea Ledare, dimmable (1,5) - rather bad customer ratings
Ledon LED (1,5) - 9,99 Euros
Megaman LED Classic (1,5) - not good deals
In addition, the test from 2016 shows several LED lamps with E27 screw bases rated as "Good" by Stiftung Warentest. These include well-known brands such as Philips, Osram, Pearl and the own brands of Hornbach and Bauhaus. So there are quite a lot of good and very good E27 LED lamps - at least according to the professional test team ...
E27 LED lamps - Amazon bestseller with best ratings and reviews
The following table not only shows you the current bestsellers for "E27 LED lamps", but also updates itself continuously. So you can find the best LED light bulbs with E2018 sockets at any time in 27 - and the models will always be displayed in the coming years who received the most stars as a rating as well as positive customer reviews. So you can always buy the best - regardless of tests by Stiftung Warentest;)
After graduating from high school, Johannes completed an apprenticeship as a business assistant specializing in foreign languages. But then he decided to research and write, which resulted in his independence. For several years he has been working for Sir Apfelot, among others. His articles include product introductions, news, manuals, video games, consoles, and more. He follows Apple keynotes live via stream.
The page contains affiliate links / images: Amazon.de