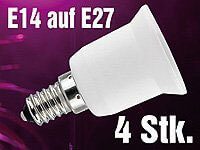 The LED lighting system [Philips Hue Connected Bulp-> philips-hue] has found a lot of supporters. Of course, there are negative voices that are upset about the high price of the devices, but on the other hand there are many enthusiastic users who are very convinced of the diverse application possibilities. Only the E27 socket, which the Philips Hue system demands from the lamp, is a point of criticism that fans of the system also subscribe to.
---
Update 21.07.2015/27/XNUMX: Philips Hue with EXNUMX socket in stores! The system is now also available with an E27 socket. You can either find it as a single Philips Hue E27 lamp or as Sart package in a set of 3 with the bridge.
---
Since many lights are now delivered with the smaller E14 socket, users often have to struggle with the fact that the Philips Hue bulbs don't quite fit into the sockets. But there is now a remedy for this, because an E27 to E14 adapter makes it possible. Here is the adapter I would recommend:
Since the adapters are sometimes a bit poorly processed according to customer reviews, there are some tricks if the bulb still does not shine after screwing in. One customer describes that (after pulling the plug of the lamp out of the socket!) He had to bend the contacts in the socket of the lamp a little steeper so that the adapter was properly connected. For most customers, however, it worked straight away.
There is also another one E27 to E14 adapter with a slightly different design, which is praised from the technical side, but here a customer wrote that the delivery time for him was almost a month - for the reason, please exercise caution if you order this and are in a hurry!
Jens has been running the blog since 2012. He appears as Sir Apfelot for his readers and helps them with problems of a technical nature. In his free time he drives electric unicycles, takes photos (preferably with his iPhone, of course), climbs around in the Hessian mountains or hikes with the family. His articles deal with Apple products, news from the world of drones or solutions for current bugs.
The page contains affiliate links / images: Amazon.de