Lately I've been buying eBooks more and more, mainly because they offer a search function and are usually a little cheaper than printed books. So far I have read them on the iPad or Mac, but I am not 100% satisfied with the solution, because the display and the weight of the iPad are too big or too light for me to read for a long time. And it is difficult to read on the Mac when the screen is full of program windows.
Update 29.08.2015/XNUMX/XNUMX: There are now the new Kindle Paperwhite 2015, which I would like to introduce to you here!
Advantages of the eBook reader compared to iPad and co
For these cases I find a real [eBook reader-> ebook reader] like the Kindle simply unbeatable. The display is trimmed for good readability, which is still pleasant in the dark or in sunlight, and it is light, which means that even holding the reader won't let your muscles run up after a few minutes. In addition, there is the fact that you have exactly one device that is only available for this task and that is not blocked by other things. My iPad is not infrequently with the children or is empty just when I need it.
The lower weight of the Kindle is also achieved by the fact that the device is not designed to process 3D games and similar processor-intensive things. The [Kindle-> kindle] is for reading and for this reason has a low power requirement, gets by with a smaller battery and is therefore not only lighter but also significantly cheaper than a normal tablet from Apple or Samsung.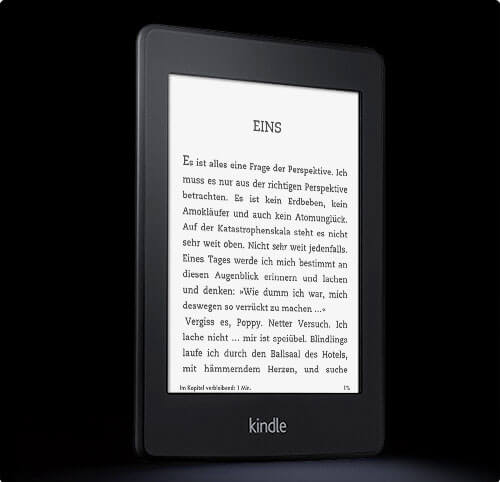 Kindle Paperwhite with retained HD display
A good two weeks ago, for the reasons mentioned above, I was on the verge of buying a Kindle Paperwhite. Fortunately, Amazon had already shown me at the time that there will soon be a new version with a retained HD display. This means that the resolution in ppi (pixels per inch) will be increased significantly and, at 212 ppi, is significantly higher than the [iPad mini (without retina) -> ipad mini], which works at 163 ppi. The [iPad 4-> apple-ipad-4] is even higher with 264 ppi, but the 212 ppi are definitely enough for me to read.
If you want to take a look at the Kindle Paperwhite, you will find it here is a comprehensive information page from Amazon. There is also the product listing here:
Jens has been running the blog since 2012. He appears as Sir Apfelot for his readers and helps them with problems of a technical nature. In his free time he drives electric unicycles, takes photos (preferably with his iPhone, of course), climbs around in the Hessian mountains or hikes with the family. His articles deal with Apple products, news from the world of drones or solutions for current bugs.
The page contains affiliate links / images: Amazon.de