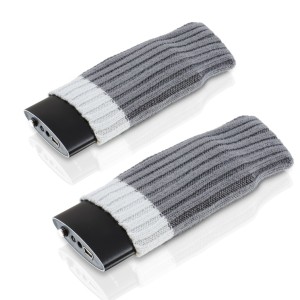 Update: I have a new report via cordless hand warmers with 3 models for winter 2014 set here. Check it out!
Sometimes you find things that are just so practical that you wonder why they weren't there before. In this case it is an electric and rechargeable hand warmer that also functions as a [Powerbank-> powerbank]. Its Li-ion battery has a capacity of 1000 mAh, which is certainly not the mass when you compare it with other additional batteries, some of which have a capacity of over 10.000 mAh, but it offers a nice additional function: In winter you can use it as a Use [electric hand warmer-> hand warmer]. It heats up to approx. 40 ° C and can hold this heat for about 1-2 hours. So that you don't just have the bare metal in your hand, it is delivered with a knitted overstocking, which also prevents it from scratching other devices in your pocket during transport.
Universal additional battery with keep-warm function
If you don't need a pocket warmer on a cold day, the Li-ion battery can, for example, recharge an iPhone 5 almost halfway. Should you be unplanned at the Christmas market, then the small battery is a reliable helper if you want to warm up your cold fingers again. The 40 ° C is warm enough to bring your hands back to normal temperature and - in contrast to other [pocket stoves-> pocket stoves] that work with charcoal pencils or lighter fluid - there are no problems with the stink from the combustion. To be fair, however, it has to be said that the hand warmers that work with combustion technology usually create a higher temperature and a longer running time. Personally, however, I prefer the electric pocket warmer because it can be switched on and off quickly and it does not produce a smell.
The electric pocket stove has a USB port, which can also be used to charge it. To do this, simply plug it into the USB port on your computer or into a USB power supply unit, as you would for the Kindle, iPhone, iPod or similar devices. It usually takes about 2 hours to charge the pocket oven.
You can get the electric CSL pocket warmer from Amazon. There it is currently offered at a price of 17,99 EUR:
Rechargeable electric pocket warmer
The lithium-ion battery of the hand warmer can give off its energy both for a short mobile phone charge and for 1-2 hours of warmth for cold hands.
Jens has been running the blog since 2012. He appears as Sir Apfelot for his readers and helps them with problems of a technical nature. In his free time he drives electric unicycles, takes photos (preferably with his iPhone, of course), climbs around in the Hessian mountains or hikes with the family. His articles deal with Apple products, news from the world of drones or solutions for current bugs.
The page contains affiliate links / images: Amazon.de