In July of this year, the technology and software manufacturer equinux (headquarters in Munich) launched two new interesting products: the charging cable tizi lateral thinker with angled Lightning or micro USB connector and the mobile battery charger tizi LAADAAA, with which you can charge either AA or AAA batteries via USB cable. At this point I would like to briefly introduce you to the new releases; Appropriate test items and a raffle for the products will follow soon;) Now the Subscribe to the Sir Apfelot newsletter and don't miss anything!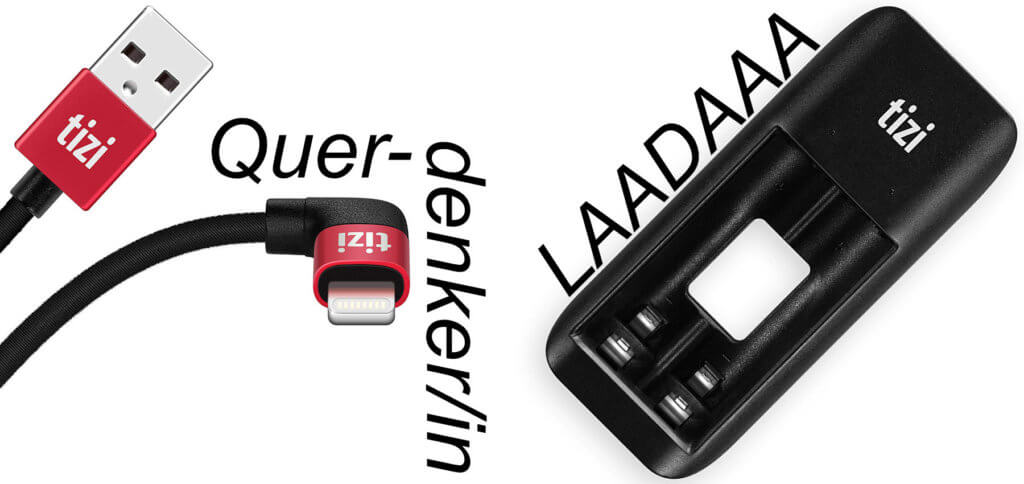 equinux tizi lateral thinker
The equinux tizi Querdenker / in charging cable is available with a Lightning connection for iOS devices as well as with a micro USB connection for Android devices, Kindle readers, mobile devices such as cameras and technical accessories. The name already suggests: This is not a completely normal cable. Because contrary to the straight USB-A connector, which can be plugged into the charger or the USB port of a computer, the Lightning or micro-USB connector on the tizi Querdenker cable is angled by 90 °.
At Amazon you can buy both cables for iOS devices and for other mobile devices Kaufen.
MFi-certified charging cable with angled Lightning plug
The equinux tizi Querdenker / in charging cable has a USB-A plug with a flip design on one side, which cannot be inserted the wrong way round. On the other side there is a 90 ° angled Lightning connector for Apple iPhone, iPad and iPod (Touch). The cable is covered with fabric; the Lightning connector is MFi certified.
Charging cable with angled micro USB plug
With this variant of the charging cable you will also find all the well-known advantages: two flip plugs for plugging in no matter how around, a cable covered with fabric and a plug angled at 90 ° for the device to be charged. Ideal for Android smartphones or tablets, for cameras, power banks and many other devices.
equinux tizi LAADAAA
The equinux tizi LAADAAA battery charger is made for mobile charging of AA and AAA batteries. The electricity is fed in via a micro-USB connection so that the charger can be used with the mobile phone charger, a charging cable for USB connections and the like. Whether at home, in the car, in the office, at the airport or on vacation - you can charge batteries for cameras, MP3 players, dictation machines, Game Boy or selfie sticks pretty much anywhere with the equinux tizi LAADAAA battery charger. It is compatible with nickel metal hydride (NiMH) and LSD nickel metal hydride (LSD NiMH) batteries in sizes R6 / HR6 and R03 / HR03.
You can also use the mobile and flexible charger for batteries Buy at Amazon (available from August 11, 2018).
AA and AAA charger with micro USB connector
The equinux tizi LAADAAA battery charger weighs only 35 g and can be charged with two different sizes of batteries at just about any USB slot, making it an ideal companion for everyday life, holidays and business trips. Single batteries, mixed sizes and the same batteries can be charged at the same time. Depending on the initial situation, a charging time of 4 to 12 hours should be planned.
After graduating from high school, Johannes completed an apprenticeship as a business assistant specializing in foreign languages. But then he decided to research and write, which resulted in his independence. For several years he has been working for Sir Apfelot, among others. His articles include product introductions, news, manuals, video games, consoles, and more. He follows Apple keynotes live via stream.
The page contains affiliate links / images: Amazon.de