Some time ago, the technology manufacturer Anker informed us that the new handheld vacuum cleaner from its smart home brand eufy will soon be available. Now you can eufy HomeVac H30 Mate buy on the German Amazon site. The device should provide a strong suction power for all kinds of dirt - from dust to animal hair to coarser chunks. In addition to two attachments for optimal vacuuming of surfaces and textiles, the scope of delivery also includes a charging station. Further down you will also find current deals for eufy vacuum robots; you get the one with wiping function including a 100 euro discount!
TL; DR: You can go directly to the product page here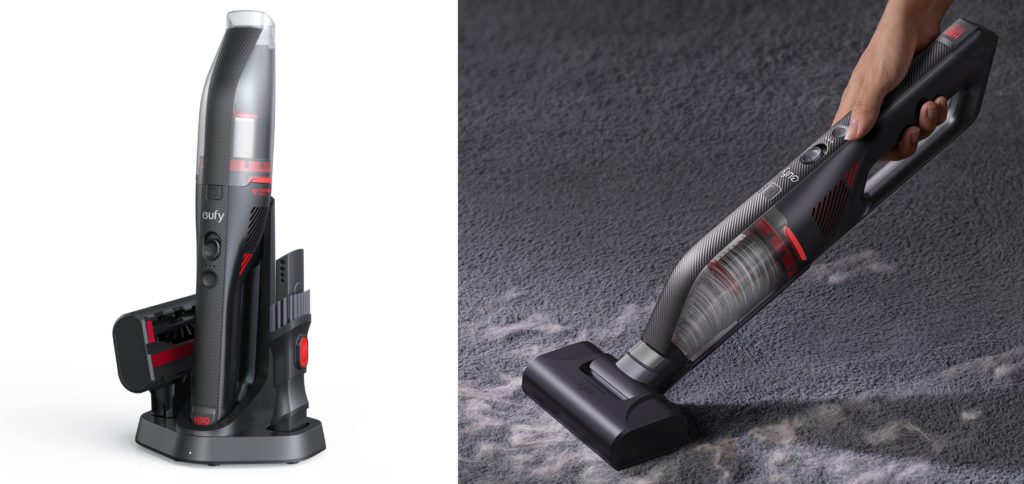 eufy HomeVac H30 Mate handheld vacuum cleaner with station
According to the manufacturer Anker, the new handheld vacuum cleaner, which is sold under the smart home brand eufy, can be ordered from today on the German Amazon site. There is a black version and a white version. Both cost 179,99 euros and, in addition to the main unit, which weighs 808 grams, come with two attachments and a charging station. This is necessary to charge the vacuum cleaner's battery. The battery life is 20 minutes in eco mode and 10 minutes in power mode. The charging time is 3,5 to 4 hours. The suction power is given as 16 kPa, i.e. 16.000 Pa. For comparison: vacuum robots usually offer 1.500 to 2.500 Pa.
eufy RoboVac G30 robot vacuum cleaner in three versions
If you are not looking for a handheld vacuum cleaner with a short running time but a household appliance for the automatic cleaning of floors, then there is also one from Anker or eufy. The RoboVac G30 has an average rating of 4,4 out of 5 stars on Amazon. In addition, it is not only available in the G30 standard version, but also with barrier tapes to limit the effective area as "G30 Edge"As well as with wipe function as"G30 hybrid". The best thing about it: For the first two there is currently an 80 euro discount on Amazon; for the third there is even a 100 euro discount. All you have to do is click on the coupon on the product page.
After graduating from high school, Johannes completed an apprenticeship as a business assistant specializing in foreign languages. But then he decided to research and write, which resulted in his independence. For several years he has been working for Sir Apfelot, among others. His articles include product introductions, news, manuals, video games, consoles, and more. He follows Apple keynotes live via stream.
The page contains affiliate links / images: Amazon.de