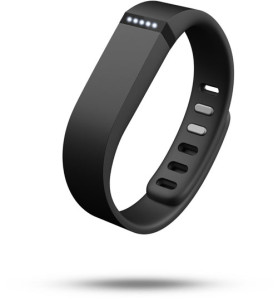 After the release date of the Fitbit Flex fitness bracelet in Germany was dated 6.6.2013/XNUMX/XNUMX, I just checked whether the good piece could already be bought - and lo and behold: It's already listed on Amazon. The price of 99 EUR was what you expected. But this makes it quite inexpensive compared to other fitness bracelets.
Another advantage of the bracelet is that you can simply remove the electronics and put them in another Fitbit bracelet. This means that you are not tied to one color and you can also change the bracelet relatively quickly if it breaks. Overall, I like the approach of Fitbit gat that you don't have a display on the belt, but only 5 LEDs that inform you about the current status of your personal goal. For example, if you have set yourself the daily goal of walking 100 steps, an LED lights up when you reach 20 steps to show that you have reached 20%. So you can constantly motivate yourself to do new things.
But the Fitbit fitness bracelet can do a lot more, which is beyond the scope of this article. I think sooner or later I'll get one and then I will present my experiences and my test in detail here.
If you want to buy one now, you will find the appropriate link to Amazon here:
Jens has been running the blog since 2012. He appears as Sir Apfelot for his readers and helps them with problems of a technical nature. In his free time he drives electric unicycles, takes photos (preferably with his iPhone, of course), climbs around in the Hessian mountains or hikes with the family. His articles deal with Apple products, news from the world of drones or solutions for current bugs.
The page contains affiliate links / images: Amazon.de