Like GearBest in a current one Blog announces, the so-called "Treasure Hunt Sale" starts today - a kind of digital treasure hunt, in which you can dust off numerous discounts through campaigns, deals, coupons and more until September 17, 2018 and buy technology and other products cheaper. Here I have summarized the most important information and data about the campaign for you.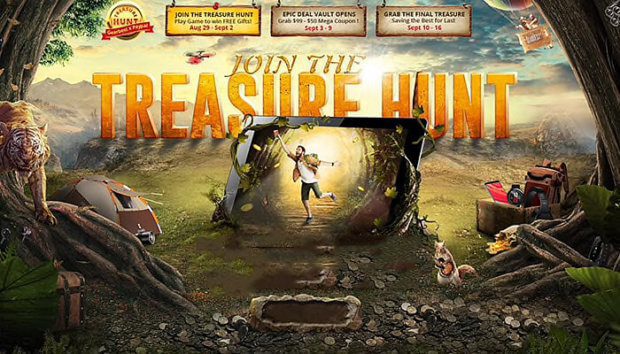 GearBest Treasure Hunt Sale 2018
This campaign is certainly interesting for techies looking for bargains, discount hunters who want to secure the latest technology at low prices, and everyone who has long been hoping for a price reduction on a certain product. The GearBest sale is announced in the highest tones. It basically consists of these three phases:
August 29th - September 3rd: Treasure hunt with numerous deals and game promotions (e.g. in the GearBest app) with free gifts
September 3 - September 10: The treasury opens and brings "crazy bargains and mega coupons" to light
September 10th - September 17th: Another week with discount promotions as an aftermath of the previous mega-deals
The highlights
Under the heading "Treasure Hunt Sale Highlights", further details of the campaign are shown in the above-mentioned blog post by the Chinese online retailer. Exact product categories or articles are only mentioned in a few points. For other actions you have to be up every day GearBest.com stop by to see which products they apply to:
Wishing well game: You can win a Huawei P20 and a Roborock Xiaowa vacuum robot
Exclusive app game: The prizes are a DJI Mavic Air and a Xiaomi Mi Pad 4
Coupon Bonanza: $ 50 to $ 99 worth of coupons
Triple Combo: 3 products for $ 9,99, $ 29,99, or $ 99,99
PayPal is perfect: additional $ 5 to $ 50 discount on PayPal payments
Mysterious treasure sacks: surprise yourself with a lucky bag from 99 cents
Cool add-on items: For every order over $ 60 there is another $ 1,99 as a coupon
GearBest Treasure Hunt Sale - Information and instructions in the video (English)
Some promotions with giveaways will also be launched on GearBest's social media channels. There will be free gifts totaling more than $ 500 per platform. For example, there is a campaign running on Twitter from 9:00 a.m. today to 1:9 a.m. on September 00st. Exactly then it will continue on Pinterest until September 3, at 9:00 a.m. Meanwhile, on September 2nd, also at 9:00 a.m., a YouTube campaign will start… and so on. Here is a screenshot of the table from the blog entry mentioned above (the times are UTC times, plus +2 hours for CEST):

>> Information about giveaways and other deals: Win prizes in the autumn promotion!<<
More deals at GearBest
In addition to the promotion shown, GearBest continues to offer other promotion and coupon pages on which some products (including those from brands such as Xiaomi) are reduced by 91%. Have a look, maybe there is something for you there:
Top Sellers Gear Coupons - view here
Vacuum cleaners and vacuum robots (German) - view here
Flash Sale: Current Flash Offers (German) - view here
After graduating from high school, Johannes completed an apprenticeship as a business assistant specializing in foreign languages. But then he decided to research and write, which resulted in his independence. For several years he has been working for Sir Apfelot, among others. His articles include product introductions, news, manuals, video games, consoles, and more. He follows Apple keynotes live via stream.