Gearbest is certainly a term for the technology freaks among you. The Chinese online trade for all kinds of everyday products offers electronics, smart home items, accessories, smartphones, tablets, computers and so on. In addition, fashion, home and garden products, toys and much more are offered. Here in the blog I already have Gearbest as a source of supply for the tested ones Xiaomi vacuum cleaner or the Roborock vacuum and floor mopping robots mentioned. Now I have vouchers for both cleaning aid models so that you can save on your purchase;)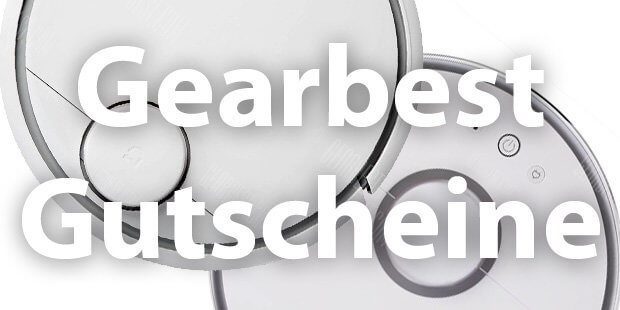 Buy Roborock S50 Smart Robot Vacuum Cleaner cheaper
I can only recommend the current version of the vacuum robot, which is equipped with many sensors, processors and, above all, good cleaning performance. In the test linked above you can see how the vacuum robot was able to hold its own with me. With the Mi Home app from Xiaomi you can control the device in a very smart way, plan its use and even start or monitor it while on the go. With the following data you can buy the Roborock S50 cheaper.
Rose gold version
International white version
Order the original Xiaomi Mi Robot Vacuum at a low price
If you have a lot of carpets or carpets in your apartment, then of course the wiping function of the above model won't do you much good. Even if you want to wipe or otherwise clean with a damp cloth, then the previous model is probably sufficient, to which I have also linked my test report above. With the advent of the outdated second generation, this vacuum cleaner robot, which can also be controlled with the Mi Home app, has become cheaper. With the following coupon codes you can buy it again cheaper at Gearbest.
Rose gold version
International white version
After graduating from high school, Johannes completed an apprenticeship as a business assistant specializing in foreign languages. But then he decided to research and write, which resulted in his independence. For several years he has been working for Sir Apfelot, among others. His articles include product introductions, news, manuals, video games, consoles, and more. He follows Apple keynotes live via stream.