11.11. is the so-called "Singles' Day" (光棍节) in China - not only a day on which singles meet for parties and karaoke, but also a day of action in online shopping. The Chinese e-commerce platform Alibaba introduced the first deals that day. Meanwhile, the day is also a big SALE event at Gearbest and other shops. In Germany, Media Markt has even been offering discounts around November 11th for several years. I can present you current Gearbest offers here today; because there are already a few days before 11.11. Low prices, e.g. B. on Xiaomi devices.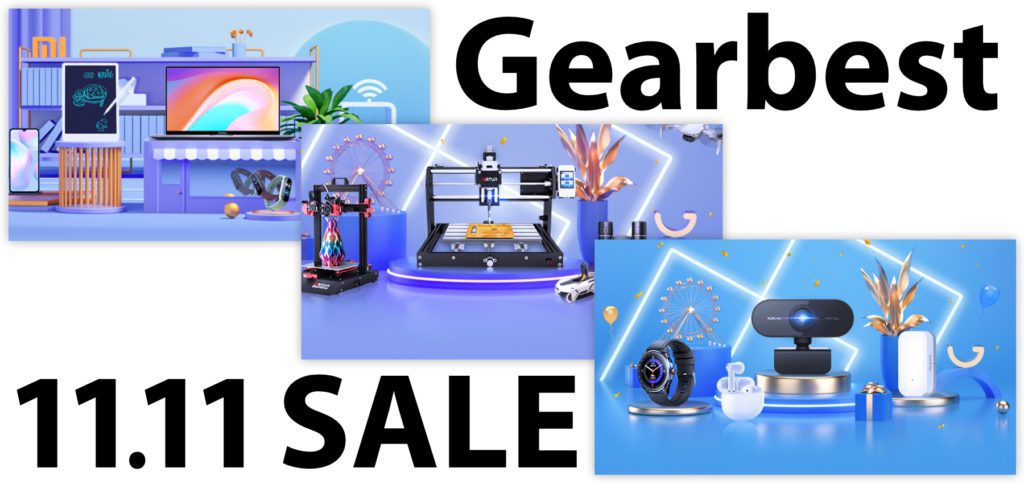 Low prices for consumer and entertainment electronics
Smart home sensors, smart watches, projectors, compact office PCs, surveillance and outdoor cameras as well as webcams, headphones, monitors and much more can be found using the link below. In addition to some less well-known brands, there are also cheap offers from well-known manufacturers: Lenovo, Huawei, Logitech and Amazfit. If you don't want to buy an Apple Watch to keep fit, you can currently find various fitness bracelets and watches on the site, for example the Huawei Honor Band or the Xiaomi Mi Band.
>>> Here you come directly to the Hot-SALE <<
Xiaomi low prices before 11.11. - Smartphones, Smart Home and more
If you are specifically looking for offers from the manufacturer Xiaomi, then simply use the link below this paragraph. On the page you will find the current Xiaomi Best Sellers at an absolute bargain price. There are discounts on the Redmi Note 9 smartphone, the POCO X3 smartphone, various wireless Bluetooth headphones, smart home products such as lighting, routers and vacuum cleaner robots (among others Roborock S5 Max) as well as smartwatches, chargers, USB hubs and much more. Xiaomi has an extensive range in all possible technical areas, so that there is something for everyone.
>>> Xiaomi-SALE for 11.11 Singles' Day <<
3D printers, lasers, drones and more at a low price
Gearbest also offers a little more special technology, of course, and even with a discount in the run-up to the Singles' Day SALE. Various offers for 3D printers, laser machines for cutting and engraving work, camera drones, ergometers, treadmills, e-bikes and e-scooters can be found using the link below. With regard to printing and laser machines, there are offers from manufacturers such as Alfawise, Laserpecker, Anet, Longer, Ortur and more. There are also special protective goggles that you should wear when working with the engraving machines.
>>> Offers for more specialized technology with great discounts <<
Information provided without guarantee; Offers and content can change
Jens has been running the blog since 2012. He appears as Sir Apfelot for his readers and helps them with problems of a technical nature. In his free time he drives electric unicycles, takes photos (preferably with his iPhone, of course), climbs around in the Hessian mountains or hikes with the family. His articles deal with Apple products, news from the world of drones or solutions for current bugs.