For a few years now, I've been gradually converting the lamps in my apartment to LEDs. The last bulbs that were still to come were some halogen spotlights that, contrary to my expectations, lasted quite a long time. But now one of the bulbs had broken and since it doesn't look so great if you only change one lamp in a row, it was now time to choose good LED lamps that fit into the GU10 sockets. Update 2018: Below you will find current test winners from Stiftung Warentest as well as an automatically updated Amazon bestseller list.
LED light sources: Quality and light spectrum are getting better and better
What struck me compared to the GU10 LED lamp market from a good five years ago is the fact that there is now a significantly larger selection and much better customer ratings for the light quality. I assume that the technical development of LED light sources is constantly advancing and that the customer experience is getting better. In addition, many new products such as LED fairy lights, smart lamps and lighting elements, lighting scenarios in the smart home and much more also play a role in the experience with LED light sources in 2018. LED has become part of everyday life.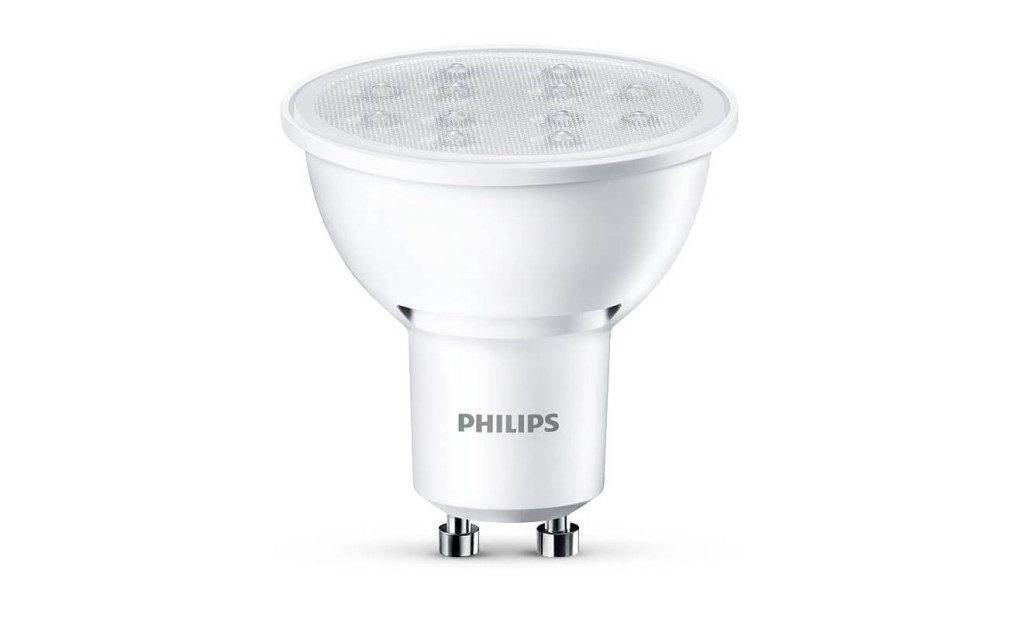 Bulbs with pin base: Top 5 in the GU10 LED test by Stiftung Warentest
I have now exchanged the old information from 2015 with a small 2016 update, which was in this article for a long time, with a more up-to-date test. You can also find the bestseller list from Amazon, which was added as part of the 2018 update, below. This is updated automatically and therefore always offers you a good overview of GU10 LED lamps that are currently very well rated and sold to satisfied customers.
Before I list the top 5 GU10 LED spotlights that scored good in the last test by Stiftung Warentest, a note: some of these lamps cannot be found on Amazon. Others have either no or bad reviews. That is why I will only link the last two list positions, which also do well with online retailers. I will then go into the bestsellers currently shown by real users, which have 5-star ratings and good reviews;)
Here are the top five places in the test magazine:
ELV LED lamp for 4,95 euros with a test score of 1,6
Melitec LED reflector lamp for 7,00 euros with a test score of 1,6
IKEA Ledare, dimmable LED with grade 1,7 - more expensive than in the test and without reviews on Amazon
Ledon LED Lamp: Note 1,7- can currently be ordered via Prime for 9,99 euros
Philips LED: Note 1,7 - currently available in a double pack for 8,97 euros via Prime
How many watts do I need to replace halogen lamps?
Since the LED spotlights usually have significantly more light output per watt than the halogen lamps, you need lamps with less watts than before (this also saves electricity). In order to get a rough overview for the selection, here is a list that gives approximate information how many watts the LED bulbs should have if you get the same brightness as normal spotlights. The conversion is only approximate. Depending on the energy efficiency class of the light source, the values ​​can also differ greatly.
| LED bulbs | Conversion | Halogen bulbs |
| --- | --- | --- |
| 3 4-W | corresponds to | 30 40-W |
| 5 W | corresponds to | 50 W |
Bestsellers and best-rated LEDs with GU10 socket on Amazon
One factor that is important to me when choosing products and also with LED light sources is the customer statements that I find on Amazon. Often aspects are addressed here that are not recognizable in the product text. For example dimensions, switch-on delay or the color of the light. In order to offer a good selection, I have put together the GU10 LED lamps with the most and most positive reviews for you. The list is updated automatically, by the way, so that you are always up to date - even without a manual update on my part:
#
Preview
Product
Rating
Price
1
Osram LED Base PAR16 reflector lamp, socket: GU10, warm white, 2700 K, 4.3 W, replacement for 50-W

12,99 EUR

9,99 EUR

Buy it at Amazon
2
GU10 LED warm white light 8W illuminant, incandescent lamp 560lm 3000K 230V beam angle 120-160...

15,99 EUR

Buy it at Amazon
3
Philips LEDclassic lamp replaces 50W, GU10, 6-pack, warm white (2700 Kelvin), 355 lumens, reflector

22,99 EUR

20,65 EUR

Buy it at Amazon
4
LEDGLE 6er GU10 LED lamp 3,5 W reflector warm white 3000K, replaces 60W halogen lamps, 120 °...

25,99 EUR

Buy it at Amazon
5
GU10 LED warm white | LED GU10 lamp | Warm white 2700 Kelvin | 600 lumens | LED reflector lamp |...

2.819 Reviews

24,96 EUR

Buy it at Amazon
GU10 LED dimmable - the best light sources
Dimmable LED lamps are the right choice for many areas of application. If you use LEDs that are not marked as "dimmable", you will only get a reasonable light at 100% brightness. In the intermediate stages, the LED either goes out completely or acknowledges the dimmed current with more or less intense flickering. The lamps from Philips and Osram have been particularly well rated in retail, so I would like to link them here. While AGODT bulbs have some good ratings, they often have 1-star ratings because of their short lifespan and hum when dimmed. For this reason, I would personally use the dimmable PAR16 LED reflector lamps from Philips or Osram.
Conclusion: Quality and price are slowly settling in
Whether warm light, cold light or instead of light in white something colorful - the quality and price of the GU10 LED lamps have now leveled off. In addition to Osram, Philips and Co., there are now well-rated offers from Amazon Basics. So the market has changed since I first looked at the topic in 2015 and the 2016 update. Now in 2018 and certainly in the future, it is no longer a market in which there are too great differences in price and quality.
The good grades of LEDs with GU10 sockets at Stiftung Warentest or in the test magazine do not necessarily have to be liked by the ultimate users. That is why I always recommend looking at the corresponding bestseller lists of the largest online retailer for all products. So you always know which models are currently the best or have the best price-performance ratio. So you can always buy the best GU10 lamp, whether warm white, cold white, dimmable or with other specs.
GU10 LED photo gallery
So that you can see what a standard LED bulb with a GU10 socket looks like, I have put together a few photos here that show the light source from different perspectives. A 1-cent piece can also be seen on some photos as a size comparison. The reflector found in most GU10 lamps is also used to dissipate heat in some models and is provided with metal lamellas (as shown here in the photos).
Jens has been running the blog since 2012. He appears as Sir Apfelot for his readers and helps them with problems of a technical nature. In his free time he drives electric unicycles, takes photos (preferably with his iPhone, of course), climbs around in the Hessian mountains or hikes with the family. His articles deal with Apple products, news from the world of drones or solutions for current bugs.
The page contains affiliate links / images: Amazon.de