If you always misplace your headphones and no longer want to search for them at your desk in the office, at home by the gaming computer or anywhere else, the headphone hanger from APPHOME could help you. Whether under the table, under the wall cupboard, on the cloakroom or on the shelf - in black, white, gray or silver, the headphone holder fits all headsets, earphones and simple headphones. The maximum load is 5 kg and two pairs of headphones can be hung at the same time.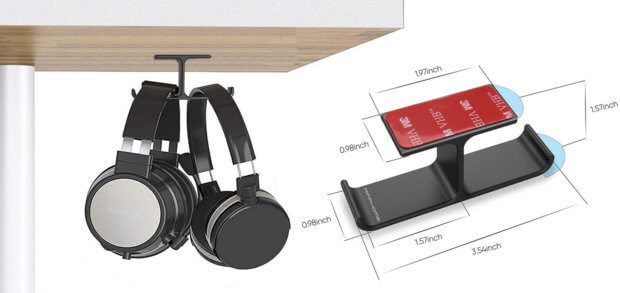 APPHOME headphone hanger - headphone holder at a low price
No matter if Sennheiser, Sony, Beats by Dre or that EasyAcc gaming headset - With a length of 3,9 cm and a width of 2,5 cm, all kinds of headphones fit on the two arms of the APPHOME headphone holder. In addition, their coiled cables, the lanyard, cables for chargers or other accessories can be hung on it.
The upward curved ends ensure that the whole thing does not slip down. The attachment under the desk, on the cupboard or the shelf is realized with a 3M adhesive strip and two screws. You can use the practical office and gaming accessories at Amazon for 9,99 EUR.
Headphone holder with adhesive tape
The APPHOME headphone hanger for headphones, gaming headsets and more is a headphone holder for under the desk, for shelf, cloakroom, closet and Co. Holds with 3M adhesive strips and screws. Available in black, white and gray. Also suitable for hats, keys, cables and more.
Especially 5 star ratings / customer reviews
On the product page linked above you will find a total of 27 reviews (as of July 2018), of which 89% 5 stars and 7% 4 stars. The very well rated headphone suspension convinced 96% of all users. The hold and the look in combination with the price are particularly emphasized. Buyer "MH" describes his positive experience as follows:
They look great (based on the pictures you could think the holder is painted - but it is not. The surface has been refined with a sandblaster - great!)
Adhesive pads make a strong impression (one mounted, one as a replacement, and screws for optimal attachment) - I hope it stays that way.
Great product.
Alternatives for "on the table"
In addition to the headphone hanger for "under the desk", which you can of course stick and screw to any shelf or cabinet for your video game collection, there are other solutions. If you cannot or do not want to attach a hook for headphones under the table top or anywhere else, there are also headphone stands to put on.
The headphone stands are there in a simple version for EUR 7,69, with a shell for the cable from Aventree for 19,99 EUR and even in noble Metal-wood combination for 19,99 EUR. Whatever your workspace or gaming area, there is always the right holder for your headphones and headsets;)
After graduating from high school, Johannes completed an apprenticeship as a business assistant specializing in foreign languages. But then he decided to research and write, which resulted in his independence. For several years he has been working for Sir Apfelot, among others. His articles include product introductions, news, manuals, video games, consoles, and more. He follows Apple keynotes live via stream.
The page contains affiliate links / images: Amazon.de