The HOOVER Ultra Vortex Mattress vacuum cleaners and mite vacuums are, according to customer ratings at Amazon, a very good device for removing mites, flakes of skin and other small particles from the bed. A lot of skin flakes, hair and other dust accumulate there - the house dust mite feeds on them (dermatophagoides). Not only is it a bit disgusting to share a bed with thousands of these beasts, the dust mite droppings can also trigger allergies. A mite vacuum like the HOOVER Ultra Vortex can also be a great investment, even if you don't (yet) have an allergy;)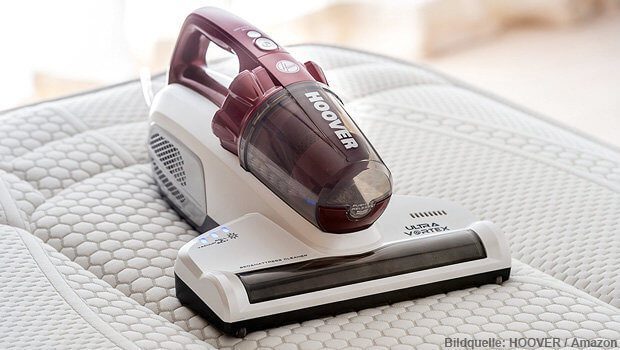 Mattress vacuums and mite vacuums in the test
The editors of the Test- magazine of Stiftung Warentest last took a close look at various mattress and mite vacuums in 2016 and tested them for various factors. I already have you the winners of this mite sucker test in this guide summarized. I also included a bestseller list of mattress vacuums and dust mite vacuums in this post. In the first place is always the HOOVER Ultra Vortex (Status: end of August 2017), which is why I would like to describe it in more detail in this post - because there is still no test from Stiftung Warentest or another large source. But informative customer reports.
HOOVER Ultra Vortex: dust mite and mattress vacuum cleaner
The HOOVER Ultra Vortex mite and mattress vacuum cleaner has an average value of 5 stars out of 4,7 possible stars on Amazon. Of the current 30 customer ratings, 27 have 5 stars. A rating of the product has 4 stars. The remaining two votes are 2 and 1 stars. (Status: end of August 2017)
65,09 EUR
Dust mite and mattress vacuum cleaners from HOOVER
The HOOVER Ultra Vortex with the model number 39300209 comes in red and white and brings 500 watts of power to the watch. With a light 2,2 kg it is ideal for cleaning mattresses, beds, pillows, upholstery, couches, sofas and more. Emptying and cleaning the container is quick and easy. The positive customer reports after the private tests speak for the device. Including UV light to kill mites.
No more stuffy nose and puffy eyes
Let's first take a look at the positive customer opinions and private test reports from the reviews on Amazon. I will also discuss those with one and two stars below. However, the 28 buyers, who are completely satisfied with the product, point out that vacuuming house dust mites from mattresses, pillows, couches and the like has a noticeable advantage. "He sucks the mites out of the mattresses so that we no longer have any problems sleeping and sleep through the night without a blocked nose or puffy eyes", Writes a buyer in response to a question from a prospect.
"The vacuum cleaner does what it should, it sucks powerfully, you can optionally switch on a rotating brush and / or a UV lamp. I have already used the vacuum cleaner 2x for 180 × 200 cm large special mattresses and each time a lot of dust particles (and probably also mites) landed in the bagless collecting container", Writes a buyer by the name of H. Lang. He also explains that the collection container of the HOOVER Ultra Vortex can be emptied and blown out easily. In addition, you can wash out the container of the mite vacuum and simply plug it back into the device after drying.
Just a star? Apparently defective device ...
As already mentioned, there are two ratings, each with one and two stars. The one with the one star refers to an apparently defective device, which apparently has not been exchanged either. There is no question of a return or contacting support. So this review can be neglected, I think.
The 2-star review states that the mattress and mite vacuum cleaner "incredibly absorbent"But the workmanship could be better. Only a torn filter is criticized, which could also have been rejected or replaced. In short: this customer review is also invalid, especially since it is otherwise only positive: "So far, the device has worked flawlessly. The results are more than impressive."
Questions, answers, your own test?
What do you think of the HOOVER Ultra Vortex mite and mattress vacuum, did you already have it in the test? Or are you just looking for the best Device for removing dust mites, Flakes of skin and dust out of bed? Feel free to leave your opinion as well as questions and answers about the device. I look forward to your comments on the topic!
After graduating from high school, Johannes completed an apprenticeship as a business assistant specializing in foreign languages. But then he decided to research and write, which resulted in his independence. For several years he has been working for Sir Apfelot, among others. His articles include product introductions, news, manuals, video games, consoles, and more. He follows Apple keynotes live via stream.
The page contains affiliate links / images: Amazon.de