You can purchase the iPhone 8 with 64 GB of internal memory in gold, silver, space gray and even the RED version at Preisbörse24 for the effective price of only 9,50 euros / month. The package includes an all-network flat rate for telephony and SMS as well as 10 GB of mobile high-speed data volume per month. How the savings price comes about, what you actually pay in the end and what to look out for during the campaign, I have summarized for you in this article.
TL; DR: This way to the special offer of Preisbörse24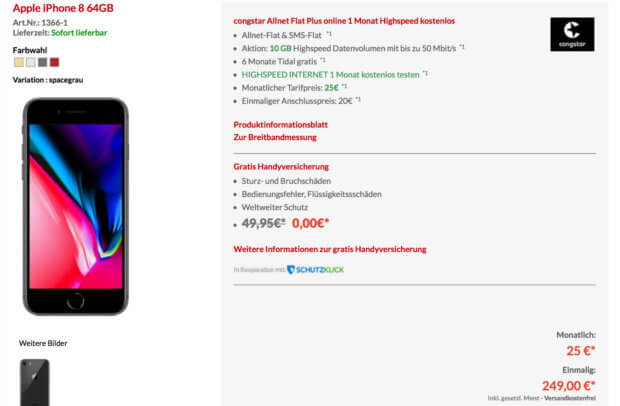 Apple iPhone 8 (64 GB) - details about the device
The package includes an Apple iPhone 8 with 64 GB of internal memory, the color can be freely selected on the promotion page between gold, silver, space gray and the red of the RED Edition products. Here are a few specs about the "small" iPhone model from 2017:
LCD display: 4,7 inches with 1.334 x 750 pixels
Pixel density: 326 ppi
Materials: aluminum, glass
CPU: Apple A11 Bionic Chip with 64 bit architecture
Cores / Frequency: Hexa-Core with 2,1 GHz
Main memory / RAM: 2 GB
Battery: lithium-ion with 1.821 mAh
Inductive charging: yes
SIM card: Nano SIM
Camera (rear): 12 megapixels (video: 4K)
Camera (front): 7 megapixels (video: Full HD)
RRP / introductory price: 799 €
Congstar Allnet Flat Plus Online - Tariff details
The tariff for the deal comes from Congstar. The provider is a direct subsidiary of Deutsche Telekom, which is why the "Congstar Allnet Flat Plus Online" tariff is implemented in the Telekom or D1 network. I have also compiled a list for you of the services you can expect in the tariff:
Allnet flat rate for calls in cellular networks and landlines
SMS flat rate for messages in all mobile networks and in the fixed network
10 GB high-speed volume per month (download up to 50 Mbit / s)
Then: throttling upload and download to 32 kBit / s
SpeedOn option according to volume consumption: 100 MB for 2 euros
MMS costs: 39 cents / piece
Minimum contract term: 24 months
One-time connection price: 20 euros
One-time additional payment for the device: 249 euros
Monthly fee: 25 euros
Promotions: 1 month high-speed option for free, 6 months tidal streaming free of charge
iPhone 8 presentation: That was the Apple September Keynote 2017
IMPORTANT: This must be taken into account with the offer
In the next paragraph I will explain how the effective monthly price of only € 9,50 comes about. At this point, however, a crucial, important note for pricing: In the first month, the high-speed option for super-fast surfing in the Telekom mobile network is free, but costs 5 euros each from the second month if it is not actively canceled. You should deactivate the option to keep the monthly price of 25 euros IMMEDIATELY after activating the SIM card if you do not want to pay 30 euros per month.
This is how the effective promotional price of just € 9,50 / month comes about
As already indicated, the 9,50 € are not actual costs, but a price calculated as "effective", with the tariff fee for the "Congstar Allnet Flat Plus Online" with a current price for the Apple iPhone 8 is put in relation. In fact, 635,90 euros are used for this, which is currently paid, for example, at Idealo for an Apple iPhone 8 with 64 GB of storage.
Here is the exact invoice for the effective monthly price of the promotion:
24 months x 25 euros (tariff costs) = 600 euros
+ One-time additional payment of 249 euros = 849 euros
+ Connection price of 20 euros = 869 euros
= Total costs of 869 EUR for a minimum term of two years
- Idealo device price of 635,90 euros = 233,10 euros
- Credit from Preisbörse24 of 5 euros = 228,10 euros
/ 24 months term = 9,50 EUR / month
Book iPhone 8 cheaper with tariff
You can see all the details, read the footnotes and legal information (recommended!) And book the tariff with your smartphone on this promotional page from Preisbörse24. You save when you buy the iPhone 8 and when you offset the actual costs, you achieve the effective fixed costs shown above. You actually have to pay 25 euros per month. If you want to use the high-speed option, the monthly price increases by 5 euros. If you do not want to or cannot pay the additional payment for the device in full, there are also financing models from 9,35 EUR per month.
Feel free to write in the comments whether the deal is for you or not - and whether you would like to be informed more often about mobile communications topics, promotions and savings offers. Even if something annoys you, you are welcome to communicate it (using the right choice of words);)
After graduating from high school, Johannes completed an apprenticeship as a business assistant specializing in foreign languages. But then he decided to research and write, which resulted in his independence. For several years he has been working for Sir Apfelot, among others. His articles include product introductions, news, manuals, video games, consoles, and more. He follows Apple keynotes live via stream.