If you are still looking for a mobile phone insurance for your iPhone, then the offers of friendsurance (friend = friend; insurance = insurance) could be something for you. The company's iPhone insurance offers numerous advantages, including cell phone insurance with no excess and financial protection against theft, burglary and robbery. I have compiled details about the services, about the individual insurance policies for smartphones, about insuring and terminating the contract as well as about other key points of the offer below. Maybe this is something for you and your Apple smartphone;)
TL; DR: Click here for the insurers' offer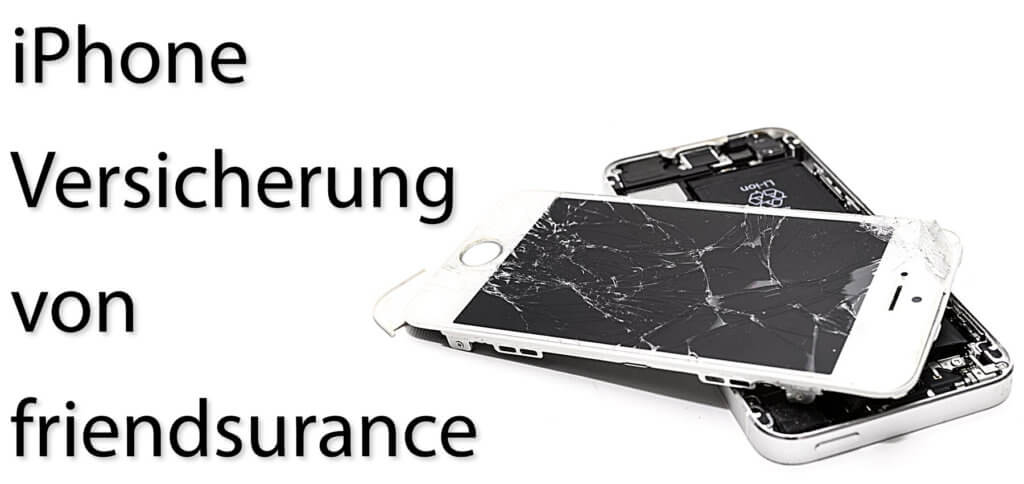 iPhone insurance from friendsurance
Friendsurance's insurers offer extensive mobile phone insurance, which is not restricted to a specific type of mobile phone, so that it can also be used for the Apple iPhone. Numerous damages that can occur when using the smartphone, as well as replacement value replacement and other services are offered. If you want to insure your Apple iPhone and are looking for a special mobile phone insurance, then you might be interested in this comparison of the offers from friendsurance:
friendsurance standard mobile phone insurance
friendsurance premium mobile phone insurance
Display and breakage damage
✔︎
✔︎
Liquid damage
✔︎
✔︎
Overvoltage, short circuit, lightning strike, fire
✔︎
✔︎
Robbery, burglary, theft
✗
✔︎
No excess
✗
✔︎
Replacement as new (in the first two years)
✔︎
✔︎
Worldwide protection for your mobile phone
✔︎
✔︎
The contract can be terminated daily
✔︎
✔︎
No damage = money back (details see below)
✔︎
✔︎
Costs
from € 2,99 per month
Mobile phone insurance for smartphones - a selection
On Page on the subject from friendsurance can be found at the top under the heading Mobile phone insurance chip test winner the possibility to display the tariff that suits you best. To do this, first choose the brand and generation of your smartphone. In addition to the Apple iPhone, there is also the Samsung Galaxy S and Samsung Galaxy Note series as well as Google Pixel, Sony Xperia, HTC, Huawei, LG, BlackBerry, Motorola, OnePlus, Razor, Cat and so on.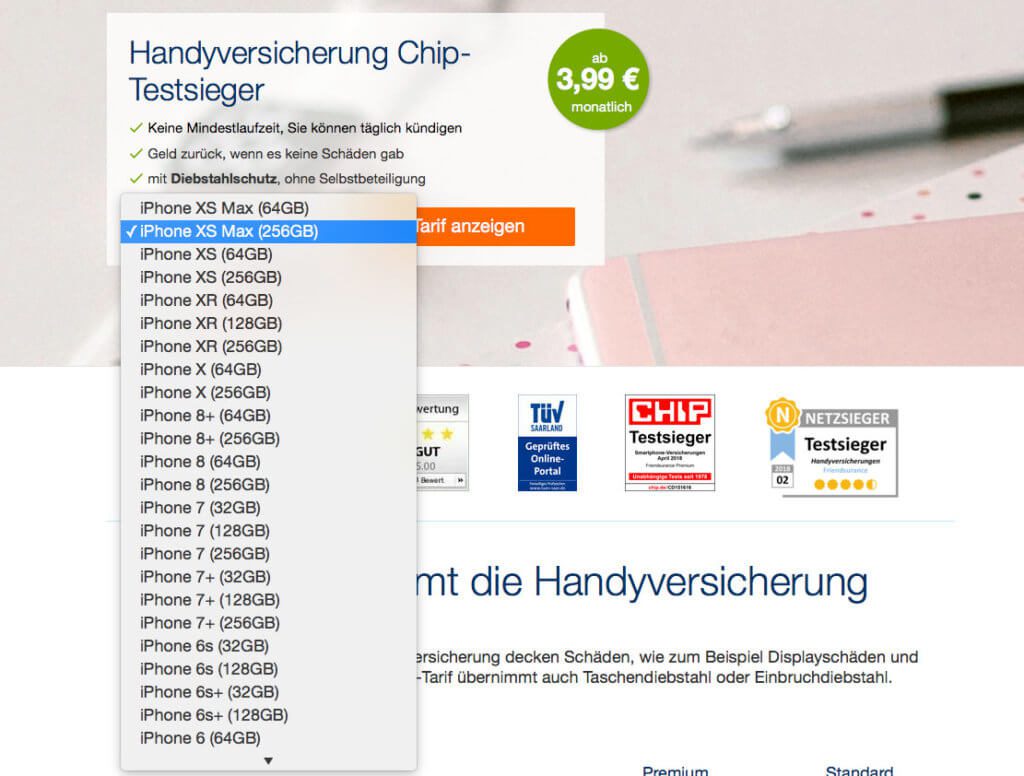 I tried a few combinations of different smartphones and the corresponding information and listed the costs for insuring a mobile phone and its damage for you:
iPhone Xs Max (256 GB) in the tariff "Mobile phone insurance Premium 1500" - € 119,88 pa
iPhone Xs (64 GB) in the "Premium 1000 mobile phone insurance" tariff - € 95,88 pa
iPhone 7 Plus (128 GB) in the "Premium 750 mobile phone insurance" tariff - € 83,88 pa
When I clicked through the individual options for iPhone insurance, I noticed that the model of the smartphone and the cell phone generation (7, 8, X, Xs, etc.) didn't add much to the price. The annual price for iPhone insurance is mainly based on the chosen tariff. Therefore, here is the corresponding overview (prices apply for one year):
| | | |
| --- | --- | --- |
| Purchase price of the smartphone | Mobile phone insurance standard | Mobile phone insurance premium |
| to 250 € | 35,99 € | 47,88 € |
| to 500 € | 47,88 € | 59,88 € |
| to 750 € | 59,88 € | 83,88 € |
| to 1.000 € | 71,88 € | 95,88 € |
| to 1.500 € | 95,88 € | 119,88 € |
Notes: The "Comfort" and "Premium" packages can be booked in addition to the standard offer, which has an impact on the price. All statements without guarantee; Errors and changes possible.
Mobile phone insurance FAQ - Questions and answers about iPhone insurance
If you want to take out iPhone insurance, then you should carefully study the services and claims of the bookable tariffs and the additional packages. Depending on this, this or that damage is covered or not. In addition to theft protection, liquid damage or any other type of damage, there are also other aspects of cell phone insurance to consider. I have summarized a few questions and answers on the topic for you:
When can I take out smartphone insurance for my iPhone?
Mobile phone insurance for the Apple iPhone can be taken out up to 3 months after purchasing the device.
When is my smartphone insured?
If the insurance is taken out directly at / immediately after the purchase, it also applies immediately. Otherwise there is a 4-week waiting period.

Are there differences in the individual packages at these times?
Yes, only the standard tariff and the comfort package can be taken out within 3 months. If you want the premium tariff, you can wait a maximum of 1 month after purchasing the device.
How long will the cell phone be replaced in case of damage?
With iPhone insurance, the value of the cell phone as new is paid for a maximum of 5 years after the contract is signed.
What is only covered in the premium tariff?
Only in the Premium tariff is there no excess of 10% that is due in the basic and comfort package. In addition, theft, burglary and robbery are only covered here.
How and when does damage have to be reported?
If there is damage to the smartphone or if it is stolen, a report must be submitted within 14 days. In the event of property damage, photos of the damaged smartphone must be taken at the scene of the accident; if possible, witnesses should also be named. A report can be made by phone to the "Assurant Solutions" insurance company or online to friendsurance. The damage and its course must be described and presented with supporting documents (proof of purchase, photos of the damage or, in the event of theft, a copy of the advertisement).
When is repairs possible at insurance costs?
No repairs may be initiated until the insurance company reports back. The insured smartphone can only be given to a partner workshop suggested by friendsurance to repair the damage once you have received feedback. Then the corresponding costs will also be covered.
Criticism: Money-back promise only for new customer advertising
Even if you can already find numerous information and details on iPhone insurance for your Apple device in this post and on the linked provider page, I recommend that you read the terms and conditions and all other information documents carefully. Among other things, with regard to the repayment of contributions in the event that no damage occurs, there is the following note on the website:
Friendsurance rewards freedom from damage: You can get part of your insurance premium back at the end of the year. To do this, after taking out mobile phone insurance, add 4 Friendsurance members to your repayment group. If your group is free of damage, each member will receive up to 40% of their contribution back.
General electronics insurance from friendsurance
In addition to iPhone insurance for your Apple smartphone and insurance for other cell phone models plus the corresponding benefits, friendsurance also offers other services. The portfolio of a wide variety of insurance companies also includes an electronics insurance. This insurance for electronic devices offers the following services in the corresponding tariff:
Theft (including burglary and robbery)
Display damage / breakage
Fluid damage
Operator error
Short circuit or overvoltage
Design faults (after the manufacturer's guarantee has expired and outside the statutory warranty; risk carrier: "Assurant General Insurance Limited")
Worldwide protection
No excess
All details: Here
Conclusion on the iPhone insurance from friendsurance
If you want to insure possible damage to your iPhone, theft, robbery and more, then the iPhone insurance from this provider could be worthwhile. However, you should compare the individual tariffs well and also check the points they contain. How long ago can the iPhone have been purchased? When do I get back how much of the premium paid? - Such and similar questions are answered on the provider side and in its terms and conditions. I hope I was able to provide you with the most important information, advantages and disadvantages here. If you have any questions or comments, please leave a comment;)
After graduating from high school, Johannes completed an apprenticeship as a business assistant specializing in foreign languages. But then he decided to research and write, which resulted in his independence. For several years he has been working for Sir Apfelot, among others. His articles include product introductions, news, manuals, video games, consoles, and more. He follows Apple keynotes live via stream.