Anton Ochsenkühn is a big player in the German Apple community when it comes to manuals and instructions. We have already presented and extensively reviewed his books here on the blog. If you are looking to get started with a system, plan to switch to a new Apple device or are completely new to the digital apple world, you will find the amac book publisher numerous matching works by Anton Ochsenkuhn. These three free eBooks are new to the range: "Welcome to the Mac","Apple M1 innovations"And"iPhone 12 innovations".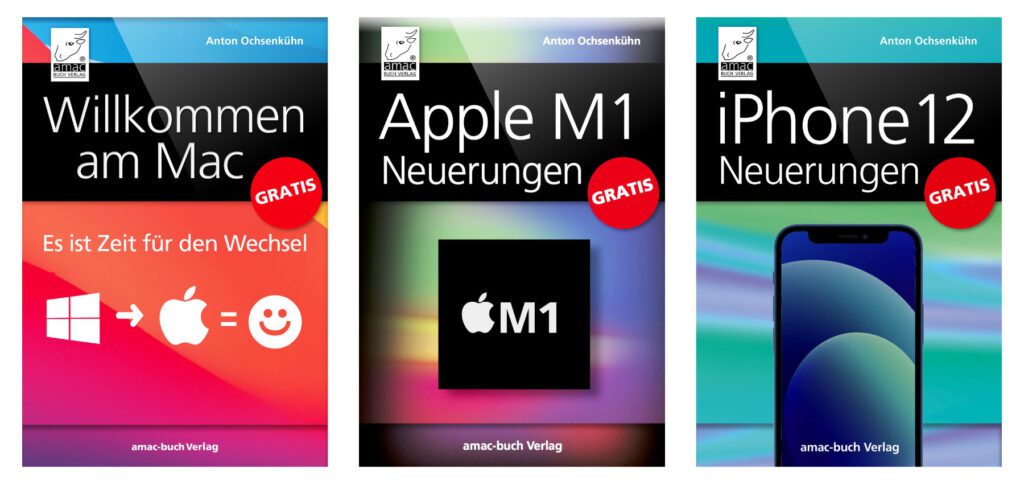 3 free eBooks by Anton Ochsenkühn
The three free books that you can download for free as digital editions are a guide for switching from Windows to macOS, a book on the new features of M1 Macs and a comparison of the four iPhone 12 Models. In the following I have put together a few more information and the download sources for the individual eBooks.
Welcome to the Mac: it's time to switch
Why should I buy an Apple computer and switch from my Windows PC to the macOS system? That question is answered in this book. Above all, the new Apple-owned ARM chips, of which the first generation is referred to as the M1, are an important reason for the long-term change. In addition, the macOS operating system makes working on the computer easier than Windows.
Apple M1 innovations
In this book, Anton Ochsenkühn explains why the M1 chip as the SoC in Apple's new Mac models is a benefit for all users. He also goes into the currently available Mac models with M1 chip (MacBook Pro, MacBook Air and Mac mini). In addition to the speed of native apps, Rosette 2 declared as a snappy emulation of "old" apps. See the book download pages for more details.
iPhone 12 innovations
The third of the three new works by Anton Ochsenkühn, published as free eBooks, is about the smartphones that Apple presented in 2020. What innovations do they offer compared to the previous models? And which model is right for me? These questions are answered in the iPhone 12 mini, iPhone 12, iPhone 12 Pro, and iPhone 12 Pro Max book.
More free books from amac-Buch Verlag
The three titles presented are not the only free eBooks from amac-Buch Verlag. If you use the first link in each of the above lists, you will come to the publisher's website. The respective book is presented there and offered for download, but there are also other free publications listed below. There are instructions for certain apps on the iPhone, iPad and Mac, tips and tricks for the use of different systems as well as further advice and instructions. You will also find the link to the "Free" category, which offers a lot more;)
After graduating from high school, Johannes completed an apprenticeship as a business assistant specializing in foreign languages. But then he decided to research and write, which resulted in his independence. For several years he has been working for Sir Apfelot, among others. His articles include product introductions, news, manuals, video games, consoles, and more. He follows Apple keynotes live via stream.
The page contains affiliate links / images: Amazon.de