The Apple MacBook in rose gold is a popular model among mobile computers from Cupertino. With its 12 "display and a weight of only 0,9 kg, it is ideal for traveling. It is currently available in the official Apple Shop for 1.499 euros (1,2 GHz, 8 GB, 256 GB) or 1.799 euros (1,3 GHz, 8 GB, 512 GB). If you don't want to pay this price and can also accept small signs of use, you also have the option of buying the MacBook in rose gold used. My recommendation for this is the platform reBuy. I explain why in the following.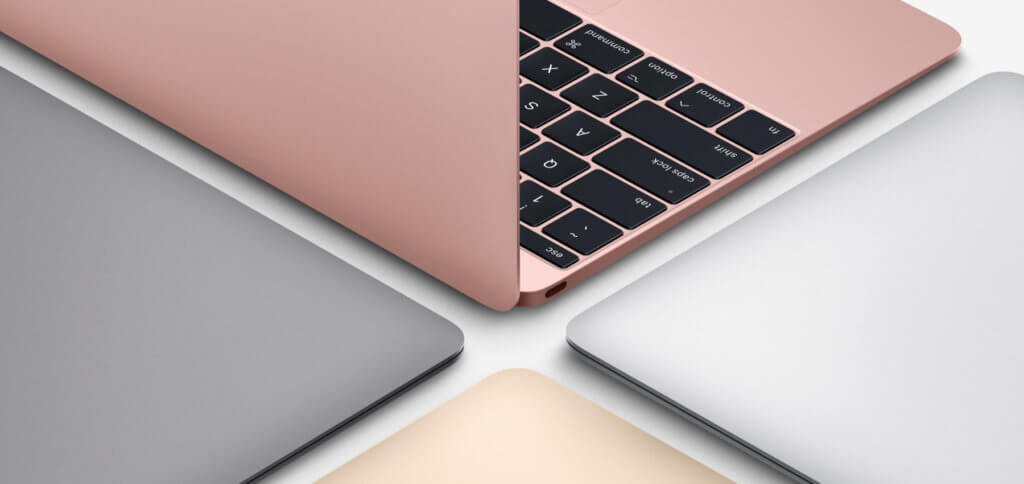 Buy used MacBook in rose gold at reBuy
The used goods platform reBuy buys up second-hand products, tests them, cleans them, equips them with the necessary accessories (power supply unit, cables, etc.) and then sells them on. The advantages are convincing: there is a 36-month guarantee on electronic devices such as laptops, smartphones, consoles and the like, plus a 21-day right of withdrawal. The functionality of the device is guaranteed before purchase - if it does not work after shipping and delivery, it can be exchanged or returned - with a refund of the purchase price.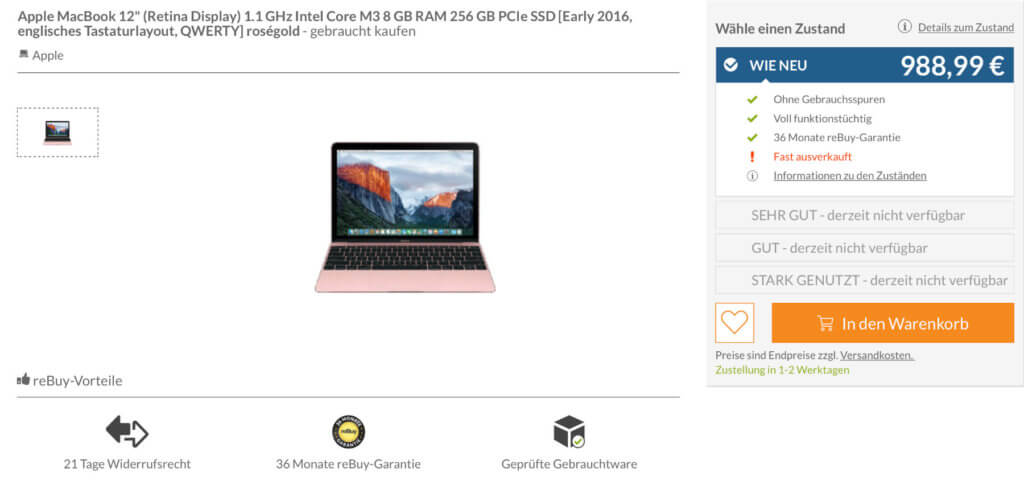 There are four clearly differentiated categories when choosing a device:
Like new: device without signs of use
Very good: Few slight signs of wear
Good: a few clear signs of wear
Heavily used: Heavy signs of use
What to consider
Apple updates its products every now and then, but doesn't change the name significantly - at most the model number. It is therefore possible that the used products at reBuy have different technical data than those in the Apple Shop. Therefore, take a close look at the hardware listed and its data. So there is no difference between the expectation and the device actually received;) Otherwise, I can only recommend reBuy. Not only because of the guarantee, the right of withdrawal and the guaranteed functionality, but also because you get a correct invoice with excellent VAT that you can submit to the tax office. I have never seen this combination of advantages with any other used platform.
>> See all available models here <<
Summary
If you want to buy a used MacBook in rose gold, you can of course also do so via eBay, eBay classifieds, Facebook sales groups, Amazon Marketplace and the like. However, I personally prefer reBuy to all alternatives. Although you usually have to pay a higher price there, you can be sure that the device you buy will work, show little or no signs of use, depending on the selected condition, you will receive a guarantee and also receive an official invoice with VAT. If you want to understand the buying experience from Apfelot, I also recommend this post: My purchase at reBuy.
After graduating from high school, Johannes completed an apprenticeship as a business assistant specializing in foreign languages. But then he decided to research and write, which resulted in his independence. For several years he has been working for Sir Apfelot, among others. His articles include product introductions, news, manuals, video games, consoles, and more. He follows Apple keynotes live via stream.