With the help of an iPhone, which has a LiDAR scanner and the Apple Tape Measure app, you can ab iOS 16 quickly and easily determine the height of a person. However, there are a few small restrictions that you have to be aware of. In this guide you can read exactly how height is measured using an iPhone. If you have any questions or comments on the topic, please leave a comment :)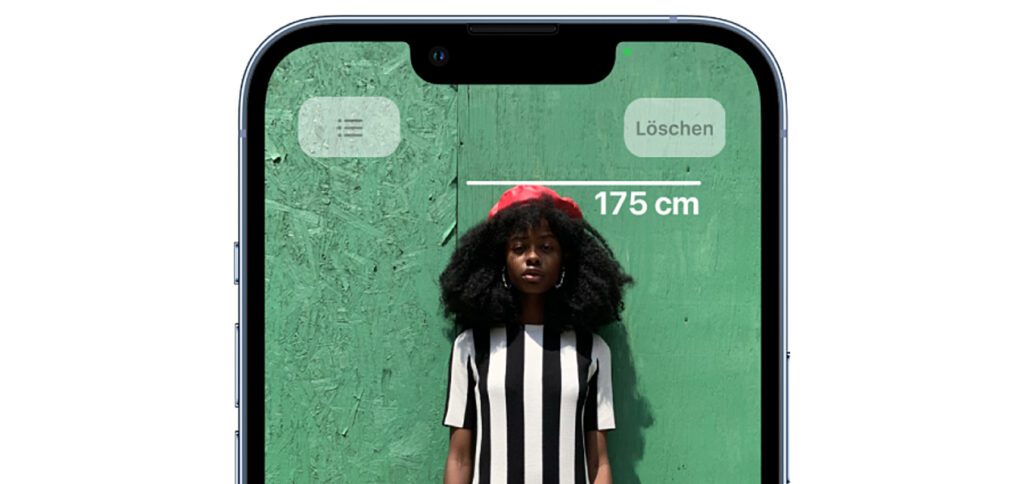 Which iPhone models have a LiDAR scanner?
Not only is a current version of the iOS 16 operating system required for the measuring tape app to work, but also a LiDAR scanner as part of the camera system on the back of the Apple smartphone. These models have this component, which helps to determine distances, shapes, sizes, lengths and the like (as of December 2022):
iPhone 12 Pro
iPhone 12 Pro Max
iPhone 13 Pro
iPhone 13 Pro Max
iPhone 14 Pro
iPhone 14 Pro Max
Instructions: Determine height with the iPhone
To measure the distance from the sole to the crown, the hairstyle or the top edge of the hat with one of the aforementioned or a newer "Pro" iPhone, proceed as follows:
Opens the tape measure app on your Apple iPhone
Aligns the camera on the back to the person to be measured
Make sure the person is in full view
After a short time, a line is displayed above the head, the hairstyle, the hat, etc. and the measured size below it
For a new measurement, you can put the device away for a moment or exit and restart the app
Shoes, hairstyles, hats and the like are not deducted
The measured height does not have to reflect the exact height of the person you are measuring with the measuring tape app on the Apple iPhone. Because, as already mentioned above, no additional calculations are made here to deduct the height of the shoe soles or heels or headgear. However, it gives you a tool if you need to prove that you are tall enough for a roller coaster or something similar :D You can also save the measurement as a photo as shown on the display by pressing the shutter button in the App pressed to save a screenshot.
Source: Apple
After graduating from high school, Johannes completed an apprenticeship as a business assistant specializing in foreign languages. But then he decided to research and write, which resulted in his independence. For several years he has been working for Sir Apfelot, among others. His articles include product introductions, news, manuals, video games, consoles, and more. He follows Apple keynotes live via stream.