As in every February, Valentine's Day is surprisingly coming up this year too; So you should mark 14.02.2020/2020/XNUMX in your calendar! If you are still looking for gifts for your girlfriend or boyfriend, now is the time to make a decision. Since you're looking for help on a tech blog here, you're most likely interested in nerd gifts for Valentine's Day XNUMX. I have summarized a few examples for you below. Since they are universally suitable as gifts, I have not classified them according to any gender. You will also find the right thing for your girlfriend or boyfriend;)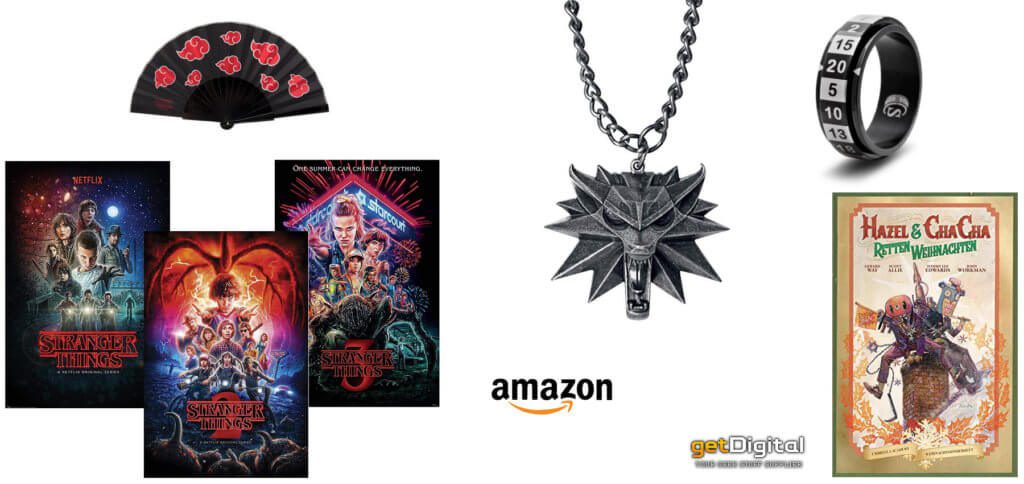 There are many gift and fun item stores on the Internet. Most of the sites offer generic cheese, which is mostly only fun for the gift giver because they hand over some garbage to the gift recipient. GetDigital is different, a shop where the slogan "Your Geek Stuff Supplier" is the program. If you look around on the shop page, then you discover lots of fan gift ideas for all kinds of pop cultural highlights - merchandise from various films, series, video games, book series, science and so on. From the "Day of the Tentacle" blanket to the "W20" ring for role-playing freaks who always want to have a 20-piece die with them. Check it out, it's worth it!
Rick and Morty and more: getDigital contribution from 2019
The Witcher, Stranger Things, and more for Valentine's Day
In addition to getDigital, you can of course also get great gifts on Amazon for Valentine's Day, birthday, Christmas and so on. Whenever a geek or nerd gift is needed, you can also find it here - if you can hide the nonsense displayed here and there. This is how you can quickly and easily get Valentine's Day gifts for girlfriends on the topics of Stranger Things, The Witcher, The Umbrella Academy, etc. Here is a small selection of well-known and popular franchises and the gifts they made possible on Amazon:
Much more nerd stuff as a gift idea
Here in the blog you will find many more gift ideas for Valentine's Day. Take a look at the other nerd stuff articles to find inspiration and the right gift for the day of love. For example on the topic Rick and Morty season 4To Pixel art speakers from Divoom, to the DJI RoboMaster S1 robot for programming and battle freaks, for Nintendo Switch Lite for gaming on the go, for SunnyBAG solar backpack with a sunny power bank function and on the subject Scissors, stone, paper, lizard, Spock. Do you still have a Valentine's Day gift idea for your boyfriend or girlfriend from the fields of nerd and geek stuff? Then leave a comment;)
4,90 EUR
Jens has been running the blog since 2012. He appears as Sir Apfelot for his readers and helps them with problems of a technical nature. In his free time he drives electric unicycles, takes photos (preferably with his iPhone, of course), climbs around in the Hessian mountains or hikes with the family. His articles deal with Apple products, news from the world of drones or solutions for current bugs.
The page contains affiliate links / images: Amazon.de