Most of the time I abstain from any discount promotions or super duper deals that are sent to me. In the current case, however, there are two interesting mobile phone contracts from O2, in which you either get an M1 MacBook Pro or the AirPods Pro on top. I found that exciting enough to briefly present both offers here.
Transparency notice
The links to both offers are affiliate links. My blog is mainly financed through partner links and that is why the following two links are so-called partner links. This means I earn a few euros when someone books such a mobile phone contract, but it doesn't cost you any more.
As a rule, a smartphone is offered with a telephone contract. In the two O2 contracts that I found here, however, there is one MacBook Pro M1 and one AirPods Pro. Both really good products that I bought without a contract.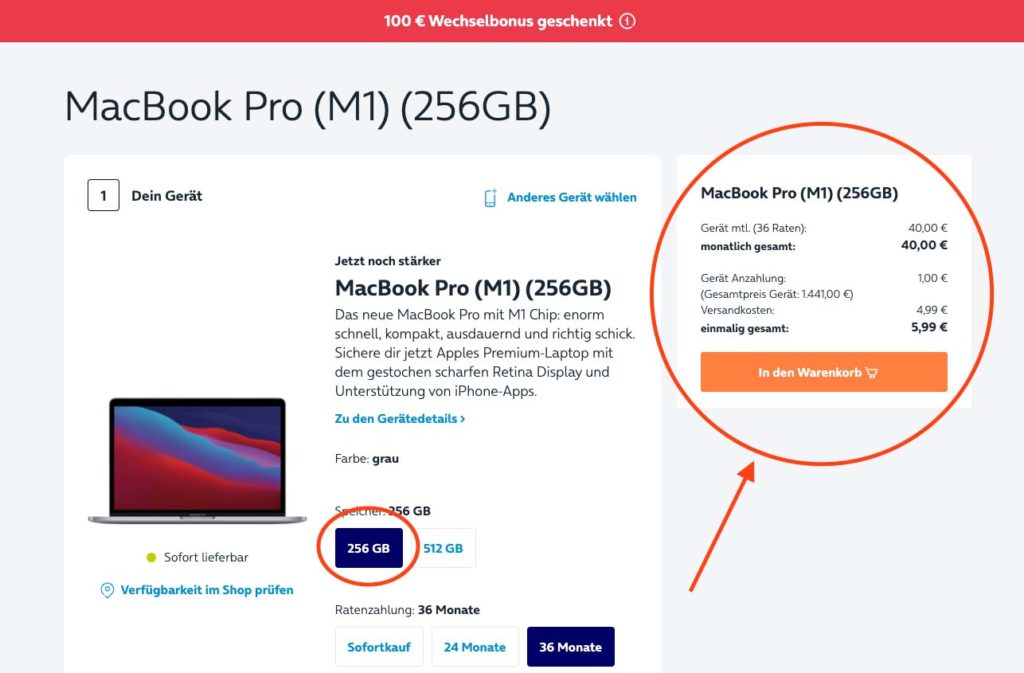 MacBook Pro (M1) (256GB) with O2 Free M Boost contract with 40GB
With this offer you can choose whether you want the MacBook Pro with 256 GB or 512 GB (always with 8 GB RAM). There is also a choice between 24, 36 and 48 months when it comes to paying in installments. Of course, this affects the monthly costs.
Price example: MacBook Pro M1 with 256 GB memory and 36 months term plus O2 Free M Boost contract with 40 GB LTE or 5G volume and Allnet flat rate (please see details on the offer page!) → EUR 59,99 per month
The MacBook Pro still costs more than 1.100 euros from Idealo. And if you order the tariff without the MacBook Pro, you pay 40 euros per month. That means you get the MacBook Pro for an additional 20 euros per month. And 20 euros x 36 months is 720 euros. As far as I can tell, that's a pretty good price. Ok, there are just under 6 euros one-time addition, but I let them fall under the table.
If you switch to O2 from another provider, you get a EUR 100 switching bonus on top of that.
► go to O2 Free M Boost + MacBook Pro (M1) ◄
---
Apple AirPods Pro with charging case with O2 Free M 20GB contract
I also looked at the price of the AirPods Pro. If I choose the 36-month term here, I pay around 46 euros once and around 30 euros a month. There is no need to calculate the AirPods Pro costs here, since this contract is 30 euros even without AirPods Pro. The AirPods Pro – which are available from Idealo from 190 euros – are therefore "free" on top of the contract.
Here, too, there is a 100 euro change bonus if you come from another provider.
► continue to O2 Free M + AirPods Pro ◄
Jens has been running the blog since 2012. He appears as Sir Apfelot for his readers and helps them with problems of a technical nature. In his free time he drives electric unicycles, takes photos (preferably with his iPhone, of course), climbs around in the Hessian mountains or hikes with the family. His articles deal with Apple products, news from the world of drones or solutions for current bugs.