Im LONGER Online store, where you can find various offers for 3D printers and engraving machines, some products are currently on sale. For example, you get a discount for the 3D printer LONGER LK5 Pro as well as for the laser engraver LONGER RAY5. It's even worth taking a look at the shop if you just want general information about the devices, because various videos with test reports and experience reports are embedded for each product. These provide information about the functionality and suitability of the devices. They can also help with setup and setup.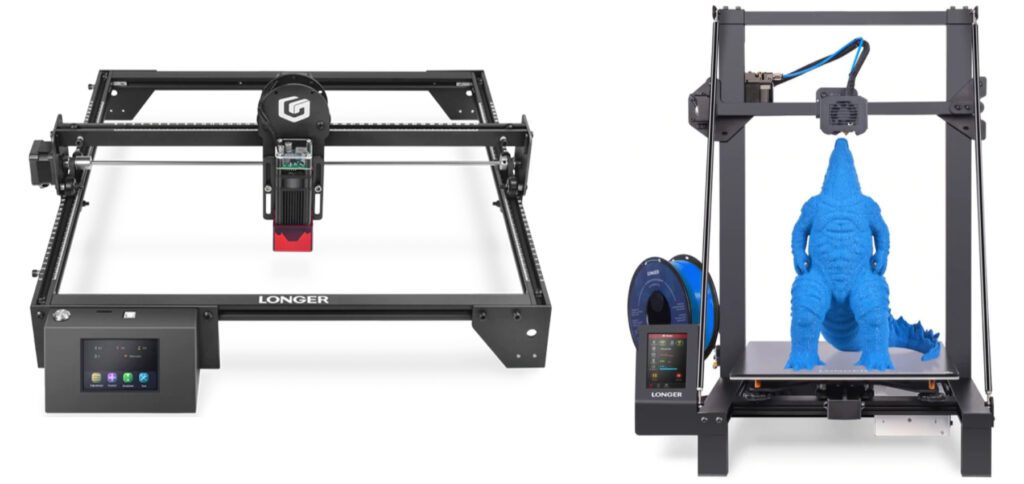 LONGER LK5 Pro – 3D printer with a $40 discount
The LONGER LK5 Pro arrives at your home mostly assembled. Above all, the base station with the moveable support plate made of heat-resistant glass is already installed. Illustrated instructions are included for the few steps of complete assembly. Once the 3D printer has been set up, it can be operated via the 4,3 inch display, among other things. The printer itself measures 580 x 540 x 663 mm when fully assembled, with most of the space being allocated to the printed matter. These can be realized on 300 x 300 x 400 mm. If you not only want to create hardware, but also want to program software, you will certainly enjoy the open source firmware of the device. Here it goes to the shop page.
The most important data at a glance:
Manufacturer: LONGER
Model: LK5 Pro
Device type: 3D printer
Dimensions: 580 x 540 x 663 mm
According to the manufacturer, the cheapest 3D printer of this size
Space for printed matter: 300 x 300 x 400 mm
Display: 4,3 inch color display with understandable UI
Scope of delivery: 3D printer, instructions, microSD card with USB adapter, tool set, screw set, spatula, power cable, printing material for the first test, filament sensor
Price: $349,99 instead of $389,99 (Code: LK5PRO$30)
References: here in the LONGER shop
LONGER RAY5 – Laser Engraving Machine with $190 discount
If you're looking for an engraving and cutting machine that you can feed from a microSD card instead of connecting to a computer, then the LONGER RAY5 might be for you. Of course, it can also be connected to the computer via USB. This device is equipped with a 3,5 inch display and understandable system on it. Thanks to its own processor, the machine works quickly and precisely, according to the manufacturer at up to 10.000 mm per minute. It can handle, among other things, image formats such as BMP, JPG, PNG, DXF, AI and SVG. More information, pictures, videos and purchase options can be found on the shop page for the laser engraver.
The most important data at a glance:
Manufacturer: LONGER
Model: RAY5
Device type: engraving and laser cutting machine
Dimensions: 610 x 670 x 20 mm
Working area: 400 x 400 mm
Display: 3,5 inch color display with understandable UI
Engravable Material: Wood, paper, plastic, leather, aluminum, non-reflective coatings and painted metal
Cuttable material: cardboard, non-woven fabric, thin wood, acrylic, thin plastic
a very good laser engraver or laser cutter for beginners
cheap laser engraving machine with large work surface and screen
Laser module power: 5-5.5W (10W module coming soon)
Scope of delivery: machine in individual parts, instructions, microSD card with USB adapter, tool set, screw set, safety glasses, power supply unit, wooden boards for initial tests, brush
Price: $309,99 instead of $499,99 (Code: RAY5$30)
References: here in the LONGER shop
After graduating from high school, Johannes completed an apprenticeship as a business assistant specializing in foreign languages. But then he decided to research and write, which resulted in his independence. For several years he has been working for Sir Apfelot, among others. His articles include product introductions, news, manuals, video games, consoles, and more. He follows Apple keynotes live via stream.