The accessories manufacturer Pitaka offers for the new Apple smartphones iPhone 14 and iPhone 14 Plus as well as iPhone 14 Pro and iPhone 14 Pro Max new models of its high-quality aramid fiber cases. Whether it's a minimalist design with the MagEZ Case 3 with 600D or 1500D fibers or a more colorful design with Fusion Weaving - the right case is available for all new smartphone models from Apple. In addition to the strong protection for the housing, there is also camera protection with a corresponding border. In this article you will find the individual offers.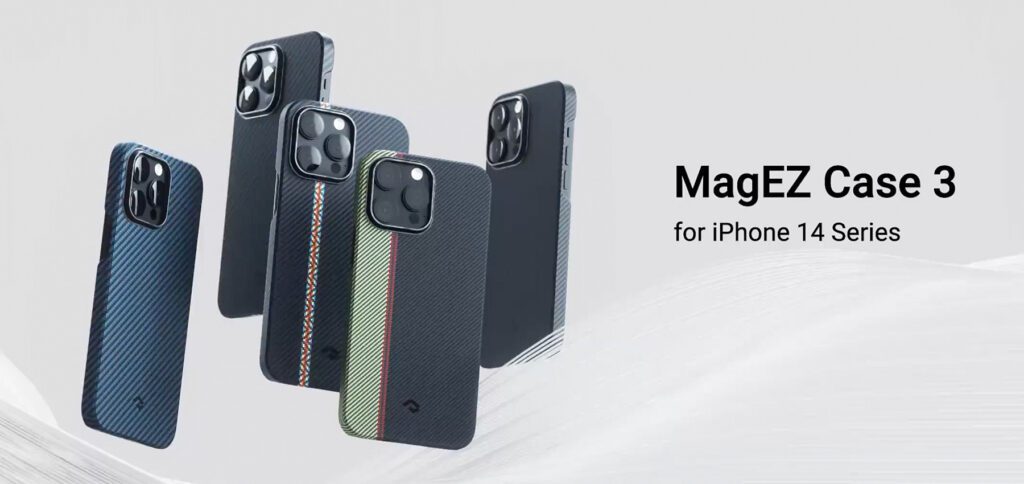 Pitaka protective cases for iPhone 14
These Pitaka cases protect the body of the Apple iPhone 14 while providing custom-fit cutouts for the rear camera and buttons on the edges of the device. At the bottom there is space for the speakers and the Lightning connector.
Pitaka protective cases for the iPhone 14 Plus
For the larger Plus model of the new Apple smartphone with A15 Bionic Chip, Pitaka also has the matching protective covers. These offer the same form factor with woven material and cutouts in the right places. All offers are listed below.
Pitaka protective cases for iPhone 14 Pro
The iPhone 14 Pro not only offers a 6,1-inch display with a newly designed cut-out for the camera and Face ID, but also the new A16 Bionic Chip inside the case. You can protect this and the three-camera system with a 48 MP sensor from scratches and bumps with Pitaka cases.
Pitaka protective cases for iPhone 14 Pro Max
The iPhone 14 Pro Max goes one step further, offering a 6,7-inch display and a larger battery. Otherwise, it basically has the same functions as the iPhone 14 Pro. But you can also get the right protective case from Pitaka for this large Apple smartphone.
After graduating from high school, Johannes completed an apprenticeship as a business assistant specializing in foreign languages. But then he decided to research and write, which resulted in his independence. For several years he has been working for Sir Apfelot, among others. His articles include product introductions, news, manuals, video games, consoles, and more. He follows Apple keynotes live via stream.