Lasertag is a game that can be played outdoors, in a hall, or in a lasertag arena. The focus is on action and fun, but tactics and strategies for winning are also necessary. In Lasertag, at least two people, but usually several teams, play against each other and have to shoot each other with laser weapons. The game is not unlike paintball or airsoft; However, there is no ammunition, only lasers or infrared pulses that are used to shoot and hit. If you want to play laser tag indoors and outdoors, there are the Jamara laser pistols with AGETECH glasses.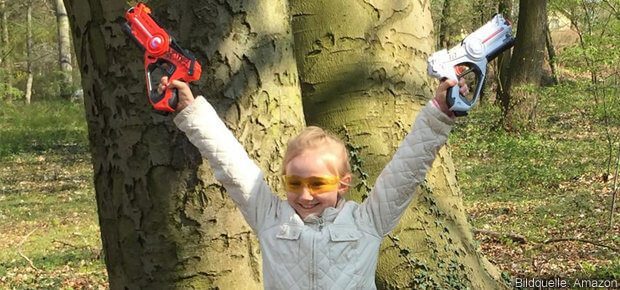 Jamara Impulse Laser Battle Set
Maybe you know it, maybe it's new to you: if you want to play Lasertag, you usually have to contact a corresponding hall or arena and book an appointment depending on the opening times and capacity. It can be difficult, especially if you want to play laser tag in a larger group or with the children during the holidays. Because this leisure activity is very popular. If you forego booking at times that are actually inconvenient and if you want to be independent of opening times, then the Impulse Laser Battle Set from Jamara with the AGETECH glasses is probably the right thing for you;)
Jamara Impulse Laser Battle Set
This laser tag set makes you independent of the opening times and prices of the laser tag providers. Up to 20 players (5 each in four teams) can play with the Jamara pistols. Each has a team display and a hit overview. The scope of delivery also includes AGETECH SuperView glasses for each laser gun.
Play laser tag everywhere: it's that easy!
According to the manufacturer, the set described is the latest from the 2017 children's play world. The various functions, features and the great reviews on Amazon (on June 1, 2017, all five reviews were given 5 stars) also suggest that it is not about cheap toys, but about a high-quality alternative to the fixed laser tag.
The guns, which are available in the combinations blue and green or white and red, have the following four settings (including vibration and sound):
pistol
Shotgun
Machine gun
Rocket launcher
If you compare the prices of the set and the individual offers for Lasertag in different cities, then games with your own "weapons" are much cheaper. This is especially worthwhile in the long run. So don't google for Lasertag in Berlin, Lasertag in Hamburg, Lasertag in Heidelberg, Munich, Cologne, Dresden, Gelsenkirchen and Co., but think about your own equipment and your own arena;)
Commercial on YouTube
With your own infrared-based laser tag set, you are flexible; you basically only need the set described and not even a special vest or other receiver - these are built into the weapon. This cute commercial for the set that I found on YouTube shows how a game can play in the forest:
Save when buying
The set linked above is sufficient for two players to play. If you want to set up two teams with two players each, you can also order the other two colors. But if you have a lot of friends who like to play with lasers during the day, the whole thing will cost you money. That's why I rummaged on Amazon and actually found a set with 10 weapons for a total of 300 euros (as of June 1, 2017). However, from a different provider and so far without reviews. However, the pistols are identical and the description also shows the same features:
Advantages of your own laser game set
You don't have to book a game in a hall / arena
You can play at any time outside of opening hours
You have no access
The prices are comparatively low
You can run your own small events for up to 20 players
If the boss doesn't mind, you can do it yourself Everyday office life make it an experience
You can play indoor and outdoor - safer than paintball or airsoft
You make your own rules
And many more
Conceivable areas of application
Private laser tag arena
Leisure activities for children and adults
As an event at the bachelorette party
As a team building measure
As a sport and fun offer in the club
And much more
What to look for
There is no risk of injury in this game; As I said, it is safer than paintball or airsoft because no ammunition is used. However, viewed from a distance, the laser game pistols could be attributed to the appearance weapons. So I wouldn't modify it, paint over the eye-catching colors or make the orange ring on the "mouth" unrecognizable. So you are safe when playing in public - you can basically use modifications on private property.
What do you think about the topic? Feel free to leave a comment :)
After graduating from high school, Johannes completed an apprenticeship as a business assistant specializing in foreign languages. But then he decided to research and write, which resulted in his independence. For several years he has been working for Sir Apfelot, among others. His articles include product introductions, news, manuals, video games, consoles, and more. He follows Apple keynotes live via stream.
The page contains affiliate links / images: Amazon.de