I have been using the Roborock S50 vacuum cleaner robot with mopping function for several years and have not yet replaced a filter or brush. I blow the filter and the dust container regularly with one Cordless dust blower from Opolar when I have emptied the container. With the brushes, I have to fumble out the hair of our female roommates with a cutter every now and then.
It all works out pretty well, but at some point the time will come when you should change the filter. It has now been so far for me. So I have mine this double pack with replacement filters ordered for my Roborock S50 from Amazon and exchanged the filter. And lo and behold, the suction result is noticeably better, despite diligent blowing through the old filter, if you use a fresh filter after years. Who would have thought. : D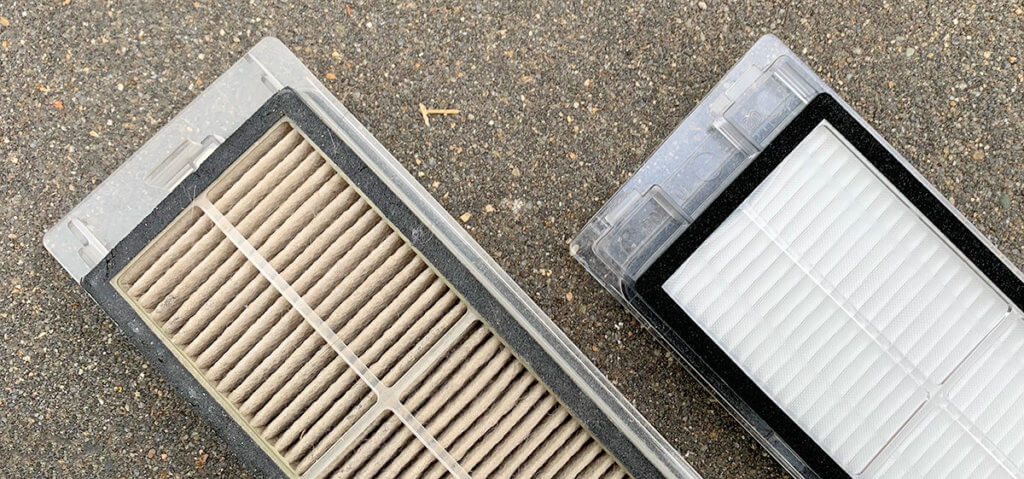 Too long article: here are my recommendations in a nutshell
I'm just realizing that the article has gotten a little out of hand in terms of length. For this reason, the most important points are briefly summarized here:
As far as I know, the replacement filters and brushes are compatible with all Roborock/Xiaomi robot vacuums. So you don't have to search for a specific filter for a specific model, it's enough if you search for "replacement filter Roborock" when shopping.
There are very few original parts, although many claim to be "original".
As far as I can see, the spare part sets are all filled with replicas that may cause problems during operation. For this reason I would buy the individual parts from Xiaomi / Roborock and not a set.
My recommendation: just that Xiaomi items order, as these are direct from the manufacturer and are actually "originals". The filter I bought runs without any problems, doesn't smell funny and doesn't throw up any error messages when vacuuming: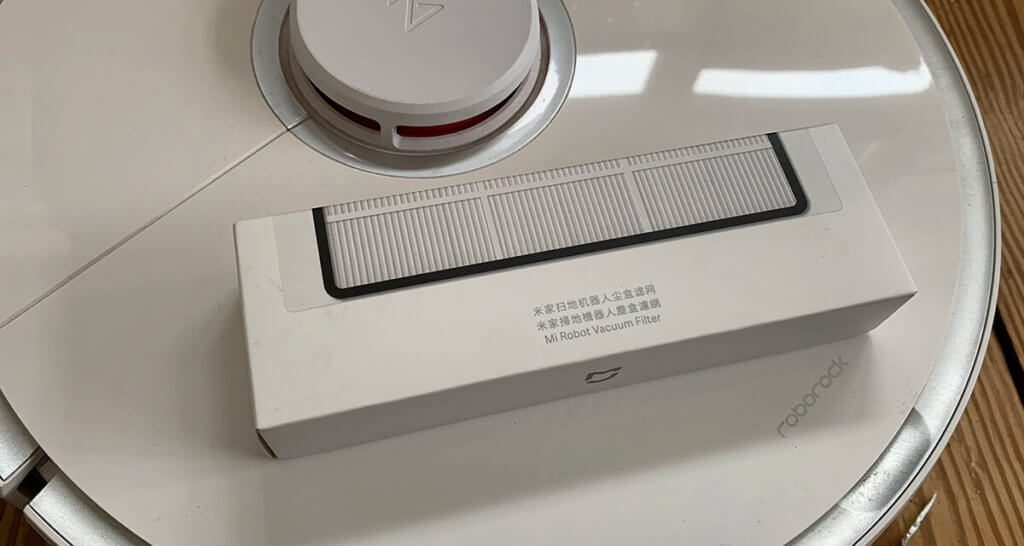 Complete sets with filters and brushes cheaper?
In the meantime, I came across various sets via Amazon that contain not only filters, but also brushes, wipes, water filters and cleaning tools. The advantage is that you can get a relatively large number of spare parts for a reasonable price. The disadvantage is that these are replicas that may cause problems during operation (more on this below).
If you want to choose a set, then I would one from Safetyon recommend, as there are only a few negative reviews to be found here and the quality seems to be relatively high. Safetyon offers three sizes of the sets:
10 pieces (Main brush, two side brushes and four Hepa filters)
18 pieces (two main brushes, three side brushes, three Hepa filters, six water filters and two floor wipes)
20 pieces (two main brushes, six side brushes, four Hepa filters, four water filters and two floor wipes)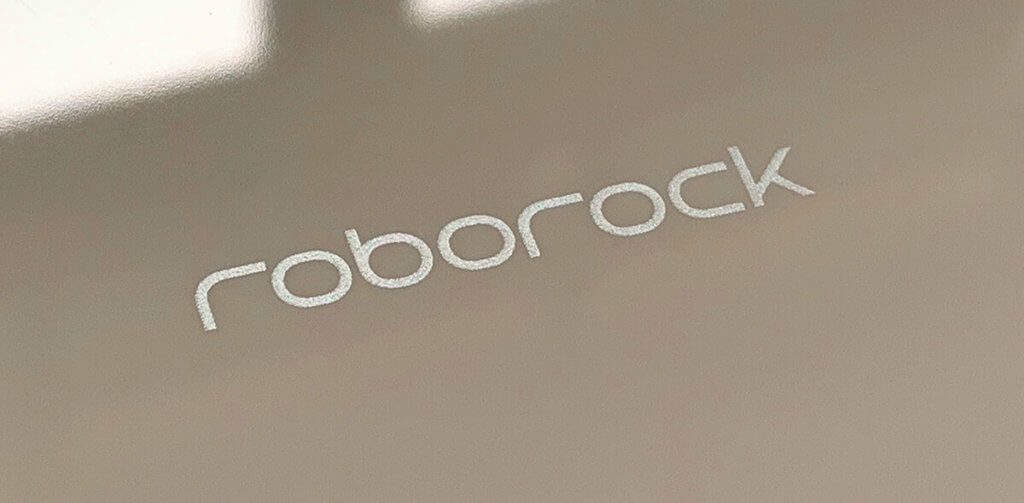 Brief note: Xiaomi is not just Roborock
I myself thought for a long time that Roborock is a Xiaomi brand, but in fact it is probably the case that Roborock has been an independent company for a long time and Xiaomi only has a larger shareholding in Roborock. With older models, the designation starts with "Xiaomi Mi", as with my vacuum robot, but in fact even the old model "Xiaomi Mi Robot Vacuum" was developed by the manufacturer Roborock. The "Xiaomi" was probably built into the name to inspire Xiaomi fans for the device.
The fact that the companies Xiaomi and Roborock work more closely together can be seen from the fact that there are some vacuum robot models that work with both the Xiaomi and the Roborock app.
How do I find out which model I have?
Actually, you don't have to know the exact identification of your vacuum robot, as the spare parts sets and the individual parts are compatible with all Xiaomi and Roborock models.
If you still want to know which model you have, proceed as follows: If you turn the vacuum robot around, you will find a sticker on the underside with the serial number and the specification of the model. For me it looks like this (the magnifying glass function of the iPhone helps immensely!):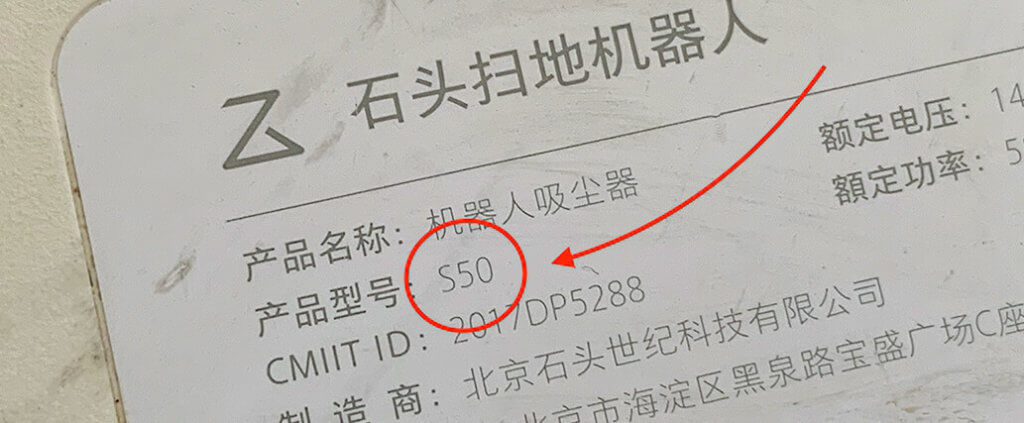 Xiaomi Roborock models since 2016
I worked my way through various pages and created the following list, which contains all Xiaomi / Roborock models that came on the market between 2016 and mid-2020. These should all be compatible with the replacement parts listed.
Xiaomi Mi Robot (2016)
Roborock Sweep One S50 / S51 / S55 (2017)
Roborock Xiaowa C10 (Xiaowa Lite), E20 and E35
Roborock S6 / T6 (2019)
Xiaomi Mi Robot 1S (2019)
Xiaomi Mijia STYJ02YM LDS version (2019)
Roborock S5 Max (2019)
Roborock S4 (2019)
Xiaomi Mi Robot 1C (2019)
Roborock S6 Pure (2020)
Roborock S7/T7/S70/S71/S75(2020)
Roborock S6 Max V
Hardly any "original spare part" is an original
If you search for "Original Xiaomi Spare Parts" or "Original Filter Roborock" on Amazon, you will find a whole armada of manufacturers who advertise with the term "Original". You quickly find out that there is hardly an original here, because these products have the information "from Xiaomi - Roborock" or "from Xiaomi" under the title of the product name. And ONLY then is it actually an original product from the two manufacturers.

Distinguish between original and fake
In several reviews there were the following tips on how to distinguish original spare parts from counterfeits:
Originals always come in a box with Xiaomi / Roborock imprint
the box is sealed with transparent stickers (see photo)
Counterfeits are delivered in a completely white cardboard box or even just in plastic bags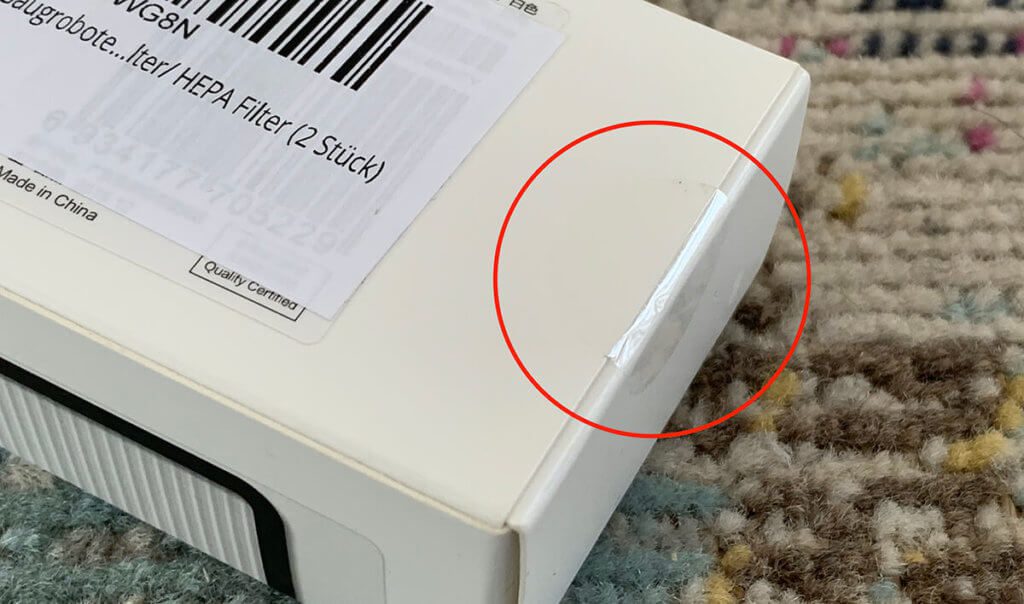 Cheap replicas or original replacement filters?
Yes, the original parts are a little more expensive than the replicas from other companies, but with the Roborock vacuum robots it is worth paying the extra charge. If you read the reviews of the replicas, you quickly realize that the results are very mixed:
the brushes are made of harder rubber and are significantly louder than the original
the filters are not HEPA filters and allow dust particles through
the materials used have a strong smell of plastic
the vacuum cleaner throws an error because it does not recognize the filter correctly
the water filter is too permeable and distributes too much water on the floor
Here is just a small excerpt from the reviews I found:
The reels are considerably louder than the originals! It sounds like I have an old tractor in the living room. The fit is not ideal (smaller / loose) and you can feel the difference in material to the original part.
…or…
Since I wanted to buy accessories in stock, I ordered the set twice. Unfortunately, we had to find out that the filters trigger an error message when you use them: "Error 9". We must therefore assume that this is not an original product.
It's best to take a look at the Amazon reviews of the sets and then decide whether to use the original or a replica set.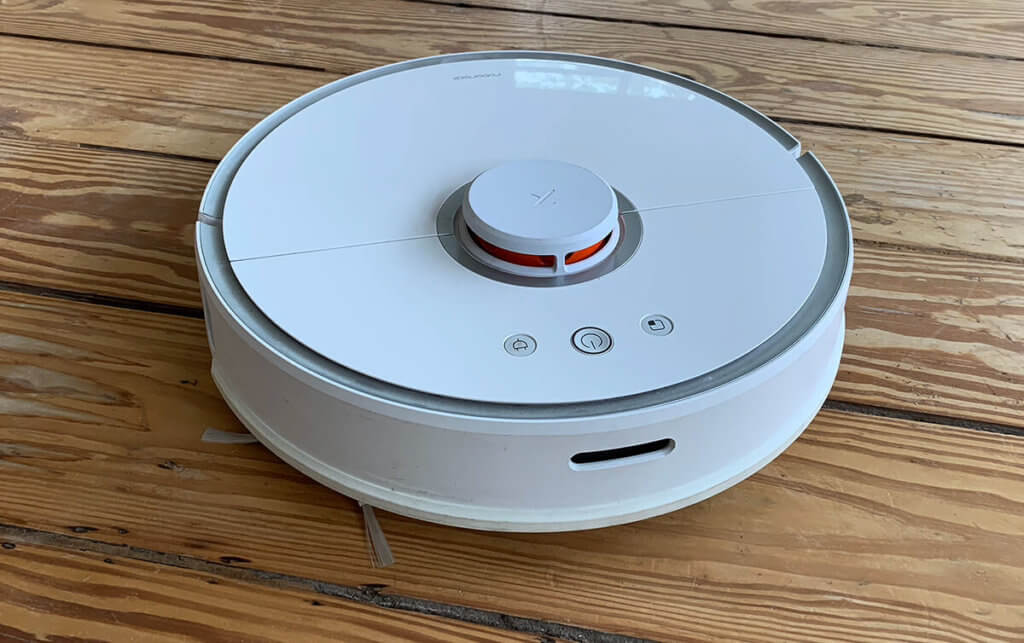 My recommendations for single parts and spare part sets
I've looked at the reviews of a number of sets and can't really recommend any of them. Most of the time, people complain about malfunction, high volume, or strong plastic odor. For this reason, I have linked products from the manufacturers here that I think are the best choices:
Individual parts from Xiaomi
If you are only looking for a replacement for one part, you can do well with ordering individual parts: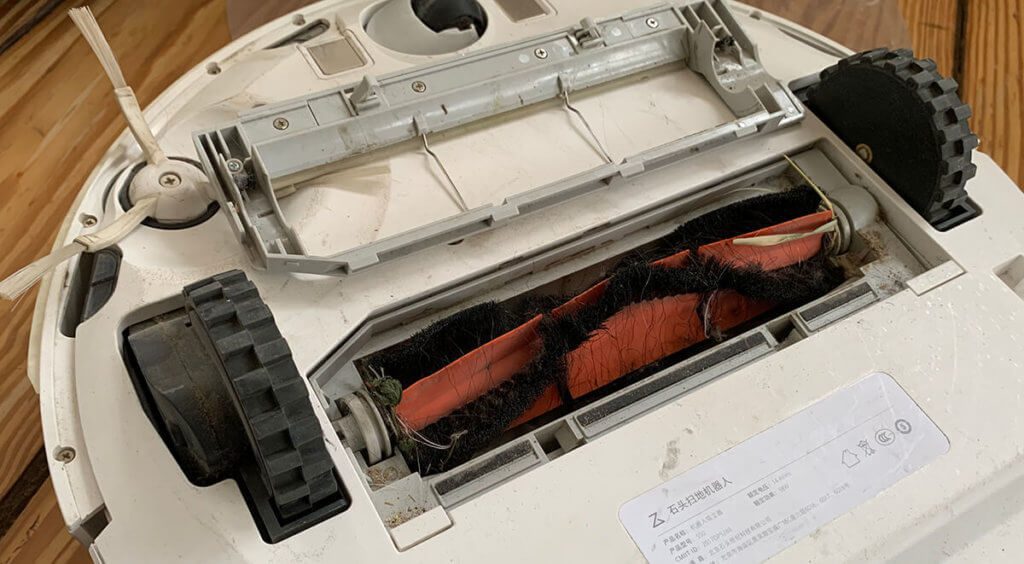 Complete sets with replacement parts
The following sets contain the common filters and brushes that should be replaced every now and then. Buying in a set saves you a lot when you compare it with the prices of the individual parts.
The Xiaomi Roborock set also has some bad reviews, which indicate that these are not original parts. It's hard for me to judge myself, but I think the price allows you to take the risk and send the set back in a pinch if there are problems.
Roborock spare parts
If you have a defective Roborock vacuum robot and need a spare part, you can here in the Amazon shop from Roborock search. In addition to vacuum cleaners and accessories, you will also find spare parts there, such as these:
magnetic stripe
Brush cover
main brush
side brush
right wheel
spare batteries
I hope that Roborock will also use the same design of the filters and other spare parts in future models. This is a huge benefit for consumers as it makes finding replacement parts so much easier.
Jens has been running the blog since 2012. He appears as Sir Apfelot for his readers and helps them with problems of a technical nature. In his free time he drives electric unicycles, takes photos (preferably with his iPhone, of course), climbs around in the Hessian mountains or hikes with the family. His articles deal with Apple products, news from the world of drones or solutions for current bugs.
The page contains affiliate links / images: Amazon.de