You can buy the Roborock S7 vacuum and floor mopping robot from the manufacturer Xiaomi at Amazon at a great discount! The smart vacuum cleaner and mopping robot not only comes with 2.500 Pa suction power, but also with scrubbing technology and carpet detection. Cleaning different floors and carpets in just one pass is particularly easy with this device. And best of all: until November 7th, 2021 you will get a whole 170 euros discount when buying from Amazon. I will show you how to do this in this guide.
Update 10.11.2021/XNUMX/XNUMX: new discounts available
An email just came in, which new discounts for the Roborock S7 robot vacuum included.
Discount at eBay:
Price: 489 EUR (instead of 539 EUR)
Coupon code: SINGLESDAY
Only valid on 11.11.2021/XNUMX/XNUMX
Discount at The Amazon:
Price: 519,99 EUR (instead of 649,00 EUR)
Runs from November 8.11th. until November 14.11.2021, XNUMX
Abbreviation: You can go directly to the product page here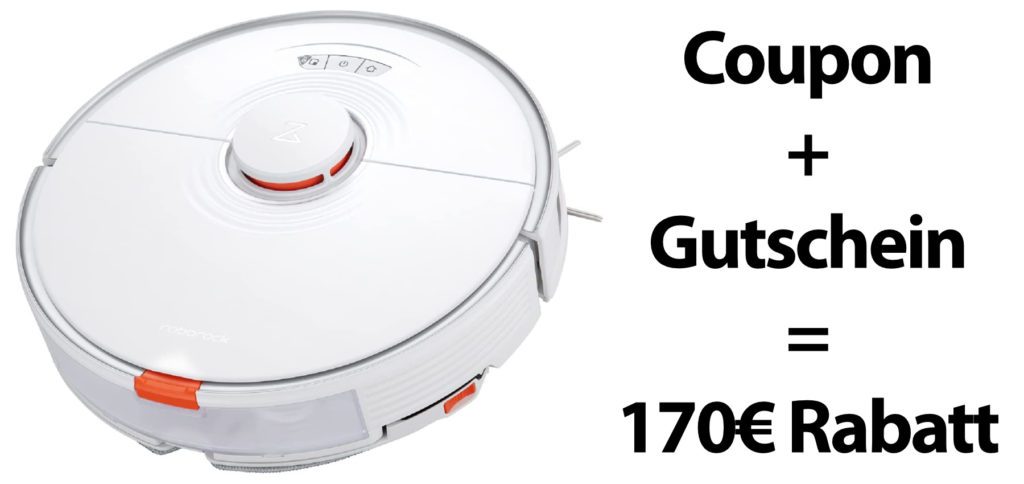 Roborock S7 vacuum robot: 170 euros discount and prime shipping
You get the complete price reduction of 170 euros in two steps. First you have to activate the coupon on the product page. To do this, simply tick the box to the left of the coupon information that is displayed under the regular price. So you already get 150 euros discount and pay only 539 euros instead of 689 euros (promotion runs until November 30, 2021). Then add the robot to your shopping cart. Then it goes on.
Goes to the virtual checkout with the Roborock S7 vacuum and floor mopping robot in the shopping cart and with the activated coupon. There you can enter a voucher code to receive a further 20 euros discount. This code is 6AW8X5FS. If you use this, you will now be granted the additional discount and you will save a total of 170 euros - but this will only work up to and including Sunday, November 7th, 2021. Do you want to buy the Roborock S7 for only 519 euros, just click here.
More information about the Roborock S7 vacuum and floor mopping robot
The robot vacuum cleaner Roborock S7 offers 2.500 Pa suction power and catches dirt in a container with a 470 ml capacity. The water tank for mopping holds 300 ml. Thanks to the 5.200 mAh battery, the robot can vacuum and mop for several hours, even when the automatic scrubbing system is activated, which presses the mop onto the floor. A total of 600 g of pressure is built up to reliably wipe up dust and dirt.
Monitoring and control is possible via the Xiaomi Home app. In this, room plans can be viewed, schedules for cleaning can be created and other settings can be used. Another smart thing is the carpet recognition of the Roborock S7 vacuum robot. Because if a carpet is recognized, the mopping cloth is raised so that the textile is only vacuumed and not made wet. Further details on the technology and information on use can be found on the product page linked above.
After graduating from high school, Johannes completed an apprenticeship as a business assistant specializing in foreign languages. But then he decided to research and write, which resulted in his independence. For several years he has been working for Sir Apfelot, among others. His articles include product introductions, news, manuals, video games, consoles, and more. He follows Apple keynotes live via stream.
The page contains affiliate links / images: Amazon.de