The first month of the year is almost over. But before it goes into the last weekend of January, you will be presented with a Sir Apfelot newsreel here. The Apple and tech news that particularly caught my eye in calendar week 4 of 2023 include the following: Study on browser fingerprinting by the University of Erlangen-Nuremberg, Mars helicopter Ingenuity flies around for the 40th time, more mass layoffs at tech companies, reviews of the new Mac mini, security updates for old iOS versions, and more.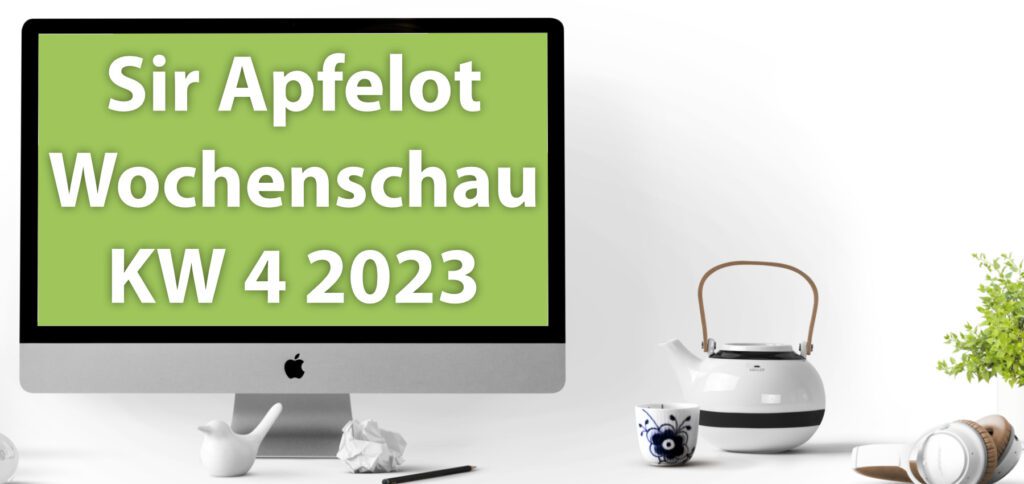 Determine your personal browser fingerprint in a university study
Not only via cookies, but already by recognizing the one used web browsers Websites and advertising companies can identify individual users. The detection and possibly even tracking across multiple websites is done by looking at the browser app, its version, the installed extensions, the fonts used and more. Information on the detected operating system can also help to assign users. This is what researchers at the Friedrich-Alexander-University Erlangen-Nuremberg point out. They also offer via this website the opportunity to register for a study and get regular insights into your own browser fingerprint. The whole thing works on desktop computers as well as laptops, smartphones and tablets.
Hatred of Twitter linked to physical attacks
A recently completed study also looked at how hate tweets and derogatory comments on Twitter are linked to off-line crime. It was definitely found that with increased hate speech on Elon Musk's platform, more and more people felt their crude views were confirmed, the tone became increasingly violent and this coincided with an increase in attacks against the groups insulted. There is no direct causal connection that could be translated one-to-one. B. heise online in one Articles on. However, a correlation can be found.
Mars helicopter takes off for the 40th time
Actually, it was not intended that the mini-plane Ingenuity, which operates parallel to the Mars rover Perseverance, would fly so often over the surface of the neighboring planet. But it has now taken off and landed safely 40 times. He covered a total of eight kilometers. The anniversary flight lasted 91,62 seconds, went up to a height of 10 meters and over a distance of 178 meters. The last flights were more independent, heise online also shows in one go Post on. Because Ingenuity has received a software update that brings a digital height map and the necessary algorithms for avoiding obstacles when landing.
Tech layoffs: Microsoft, Spotify, SAP (and Apple?)
This week there were several reports of further mass layoffs at various tech giants. Microsoft has cut around 10.000 jobs and at the same time closed the entire AltSpaceVR area, with its own Metaverse should be created. The team behind the Mixed Reality Toolkit has also been fired entirely. Apparently, Microsoft is sawing off the branch that Apple with his headset want to climb. Spotify is also cutting several jobs, how many is not exactly known. And SAP is giving up around 3.000 employees. Meta (Facebook, WhatsApp, Instagram) and Alphabet (Google) have also cut tens of thousands of jobs. At iFun it is therefore headlined: Now only Apple is missing. Sources: 1, 2, 3
In a survey by the free mailers GMX and WEB.de, respondents were asked whether they rely a lot on paper or whether they use digital solutions. It was about various topics, from scheduling to shopping lists to books. It shows that 53% continue to take notes by hand on paper. But note-taking apps (28%) and photo snapshots (25%) are also used to record information. Multiple entries were possible. It was also about the plan to switch to digital solutions and about documents that are used digitally rather than printed. You can find all results prepared with this link.
First reviews of the Mac mini with M2 Pro chip
The new Mac mini can with M2 chip or M2 per chip be bought. The new Pro-SoC should under certain circumstances with the Max M1 can be compared. And in other tests, the new Mac mini with the most powerful equipment even had higher computing power than the current Mac Pro with an Intel chip. Summarizing all benchmark values ​​and test procedures here would go beyond the scope. That's why I'll just link you to the two articles that I found quite interesting on the subject:
iOS 12.5.7 Legacy Update issued
Actually, old Apple smartphones like the iPhone 5s no longer receive software updates. However, the manufacturer makes an exception if it is intended to close critical security gaps. And so the iOS 2018 operating system released in 12 was once again given an update. The now available version iOS 12.5.7 should contain "important security updates". In addition to the aforementioned iPhone 5s, the update is also available on the iPhone 6 (Plus), on the iPad mini 2 and 3 and on the iPod touch. Devices still running iOS 15 or iPadOS 15 also got version 15.7.3 this week. You can find details about this in one Articles from the iPhone ticker.
Apple Music Classical: New hints at classical music streaming
Apple actually wanted to launch an app in 2022 that would allow classical music to be streamed or downloaded in the best quality. There have also been several clues in software betas that have been tracked down by data miners. But then it became quiet again about the app and the classical music. Now there are new reports on the subject. Among other things, heise online pointed this out this week. However, with the disclaimer that a launch date for the app and the service behind it is still unknown. You can find the article on the subject with this link.
After graduating from high school, Johannes completed an apprenticeship as a business assistant specializing in foreign languages. But then he decided to research and write, which resulted in his independence. For several years he has been working for Sir Apfelot, among others. His articles include product introductions, news, manuals, video games, consoles, and more. He follows Apple keynotes live via stream.