Welcome to the new Sir Apfelot newsreel. In this issue, I will show you the Apple and tech news that particularly caught my eye in calendar week 47 of 2022. The following reports are included: data protection problems at Apple, protests by Foxconn employees in China, study on the AirPods hearing aid comparison, all current information on the realityOS from Apple, and more. But before that, a note on our own behalf.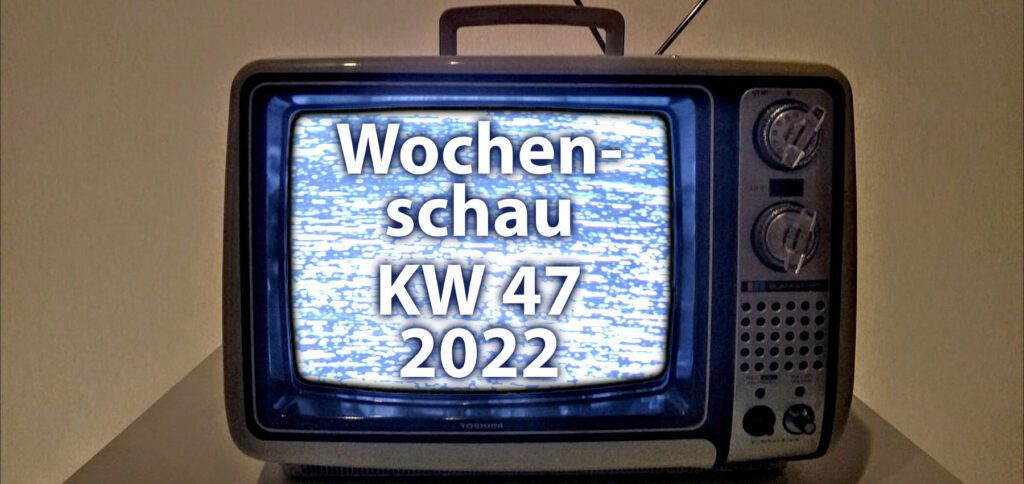 Black Friday and Cyber ​​Monday: Posts with current deals
Today is Black Friday and next Monday is Cyber ​​Monday. We've written a few posts over the past few days for both events, as well as for deals that last throughout the weekend. In addition to the respective individual contributions, such as to Anchor, eufy, Nebula and Wallet, but there is also a large collection. There you will not only find the links to the individual articles listed, but also other discount campaigns - including deals from Malwarebytes, Seobility, Skillshare, Luna Display, Ecovacs, Parallels Desktop, Pixelmator Pro, atlasVPN and some more. Feel free to use the affiliate links in the posts, then we can also have some of the bargains :D
Negative headlines about Apple's data protection mechanisms
This week there were several topics that can be classified as rather negative with regard to Apple's data protection efforts. For example, the recently launched iCloud for Windows doesn't seem to work properly; Video files are said to be corrupt and images from third-party accounts are said to be displayed. Speaking of accounts: Analysis data from the Apple Store should be able to be clearly linked to the corresponding iCloud account via an ID. The so-called "private relay", Apple's quasi-VPN, can also be misused for click fraud. Here everything in detail:
iCloud for Windows - Strange Content and Potential Data Loss
iFun, among other things, provides information on this topic in one Post with reference to that Forum the MacRumors site. Screenshots were published there showing the "iCloud for Windows" error. Also, it says that next to the photos/video thumbnails strangers also leads to corrupted video files in the cloud. In addition to the privacy problem, there is also the risk of data loss. Further details can be found in the linked sources.
App Store Analysis: ID indicates iCloud account
According to a group of security researchers called Mysk, the analysis data on the use of the App Store, which is created by Apple, contains an ID called "dsId". This "Directory Service Identifier" should be able to be used to identify the iCloud account that is actually anonymized. Or to put it another way: The Apple analysis can assign usage behavior in the App Store to individual users. That writes the Mysk group in one Tweet, on the iFun (here ) and MacRumors (here ) enter.
Apple Private Relay could be used for ad fraud
The "Apple Private Relay" is less about private data and more about the fraudulent use of Apple technology. For users of iCloud+, this redirects the web requests via two servers so that the original IP is disguised – similar to a VPN. As the servers used by Apple are whitelisted on many websites, they are said to be good for advertising fraud, according to one Message by Pixalate. Clicks on advertising, for which the integrating persons receive money, could be generated in this way. There are more details in German in one Summary from heise online.
Foxconn factory in China: riots over ongoing lockdown
According to corresponding media reports, the Covid-19 infection waves and the associated lockdowns in a Chinese Foxconn plant and its attached dormitory have been going on since mid-October. The healthy of the (according to reports) over 200.000 workers should continue to make iPhones, while sick people have to be in quarantine. The supply of food and other basic things is said to be poor. Accordingly, there were now protests and riots by the more or less imprisoned people on the Foxconn site. Details on this in Wall Street JournalWherein MacRumors and in iFun.
Study compares AirPods with hearing aids and shows advantages and disadvantages of each
Hearing aids, their handling and the adjustment of use are outdated. At least that's what one says Post from the iPhone ticker, which refers to the study "Smartphone-bundled earphones as personal sound amplification products in adults with sensorineural hearing loss" called (available here). AirPods (Pro) and similar headphones with adjustment options and coupling with the smartphone (e.g. via "Live listening" function) adapt faster and can compete with professional hearing aids. However, they still do not offer the performance that is needed for severe hearing loss.
What is known so far about Apple's realityOS
The New Year is fast approaching, and with it the period for which new devices such as the Apple Mac Pro and the iPhone maker's mixed reality headset are expected to arrive. The latter is said to come with realityOS, a special operating system that is said to be made for the use of headsets with VR and AR functions. According to Apple connoisseur Mark Gurman, work on the system already finished. So it's time for a recap of what's known so far - and MacRumors provides it at this point. It's about compatible apps, its own app store, video streaming, the release date and more.
Video game on your wrist: Quake on the Apple Watch
A developer project was published under the name Watch_Quake, which brings the shooter "Quake", which was first published in 1996, to the Apple Watch. The game requires almost 100 MB and uses both the display and the digital crown for inputs to control the smartwatch. With the latter you move forward, the determination of the running direction, shooting, jumping, swimming and Co. each have areas on the display that you have to tap to execute. If you want to get Quake on the Apple Watch, you can do that via the developer mode. The necessary resources and instructions for rebuilding the game in Xcode are there at GitHub. Here's a video of what it all looks like in the end:
After graduating from high school, Johannes completed an apprenticeship as a business assistant specializing in foreign languages. But then he decided to research and write, which resulted in his independence. For several years he has been working for Sir Apfelot, among others. His articles include product introductions, news, manuals, video games, consoles, and more. He follows Apple keynotes live via stream.