Shortly before the second Advent, let's take a look at all the headlines in the last few days. Yes, that's right, the Sir Apfelot newsreel is back. This time we're taking a look at the Apple and tech news that caught my eye in week 48 of 2022. In addition to yesterday rescue a man Thanks to the satellite SOS on the iPhone 14, there are even more reports: Vodafone OneNumber now supports up to 10 SIM cards, Twitter reactivates blocked accounts and has too little moderation, Apple in the AirDrop criticism, eufy surveillance cameras apparently insecure, M2 Max benchmark -Values ​​popped up, MacPaw says #DiakuYOU, and more.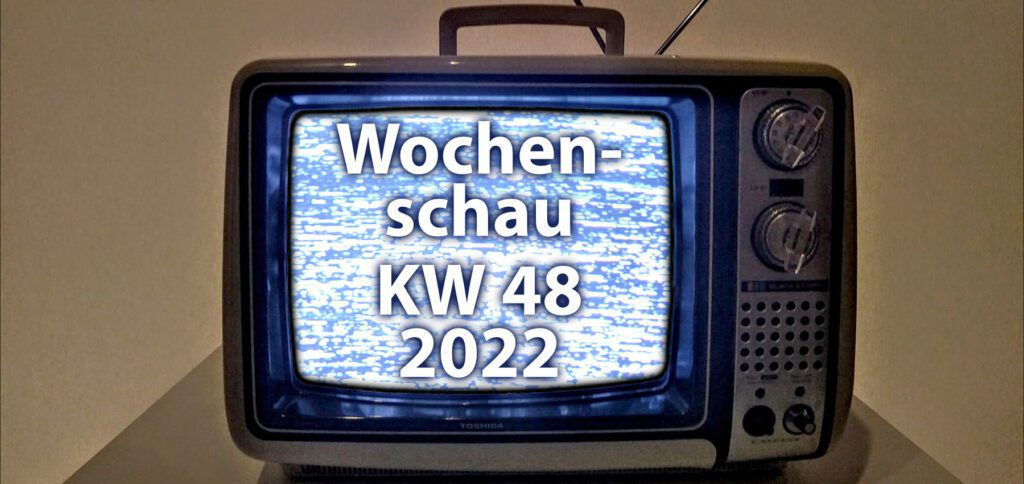 Vodafone OneNumber: One number on up to 10 SIM cards
Like the iPhone ticker this week shown has, Vodafone is responding to the increasing demand for SIM cards that can be used in networked devices. Because in addition to the smartphone, there is also the tablet, the smartwatch, routers with mobile phone use, cars and so on. It is also pointed out that Vodafone also supports telephony using Alexa devices from Amazon with the OneNumber offer. That is why it is now being increased from the previous maximum of 3 to 10 SIM cards. According to the linked source, the phone calls made can be passed on from one device to the next. You can find more information and an FAQ on the official website from Vodafone.
Epson plans to stop selling laser printers by 2026
Under the guise of nature and climate protection, Epson has decided to give up the laser printer business. From 2026 at the latest, the company wants to focus only on inkjet devices in the printer segment. This is shown, for example, by iFun in a Entry on. The source rightly notes that Epson's new concept of nature conservation is surprising. Because so far inkjet sold with planned obsolescence and had to be laboriously reset because their software made regular use impossible after a certain period of time. In addition, printer ink is disproportionately expensive. More about our perspective on inkjets here: Why inkjet printers are the worst junk.
Recent Twitter Headlines: Accounts Banned, Tim Cook Meetings and Chronology
Not a week has gone by without something new to report about the Twitter chaos under Elon Musk. After the waves of layoffs, the plans for Twitter 2.0 and the back and forth to mark official accounts as well as paying users, we are now moving on. So berichtet 9to5Mac, among others, that around 62.000 blocked profiles have been reactivated, that there are not enough specialists to view and delete illegal content and that false reports about Covid-19 are no longer being corrected / deleted. Accordingly, Twitter has to fear its place in the Apple App Store and the Google Play Store. Elon Musk and Tim Cook now discussed this personally, like MacRumors shows.
A chronology of Elon Musk's (so far) failure on Twitter is available in video form on the highly recommended "Ultralativ" channel:
eufy Security: Surveillance cameras not so secure after all?
Here at Sir Apfelot, we actually have a good relationship with Anker and the individual sub-brands – such as Soundcore and eufy. We have also pointed out the respective discount offers for Black Friday and Cyber ​​Monday. All the more ugly are reports that the surveillance cameras from eufy Security are apparently uploading data to the cloud without being asked and live streams can be accessed unprotected via the VLC player. On the cloud thing: eufy points out that thumbnail images or clips are uploaded so that they can be used in push notifications (which makes some sense). The technically complex but unencrypted access to cameras with simple media playback apps is more remarkable, I think. Sources: MacRumors (English) and iFun (German).
LastPass password manager hacked again
If you use LastPass, you should probably change all passwords stored there as soon as possible and distance yourself from the service provider for the time being. Because like iFun in a message shows, LastPass has been hacked again, seemingly building on knowledge of the last hack. The hackers obtained information from users, but no passwords were lost – at least that is the company's official statement. The updates on the case, written by LastPass CEO Karim Toubba, can be found (also in German) in the Company blog ...
Protests in China: Apple criticized for AirDrop restrictions
There are plenty of reasons for protests in China. But currently the bad mood in the population is probably boiling up, so that there are actually loud expressions of opinion against those in power. Up until a few weeks ago, the iPhone's AirDrop function was a help in the almost anonymous distribution of information, leaflets and the like. If this was set in such a way that files could be received by everyone, digital flyers could easily be received virtually. This is no longer possible because receiving from everyone is now limited to a maximum of 10 minutes. Apple seems to be bowing to China here and soon wants to introduce the new setting worldwide as an alibi. details on the subject can be found here with the iPhone ticker.
Apple M2 Max benchmark values ​​revealed ahead of release
The more powerful versions of the Apple Silicon name M2 are to be used in the corresponding Mac models and launched on the market at the beginning of next year. In addition to the M2 Pro, there will also be the M2 Max and the M2 Extreme. MacRumors took the M2 Max and its performance values ​​as this week hanger for apparently leaked data. Because, among other things, on one Tweet Referring to @VNchocoTaco it was written that M2 Max Geekbench values ​​are available. The Geekbench 5 score for single-core is said to be 1.853, for multi-score 13.855. For comparison, MacRumors notes the data of the Max M1 to: 1.755 for single-core and 12.333 for multi-core.
Apple Music Replay: Personal charts in summary
If you are interested in personal usage behavior when listening to music via the Apple Music subscription, you can have your own statistics on songs, albums, artists and so on currently displayed on a special website. The whole thing is called "Replay" and is made by Apple in a press release presented. Unlike Spotify Wrapped (which is not meant to be honest) but there are no colorful pictures that can be shared via Instagram or TikTok. Your personal replay overview will be compiled for you after registration on this page: https://replay.music.apple.com/
MacPaw thanks Ukraine for their support
All over the world people have campaigned for Ukraine in recent months, through donations, through political commitment, through taking in refugees and so on. MacPaw, the Ukrainian software studio behind CleanMyMac, ClearVPN, Setapp and other useful applications, say thank you for that. This week, I was made aware of the #DiakuYOU video via an email from MacPaw:
After graduating from high school, Johannes completed an apprenticeship as a business assistant specializing in foreign languages. But then he decided to research and write, which resulted in his independence. For several years he has been working for Sir Apfelot, among others. His articles include product introductions, news, manuals, video games, consoles, and more. He follows Apple keynotes live via stream.